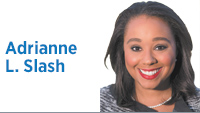 Millennials often get a bad reputation, and then there's me—here to sing their praises. While I am not naive to our shortcomings, I am a millennial and have the great honor to advocate on our behalf regularly.
Some things we should all know about millennials before we go off the deep end about common misunderstandings:
Millennials were raised to believe the world is a harmonious place where everyone is welcome and appreciated. Don't believe me? Google "globe with kids holding hands." This iconic image became increasingly popular during our childhood. It lived on classroom walls, mall bathroom walls, schoolbook covers and everywhere in between.
We also bought into the long-preached "America is a melting pot" mantra that led us to believe we're all the same and eventually likely to be one race. Gasp! The fact that we have KKK recruitment still happening on Monument Circle is appalling and something we were taught had been taken care of by the civil rights movement!
By now, you should be able to understand where I'm going with this. Millennials really just want what we were taught to line up with reality.
On that point, we had the glory of endless "after-school specials," public service announcements that interrupted our morning cartoons, and "Saved by the Bell." The media we consumed was filled with black-and-white, right-and-wrong examples. The likelihood that your resident millennial has the patience to watch what's occurring with the City-County Council is non-existent. Any character concern comes to question and we're out. All our TV heroes made sure we knew better. It's likely also why your favorite millennial is troubled to believe our legislators would refuse to put solid effort toward passing hate-crimes legislation. We already have protected classes in Indiana—what's so hard about just starting there?
Another millennialism to take into account: We were taught that, if we went to school, got good grades and graduated from college, the world would be our oyster. Wrong again! We graduated and entered the workforce at the beginning of or right at the heart of the recession in 2008. When we started working, our first jobs used to belong to two to five people or a high school graduate. Either way, the living-wage salaries and opportunities we believed would be the "pot of gold at the end of the rainbow" failed to realize for many of us.
So, no, we're not entitled, lazy kids whining because you're not giving us enough. Likely, you're interacting with a person who feels they were lied to their entire educational journey.
The last thought I'd like for you to process: Service learning was emphasized heavily while we were in school. We can remember endless canned food drives, trash pickup days, and penny wars for great causes. At the heart of our soul, we're driven to serve others in some capacity. We'll even do it on our own time without company recognition. So the next time you're looking for someone to represent your company on a community effort or initiative, consider the smart-phone-staring, always-multi-tasking millennial to go in your place—you'll be glad you did.•
Click here for more Forefront columns.
____________
Slash is a diversity and inclusion consultant for Community Health Network and is president of The Exchange at the Indianapolis Urban League. Send comments to ibjedit@ibj.com.
Please enable JavaScript to view this content.