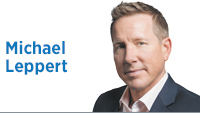 The John Mayer song "Why Georgia?" is a coming-of-age tune the star wrote when living in Atlanta and mulling his future. The tune's refrain asks, "Am I living it right?" In the song, the question is asked over and over.

The government in Georgia needs to ask itself the same thing.

Here in Indiana, keeping a watchful eye on a state facing similar challenges could be a helpful guide.

Our states are competing for Amazon HQ2. More so than that, however, we are competing in many other ways that will continue long after the news of HQ2 has gathered dust.

Five states in America do not have a law that addresses bias or hate crimes. Indiana and Georgia are both on that short list. Indiana's bias-crimes legislation failed this session, for the third year in a row. Georgia state Rep. Meagan Hanson filed the first bill in her state early in January. Two others have followed.

Something is happening there on that. Maybe.

And then the school shooting at Parkland, Florida, happened on Feb. 14. Within 10 days, several companies began ending their business relationships with the National Rifle Association. These relationships were mainly discount offerings made to the 5 million NRA members.

One of the big companies on the list was Atlanta-based Delta Air Lines. Delta employs 33,000 in Georgia and, coupled with its Atlanta hub, is a dominant economic engine there. But the ending of these discounts to NRA members enraged many in the Statehouse, and the consequences of the Republican-based ire could be enormous.

Lt. Gov. Casey Cagle opened up the can of worms by threatening to kill a tax break Delta stood to receive worth $38 million. The reason? Cagle claimed Delta had taken punitive action against defenders of the Second Amendment and was targeting law-abiding gun owners unfairly. Associated Press' Ben Nadler and R.J. Rico report that Cagle tweeted, "We should never be forced to choose between our values and growing our economy."

Actually, that is exactly what Americans are constantly forced to do. Every single day, every market choice we make is based on those factors. This is no different.

Indiana experienced what Cagle might describe as economic terrorism in 2015. Our Legislature recognized the private sector's unhappiness with the Religious Freedom Restoration Act, then fixed it. Culture shifted here that year.

The nation is experiencing another cultural shift in the debate on gun violence. The private sector has entered the fray. Dick's Sporting Goods and Walmart have modified their retail offerings of guns and ammunition. Boycotts of companies too closely aligned with the economic interests of gun manufacturers or NRA members are now legitimate business concerns.

Indiana had a couple of relatively low-profile pieces of legislation pending at the time of the Parkland shooting. Both bills ease gun regulations. One would allow for gun possession at houses of worship connected or adjacent to a school, where guns are prohibited. Another dealt with licensing regulations and fees. The Parkland shooting made the gun bills so hot that GOP leaders let both die on March 1. Their return before the end of the session is still possible.

The political risk of moving either of these bills in Indiana is as legitimate as any boycott. My advice would be to let these bills stay dead.

An older song goes, "Georgia, oh Georgia, no peace I find. Just an old sweet song keeps Georgia on my mind."

No peace I find? Georgia doesn't even seem to be looking for it. I hope Indiana's politics will search for peace on this. And if not, it should be prepared for a loud response.•

__________

Click here for more Forefront columns.


Leppert is a public and governmental affairs consultant in Indianapolis. He writes at HeartlandNow.com.Send comments to ibjedit@ibj.com.