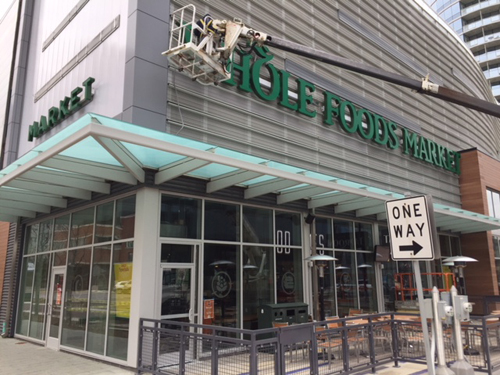 Amazon.com's Inc.'s acquisition of Whole Foods Market—the national grocery chain that is opening its third local store in downtown Indianapolis on Wednesday—has sparked major disruptions in the grocery industry in the short time since the deal closed in late August.
Kroger Co. and Walmart Inc., the two largest grocers in the United States, are investing in technology and expanding delivery as they try to fend off the incursion. Meanwhile, regional chains are filing for bankruptcy, and European-born discounters are expanding, forcing competitors to keep their own prices low.
It's a bleak outlook for a sector that was supposed to be rebounding this year. A historic bout of food deflation—which fueled a price war in the past two years—has ended, but efforts to sell more groceries online are gobbling up investment dollars. And some well-known names are crying uncle.
Southeastern Grocers, owner of the Winn-Dixie and Bi-Lo supermarket chains, filed for bankruptcy last week.
"The environment is intensely competitive," said Jennifer Bartashus, an analyst at Bloomberg Intelligence. "And I don't see that easing anytime soon."
For now, Amazon is more of a symbolic threat. The $13.7 billion acquisition of Whole Foods provided it with fewer than 500 stores. That number will increase Wednesday when Whole Foods officially opens its downtown Indianapolis store at 320 E. Market St. Doors open at 9 a.m.
The 40,000-square-foot store will include a taproom featuring 20 Hoosier-brewed beers; a coffee bar; more than 100 varieties of cheese; and a variety of grab-and-go options, including a salad bar, hot bar, pizza, sushi and sandwiches.
This location will join four other Whole Foods stores around the state: one each in Nora, Carmel, South Bend and Schererville.
Investor concern
Amazon grocery-delivery business has only a small slice of the overall grocery market. Even so, the e-commerce giant's expansion has prodded traditional stores into making costly changes—and the fears of investors have battered their stocks. So far this year, Kroger and Walmart have lost more than $30 billion in market value combined.
But those grocery giants at least have the scale and resources needed to adapt. The industry's smaller players are even more at risk.
Along with Southeastern Grocers, Tops Friendly Markets also filed for bankruptcy in the past month. Based in Williamsville, New York, Tops has about 170 stores.
Southeastern Grocers, meanwhile, has nearly 700 locations. The company announced it was reorganizing on Thursday, with plans to close 94 stores.
As the pressure mounts, other regional chains could go under, according to Roger Davidson, an industry consultant.
"These weaker retailers are starting to collapse," he said.
Tight margins
Even before Amazon bought Whole Foods last year, pressure was ramping up in the grocery industry, which is known for razor-thin margins. In recent years, food has proliferated at dollar stores and pharmacies, with groceries seen as a reliable drive of store traffic.
The rise of meal kits also has given U.S. consumers another dinner option, and one that often translates to less grocery shopping. All of this comes after a building boom in the industry. For years, supermarkets were seen as a safe investment because they were mostly immune to the disruptive forces of e-commerce.
"There's been a bit of a moat around it," said James Cook, director of retail research at JLL.
That feeling of security has evaporated. Last year, new grocery store openings plunged 29 percent as companies curtailed expansion plans, according to a report from JLL.
German rivals
To be sure, some chains are still adding stores, most notably Aldi and Lidl. The two longtime German rivals currently account for 27 percent of the grocery stores recently built or in progress, according to data from research firm Planned Grocery.
Lidl is a newcomer to the U.S., but research has shown that it forces rivals to lower prices in the markets where it opens stores.
Aldi has been operating in the U.S. since 1976 and now has more than 1,750 stores. It's spending more than $5 billion to remodel 1,300 existing stores and build an additional 750 locations over the next five years. Among them will be a store in a former Marsh Supermarkets location in Nora, IBJ reported Monday.
The remodels have included more selling space for natural and organic items, part of a bid for wealthier shoppers, according to Jason Hart, who leads the chain's U.S. operations. Over the last three years, the company's organic produce sales have surged more than 200 percent.
"We've made the Aldi concept appeal to a broader set of consumers," he said in an interview. "The momentum we have currently is something we always thought we should have—the concept just makes sense."
Slow growth
All of the competitive pressure comes as the grocery industry averaged only about 2 percent growth over the last five years, according to a report from Forrester Research Inc. That means the industry is mainly fighting for market share at this point.
So far, Amazon hasn't said much about its broader plans for Whole Foods. The premium chain has been struggling under the new management, with complaints rolling in about out-of-stock items and quality problems. That shows Amazon might not have the easiest time turning the business into a fine-tuned part of its operations.
But Amazon remains a source of pressure in an industry still recovering from food deflation. And that's unlikely to change soon.
"Everyone hoped the return of inflation would provide some relief," said Bloomberg Intelligence's Bartashus. "But it hasn't happened."
Please enable JavaScript to view this content.