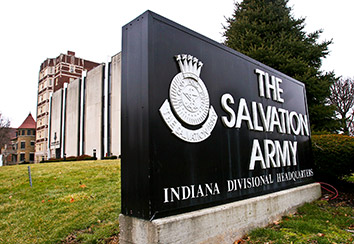 The Salvation Army of Indiana has purchased a building in Castleton and is spending $4.5 million to renovate it after announcing in February that it is selling its headquarters to the neighboring Children's Museum of Indianapolis.
The 41,350-square-foot building at 6060 Castleway West Drive was last occupied by American National University. Samantha Hyde, spokeswoman for the Salvation Army, said the group purchased the lakeside building from the university for $2.4 million.
The not-for-profit plans to move in early June, she said.
The Salvation Army chose the north-east side location due to its proximity to Interstate 465 and Kroger Co.'s divisional office, Hyde said. The Cincinnati-based supermarket chain is a supporter of the Salvation Army.
In February, the children's museum and Salvation Army announced their sale agreement, which calls for the museum to buy the Salvation Army's current home at 3100 N. Meridian St., adjacent to the museum's grounds..
The transaction stems from a dispute between the two neighbors over the museum's $24.5 million outdoor sports park that opened Saturday.
The Riley Children's Health Sports Legends Experience is a 7.5-acre attraction that boasts 12 outdoor and three indoor exhibits that include activities from a variety of sports. It borders the Salvation Army's property to the west.
The Salvation Army sued the children's museum in May, claiming the Legends attraction would interfere with its property rights and ability to conduct operations.
 
Please enable JavaScript to view this content.