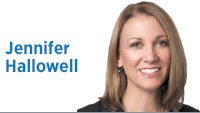 Women are failing. And we're failing one another. Look no further than the recent comments by the woman who sought to be the first female president.

Speaking at a conference on foreign soil, former U.S. Secretary of State Hillary Clinton blamed her election loss, in part, on "married white women" who don't stand up to their husbands and succumb to "ongoing pressure to vote the way that your husband, your boss, your son, whoever, believes you should." That was quite a way to cap off the week in which we celebrated International Women's Day.

Let's all give women a lot more credit than that. While it's true that married, white women vote more Republican, there are a variety of reasons. For Clinton to assert that women vote, by secret ballot no less, for whomever their husbands, bosses and sons tell them is an insult to women.

We shouldn't be surprised, however, as Clinton and some of her top surrogates have long been engaged in women blaming and shaming. During the 2016 Democratic primary campaign, Clinton surrogate and notorious feminist Gloria Steinem insulted young Democratic women by indicating that they were supporting Bernie Sanders because they were chasing boys who backed Bernie. In an interview with Bill Maher, Steinem said, "When you're young, you're thinking, 'Where are the boys? The boys are with Bernie.'"

What kind of example is being set when two women who hold themselves out as champions of the women's movement declare that young women are incapable of independent thinking because they're consumed with finding a man, and then that married women are incapable of independent thinking because we're too weak to make differing decisions from the men in our lives?

Ladies, we have a long way to go. We are underrepresented in far too many leadership posts and decision-making roles. The numbers are disheartening. Women make up only 5 percent of the CEOs of S&P 500 companies and hold just 21 percent of those companies' board seats.

Only six current governors (or 12 percent) are women. In Congress, 22 females are serving in the U.S. Senate (that's 22 percent) and 84 females are serving in the U.S. House of Representatives (19 percent). In Indiana, while we are fortunate to have women serving in five of the seven statewide offices, there are only eight women (16 percent) in the Indiana Senate and 22 women (22 percent) in the Indiana House of Representatives.

We need more women in leadership. We need more women running companies. We need more women elected to office. We can't get where we need to be, however, if prominent women like Clinton tear us down in order to build their own ambition.

Whether it's a job or an elected office, we've earned all our successes (for example, there are now more women in America with bachelor's degrees than men). To keep making progress, we need to put an end to the group think and bitterness exemplified by Clinton. The idea that all women should think the same way and care about the same issues is not only outdated, but absurd.

Clinton's history of insulting and belittling women is unparalleled in modern politics, and she's never learned that blaming and shaming get us nowhere. She didn't lose because she was a woman and she didn't lose because of women. The perpetuation of those claims does nothing to strengthen the path for women to achieve greater leadership posts. We don't have to vote a certain way to believe we are "stronger together."•

__________

Click here for more Forefront columns.


Hallowell is director of Faegre Baker Daniels Consulting. She has been active in a number of Republican campaigns. Send comments to ibjedit@ibj.com.