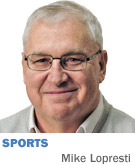 Well, wasn't that one big wad of things that weren't supposed to happen? The college basketball postseason, that is, for a lot of Indiana faces—men and women. Before we save it in the hard drive (time to move on to the Pacers' playoff ride, speaking of things that weren't supposed to happen), let's take one last listen to the voices of March.

Good, bad and ugly.

◗ This is 2016 Indiana Mr. Basketball Kyle Guy, on the podium in Charlotte …

Who'd have thought he'd have to be up there with his Virginia teammates, trying to explain what it's like to be on the wrong side of history? The Cavaliers had just become the first No. 1 seed to ever lose to a No. 16, blown away by UMBC.

"There's not really a whole lot that can prepare you for this kind of feeling. You know, it's all a blur right now."

P.S. Later at the Final Four, Virginia coach Tony Bennett would mention how the road back from infamy has already started for his players, including Guy. "Young people are pretty resilient. We get to choose how to respond."

◗ This is 2016 Indiana Miss Basketball Jackie Young, on the phone from Columbus, Ohio, the day before the women's national championship game …

Who'd have thought Notre Dame would be knocking off mighty Connecticut, and Young would be one of the main perpetrators, with 32 points? Irish coach Muffet McGraw called her, "almost like a secret weapon."

Young about that: "I guess sometimes people overlook me with all the talent that we have on the team, and don't really consider me a threat. I mean, it showed last night. They were just leaving me wide open when the game started."

On the support from hometown Princeton she had in Columbus: "I have my mom, my brother, my sister, aunts and uncles, a group of teachers from back home, a lot of family and friends. And just some people from back home who have supported me since high school. It's amazing. It's 4-1/2 hours; that's the same distance it would be to go to a Notre Dame home game, and a lot of people making the trip would be there during the regular season."

The all-time prep scoring record she left behind in Indiana—134 more points than Damon Bailey—compared to chasing titles: "I'm all about winning, so whatever I can do to help my team win, that's what I'm going to do. In high school, it was a different role than it is in college, but at the end, it's about the result.

"Not a lot of people get the chance to even play college basketball, but to be able to win a state championship in high school and then play for the national championship is amazing. I knew I had a chance coming to Notre Dame. That's what we do every year; we compete at the highest level."

On Kyle Guy, and the very different months of March for Mr. and Miss Basketball of 2016 : "We're good friends. We talked a little bit after he got engaged. I didn't say a lot to him [after Virginia's shocker]. I feel like there were a lot of people in his circle who were there for him. As an athlete, that was my time to step back."

On her emotions: "Growing up an athlete from Indiana, that's what we do. Every year I would be watching the national championship game, whether it's guys or girls. To be able to play in it tomorrow is something I've dreamed of since I was a little girl."

P.S. The Irish beat Mississippi State for the title on Arike Ogunbowale's buzzer beater, same way they beat UConn. The Secret Weapon had only six points but didn't care. She made the pass for the winning shot.

◗ This is senior Tyra Buss at the microphone in Bloomington …

Who'd have thought 13,000 people would show up in Simon Skjodt Assembly Hall in late March to watch a women's basketball game? But there they were, when Indiana beat Virginia Tech for the WNIT title.

Buss: "We wanted to come here and make an impact on this program, and I think you can tell that we have. Our goal—Amanda [fellow senior Cahill] and I have talked about it from the beginning—was to have some people in the upper deck. And there was today.

"We showed a lot of emotion, but I think it was tears of joy … It was just something special that not a lot of people say they can do."

This at the same IU that a year before had passed on hosting a men's NIT game, fearful of how small the crowd might be.

P.S. Buss was the Iron Woman of college basketball. An astonishing stat: She was out of the game only 31 minutes all season. Cahill wasn't far behind.

◗ This is senior Isaac Haas sitting comfortably in a Purdue locker room in Detroit, after the Boilermakers had blown past Cal State Fullerton in the first round, vowing he was fine from a nasty fall during the game …

"I couldn't sleep last night. I literally probably slept one hour, I was so amped up by this game, wanting to put it away and get it behind us and move on. You realize this is the last time to do whatever you're going to do in this tournament. Obviously, you do have those fleeting thoughts but at the same time, I'm also thinking, 'Man, I can't wait to get out there and win so I can keep doing it.' I just want to go out on top."

Who'd have thought an hour later, when the X-rays came back, that his elbow would be fractured, his tournament and career over?

P.S. Purdue made it past Butler, but not Texas Tech. Maybe the Boilermakers don't win with Haas, anyway. Texas Tech beat Kansas by 12 points—in Lawrence—during the season. But still. Glenn Robinson's back helped doom the 1994 Elite Eight game. Robbie Hummel's ACL, just when Matt Painter seemed to have all his Boilers in a row. Now this. Somewhere, there is a voodoo doll in a Purdue shirt with pins stuck in it.

◗ This is Butler's LaVall Jordan at the podium in Detroit, after the Bulldogs' loss in the second round …

Who'd have thought the Bulldogs, picked to finish eighth in the Big East, would come all this way through a rugged league—note where Villanova finished—and run up against … Purdue?

"Nobody wants those moments to end. Nobody wants their journey to be over. So you fight."

The month is like a spelling bee; you don't get a mistake. That's what you can hear in the voices of March.

P.S. Spring is here—allegedly—and the Pacers now have the floor. Who'd have thought we'd be saying that in April? All those who predicted Indiana would be fighting for a third seed, raise your hand.

Liars.•

__________

Lopresti is a lifelong resident of Richmond and a graduate of Ball State University. He was a columnist for USA Today and Gannett newspapers for 31 years; he covered 34 Final Fours, 30 Super Bowls, 32 World Series and 16 Olympics. His column appears weekly. He can be reached at mjl5853@aol.com.