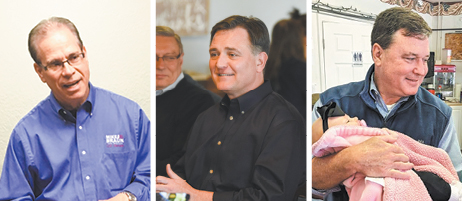 U.S. Senate Republican candidate Mike Braun spent more than his two primary opponents combined in the first quarter of the year and has the most cash on hand going into the final weeks of the campaign.
Braun spent $2.23 million from Jan. 1 through March 31, according to his most recent campaign finance report submitted to the Federal Election Commission, while his opponents—U.S. Reps. Todd Rokita and Luke Messer only spent $985,419 and $961,087, respectively.
Braun, a Jasper businessman and former state lawmaker, has been heavily advertising for months to gain statewide name recognition. He spent $1.1 million in the fourth quarter of 2017.
He only raised $95,380 in the first quarter, but he loaned his campaign another $2.25 million, bringing the total amount Braun has self-contributed to $5.45 million.
He had $2.42 million in cash on hand as of March 31.
Rokita and Messer weren't far behind. Rokita had $1,865,472 cash on hand as of March 31, and Messer had $1,867,474, giving him a very slight edge of about $2,000 over Rokita.
But Rokita had a stronger fundraising start to the year, culling $424,332 in the first quarter, while Messer received $389,839 in contributions and transfers from other committees.
Braun leads the three candidates in total raised during the election cycle—if his personal contributions are included—with $5.9 million. Messer has raised a total of $3 million, and Rokita has raised a total of $2.66 million. If Braun's personal money isn't included, he has raised $468,790.
Neither Rokita nor Messer has made any personal contributions to his own campaign, and both are primarily receiving funding from individual donations. Rokita received $33,430 from political action committees through March 31, and Messer reported receiving $32,400 from PACs in the same time period.
Braun, who has criticized his opponents for accepting money from PACs, did receive $1,500 from PACs in the first quarter, but his total amount from PACs for the election cycle is $2,500—significantly lower than the total amounts his opponents have received. Messer has received a total of $941,592 from PACs, and Rokita has received $525,030.
The winner of the Republican primary will face Democratic incumbent Joe Donnelly in the fall. The primary election is May 8.
The three GOP candidates will face off in a debate at 7 p.m. Monday in Fort Wayne. In Indianapolis, it will be broadcast on WTHR-TV Channel 13.
Please enable JavaScript to view this content.