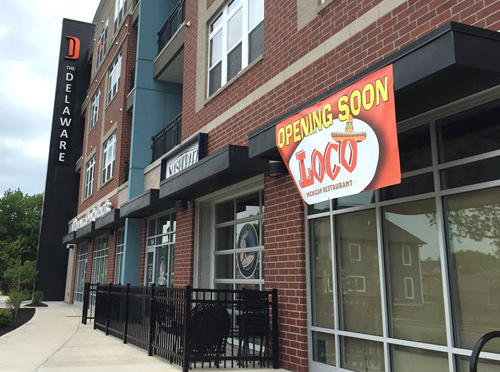 Correction: Due to incorrect information provided to IBJ, a previous version of this story said the owners of the Lincoln Square Pancake House chain were opening Loco. They are not involved in the project.
Another restaurant is slated to take the space on the northeast corner of 22nd and Delaware streets where two previous eateries have failed in less than two years.
Loco Mexican Restaurant is set to open in The Delaware retail-residential complex in Fall Creek Place, said Steven Meyer, executive director of King Park Development Corp. A sign on the exterior of the space on Monday announced that Loco was "opening soon."
Loco Mexican Restaurant & Cantina is an assumed business name of Monclova Partners LLC, which organized as an Indiana company on April 20, according to state records.
King Park co-developed the Delaware along with Bloomington-based Cedarview Management Corp. Completed in 2016, the project includes 47 apartment units, 9,000 square feet of retail and a 54-space parking garage.
At The Delaware, the well-regarded Long Branch and 22nd Street Diner both closed after short runs. Long Branch, an Asian-inspired eatery, closed in May 2017 after just six months. The 21-and-over restaurant seated more than 80 and typically was only open for dinner. Takeout was available via a separate entrance.
Long Branch was well-reviewed, earning raves from IBJ, Indianapolis Monthly and The Indianapolis Star.
22nd Street Diner opened in July and stop serving in November. It was operated by owners of The Koelschip at 2505 N. Delaware St. and MashCraft Brewery, with support from Shoefly Public House owners Craig and Kait Mariutto. The Mariuttos were owners in LongBranch, along with Scott Lowe.
Please enable JavaScript to view this content.