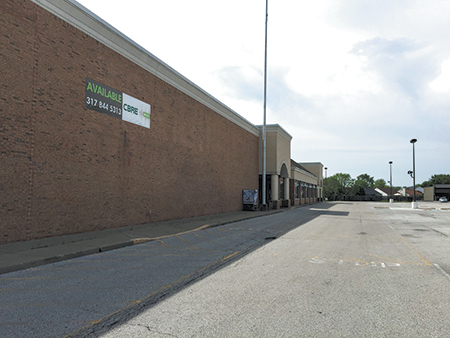 The "for lease" banner that sprang up this month at the former Marsh Supermarkets in Brownsburg surprised town officials, who long expected Kroger Co. to reopen the grocery.
Cincinnati-based Kroger in July bought the lease for 843 E. Main St. at auction, along with 10 others in central Indiana, for $16 million after Marsh declared bankruptcy.
But now Kroger is instead seeking to sublease the Hendricks County property and three others in central Indiana—a move fueling speculation that Kroger acquired control of at least some of the locations with no intention of operating stores, in order to block competitors from swooping in.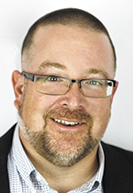 Jessen
The result is that shopping centers with anchor groceries are now saddled with big vacancies.
"We're pretty disappointed," said Brian Jessen, a Brownsburg town councilor. "We had been talking with Kroger for months about their long-term plans for the building."
Kroger did appear to intend to operate the Brownsburg store, at least based on conversations the chain had with town officials until mid-April. The officials learned of Kroger's decision to sublease it from residents who saw the banner hanging from the front of the building and posted the news on social media.
The former Marsh store sits on the east side of Brownsburg. The town's two groceries are both near Interstate 74 on the north side—a Kroger about a mile and a half from the former Marsh site and a Walmart Supercenter about two miles from the site.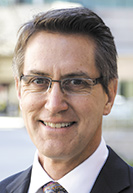 Halvorson
Kroger decided to shelve the former Marsh location as a result of the launch last fall of the company's new strategy, Restock Kroger, which emphasizes upgrades of existing stores over new locations. Company spokesman Eric Halvorson noted that the existing Brownsburg Kroger will get $1.9 million in upgrades next year.
Nationwide, Kroger from 2015 to2017 undertook 212 major projects—defined as new, relocated or expanded stores—and had expected to complete 300 more from 2018 to 2020. But under Restock Kroger, the company scaled that back to 65 to 75, according to a Kroger document.
Kroger last month cited Restock Kroger in its decision to abandon plans to build a 123,000-square-foot Kroger Marketplace near the intersection of Allisonville Road and East 116th Street in Fishers and instead remodel an existing, much smaller store across the street.
Overall, Kroger will spend $23 million to remodel six former Marsh stores, Halvorson said.
Since the July auction, Kroger has reopened three former Marsh stores in the Indianapolis area—one in downtown Indianapolis and two in Zionsville. It also reopened one in Bloomington, one in Muncie, and is set to reopen a second one in Muncie this month.
Four others remain closed. One is in Bloomington, and the other three are at 1435 W. 86th St., 12520 E. 116th St. in Fishers, and 2904 S. State Road 135 in Greenwood.
All three sit near existing Kroger stores. The empty 86th Street location is between a Kroger at 86th and Township Line Road and one four miles east in Nora.
The Greenwood store is three miles south of a Kroger at State Road 135 and Fairview Road and a mile north of one at 5961 S.R. 135.
The Fishers store is three miles from a Kroger at 9799 E. 116th St. and five miles from one off Allisonville Road at 7272 Fishers Crossing Drive.
Halvorson wouldn't say whether Kroger would be willing to sublease stores to other groceries, though real estate observers doubt it would.
"We have a team of Kroger real estate specialists working on new options for the remaining buildings," he said in the email. "We are eager to find productive new uses for the properties whenever possible."
The belief that Kroger bought some properties to shield stores from competitors is widespread.
Jessen said he has it on "good authority" from Kroger employees and real estate professionals that Kroger is engaging in the practice.
Ruth Hayes, president of the Nora-Northside Community Council, whose district includes the vacant West 86th Street store, echoed Jessen.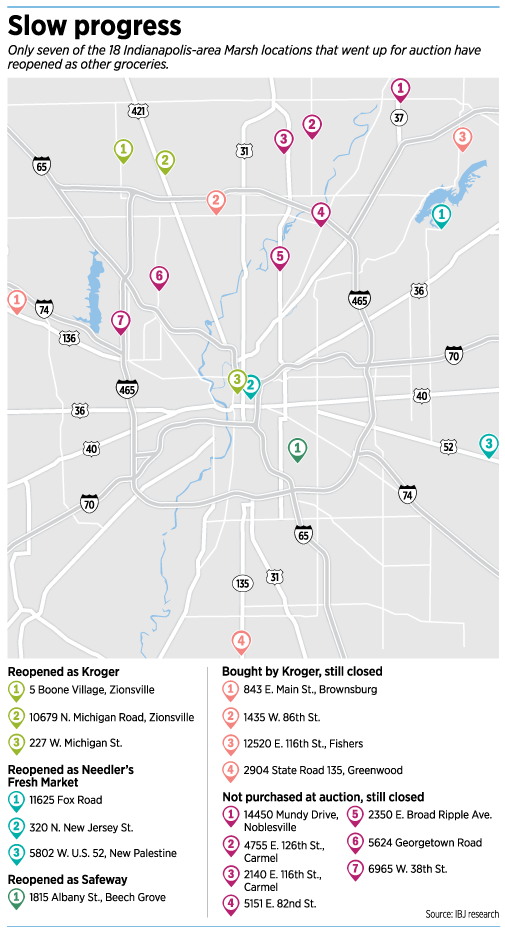 "The only reason they bought it was to make sure they had no competition to their stores at Township Line and Nora," Hayes said.
The Kroger in Nora soon will have competition—from Aldi. Across East 86th Street, the German-based discount grocer is renovating a portion of the former Marsh in Nora Corners that closed in April 2017, one month before the grocer's bankruptcy.
Aldi's decision to remodel the space is seen by Hayes as "karma" for Kroger's decision to not reopen the former Marsh on West 86th.
Kroger was one of two grocery companies to acquire Marsh leases in the auction. The other was Ohio-based Fresh Encounter Inc., which bought 15 leases, including 11 in Indiana, for $8 million.
Fourteen opened under the new Needler's Fresh Market name, including the former Marsh in downtown Indianapolis at 320 N. New Jersey St.
The shuttered properties are far from the only former Marsh stores sitting vacant.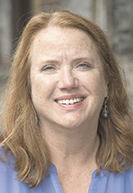 Banning
Eighteen of the 44 stores Marsh tried to sell at auction did not attract buyers and closed for good. In addition, in the months leading up to the auction, the cash-strapped chain closed dozens of locations, the vast majority of which remain vacant.
One is on East Washington Street in Irvington Plaza. The closing has left the shopping center two-thirds empty, which now doubles as a dumping ground for old furniture and other items, said Margaret Banning, director of the Irvington Development Organization.
"That property is worth the dirt minus the demolition cost," she said. "The whole neighborhood feels that it is an albatross weighing us down."
An absentee landlord and the poor condition of the plaza have made it difficult to attract retailers, Banning said. She wishes the owner would sell the property for redevelopment, given its proximity to the heart of Irvington.
Several of the former Marsh stores likely sit vacant because of the difficulty in retrofitting a grocery for another use, said Bill French, a retail broker at Cushman & Wakefield.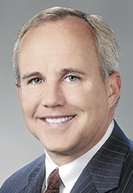 French
Size is a big factor—the stores typically exceeded 40,000 square feet—in addition to the cost of converting the space for general retail use.
Complicating matters is the fact that Marsh's former owner, Florida-based private equity firm Sun Capital Partners, skimped on repairs and maintenance, he said.
"The ones generally remaining are the ones that are going to require a little bit of elbow grease and a big checkbook to turn them into viable assets again," French said.
Marsh once was one of Indiana's top companies, with 15,000 employees and more than 100 groceries.•
Please enable JavaScript to view this content.