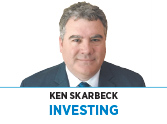 Editor's note: Ken Skarbeck's investing advice has been gracing the pages of IBJ since his first column appeared in the June 21, 2004, issue. After more than 300 columns, Ken has decided to step aside. A reprint of his first column—which serves as a testament to the timelessness of his advice—appears below.
"It's just so simple," read the title to a New York Times Magazine article from April 1990. The article was an interview with Warren Buffett and the subject was investing.
Since Buffett is this generation's most successful investor, a logical response to that declaration might be, "Well, perhaps for him." He has since qualified that statement with a remark Yogi Berra might have uttered: "Investing is simple, but it is not easy."
By "simple" Buffett means successful investing does not require a lofty IQ or the use of complex mathematical formulas. The collapse of the investment firm Long Term Capital Management in the fall of 1998 proved this point. LTCM had two Nobel Prize-winning economists on staff and had purportedly developed a black box for investing.
Buffett contends fifth-grade-level math is adequate to achieve good results. However, you do need to develop some basic knowledge to place a value on companies and, for this, a general understanding of financial statements is essential. These are skills most investors can achieve with some time and effort.
Now comes the not-so-easy part. Achieving superior long-term investment results will depend upon the way you "think" about investing. Too often, investors, including professional investors, take their cues from short-term trends and the meaningless market forecasts that are all too common on Wall Street.
In addition, stock market participants have a tendency to become more enthusiastic about stocks after their price rises. This was evident in early 2000 when new money flowing into mutual funds reached historic highs—right before the market peaked. For some peculiar reason, unlike most items consumers purchase, the more expensive stocks get, the more people want to buy them.
In contrast, if you expect to be a net buyer of stocks for the foreseeable future, you should welcome periods of declining stock prices. The premise being that, in general, the lower the price you pay, the more value you will receive. You might recognize this as associated with the well-worn theme of "buy low, sell high."
In studying history's most accomplished investors, we have found they possess a common temperament that helps explain their success:
◗ They tend to reach conclusions independent of the Wall Street crowd and attempt to eliminate the emotional aspects of making investment decisions.
◗ They practice a disciplined and patient approach, making rational judgments based on the known facts with an eye toward their downside risk.
◗ Their purchase and sale decisions are often made in a manner contrary to the general mood of the investing public or the current market frenzy.
Buffett was once asked what made him such a great investor. He thought for a moment and responded, "I'm rational."
Indiana investors should take comfort in the advantage of distance we have from the rumors and whims that surround Wall Street. Behaving in a rational manner and using a common-sense approach can do wonders for your portfolio.•
Please enable JavaScript to view this content.