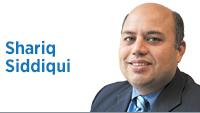 As a nation, we are facing some incredible challenges. We continue to be so polarized politically that reasonable middle ground is long gone. Economic inequality, lack of upward mobility, deepening (or perhaps unearthed) racism, bullying, school violence and gender inequity all seem to be growing problems. America is either great again or never was, depending upon the politician you affiliate with.
Different politicians will suggest different reasons for how we got here. (It's the other guy's fault.) Policymakers have suggested various ways to solve this political polarization. Bipartisan districting commissions that reduce gerrymandering, term limits, campaign finance reform (again), and political primary reform are just a few of the ideas.
But, ultimately, politicians reflect the society they represent. If we don't like the political leaders we elect, perhaps we should look ourselves in the mirror and ask whether we get what we deserve.
There is no question reform is needed. But I would argue that a basic level of humanity seems to be missing in our discourse. The "other" can be someone of another faith, gender, ethnicity, race, socio-economic class, national origin or literally anything else. As a society, we seem to perceive others in ways that would suggest they are less than human.
We have amazing scholars like Sara Konrath at the Lilly Family School of Philanthropy who have developed experiments to see how children can learn empathy by playing on apps. The idea is that empathy, forgiveness, community-mindedness, civic engagement and basic feelings of human kindness are learned behaviors.
Yet all education-reform conversations are focused heavily on the development of individual and collective human capital, framing education as an investment in national and regional economic development. Reformers have pushed ideas of privatization, standardization, accountability, school choice and testing. It is unclear if local communities embrace these reforms or if the reforms have delivered as promised.
Little attention has been paid to what a team of scholars terms "the third space" of education reform: education's importance to the holistic development of human beings. By putting pressure on school systems, administrators and teachers, we have taken away their ability to help develop great human beings. Our reform mandates are aimed at producing robots who add to the national GDP rather than the national character.
Have we considered that education can be not only utilitarian but also transformative? Transformative not in terms of the economic benefits it can produce, but in the way it can lead to meaningful lives and a better world.
The common argument is that moral and character development is the responsibility of the family. But that misunderstands the global nature of the world we live in. Our children are not just raised by family or the world they access through social media and technology. Parents play a key role, but so does their school and community.
We must push for education reform that is not just focused on test scores, graduation rates and enrollment numbers. It will require focusing on critical thinking and growth mind-sets. It means cultivating young people's moral and ethical development and their sense of the broader social good as a means to strengthen social capital and community.
Teaching our children to be great human beings could be the investment that depolarizes our politics, reduces hate, enfranchises the disenfranchised, and creates a sense of belonging that can make our world a better place.
Reforms like these will likely be good for the bottom line. What we have been doing hasn't worked. Let's take a leap of faith and invest in the generosity and kindness of human beings.•
Click here for more Forefront columns.
__________
Siddiqui is an attorney, has a doctorate from the Lilly Family School of Philanthropy at IU and leads the Association for Research on Nonprofit Organizations and Voluntary Action. Send comments to ibjedit@ibj.com.
Please enable JavaScript to view this content.