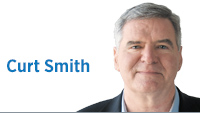 A red-hot Hoosier economy is boosting family well-being, with Indiana earning its best-ever ranking of 25 among the 50 states in the newly released Family Prosperity Index. That's the good news. The bad news is that our solid-red, conservative culture provides no edge for families, because we score the absolute worst for divorce.
Yes, Indiana has the highest divorce rate in the nation.
Many policymakers and pundits are surprised to learn Indiana has a poor (and poverty-producing) marriage culture. The state needs to improve the way it collects divorce data, and we are encouraged that the Indiana Supreme Court's administrative arm is seeking solutions. But this is our Achilles' heel in family prosperity.
As the accompanying chart shows, since the index's inception in 2012, Indiana's lowest ranking was 32nd (in 2013). But an improving economy (21st in 2018) and good family demographics (16th in 2018), pulled us up to an absolute average, lukewarm, run-of-the mill No. 25. We can and must do better.
The index, compiled by the American Conservative Union and directed here by the Indiana Family Institute's Andrew Smith Center for Family Prosperity, provides lawmakers and community leaders with the roadmap to develop policies to improve family well-being and prosperity. Unlike the gross domestic product, the FPI recognizes the central role family plays in economic and cultural progress. It assess six major indexes with a total of 60 sub-indexes to provide comprehensive insights into how the economy affects families and how families affect the economy. All data is from government sources.
Utah is No. 1 again this year; New Mexico is last.
Indiana's middling rating suggests we have much work to do. Whether we aim to reduce opioid addictions, prison populations, out-of-wedlock births, the divorce rate—or all of the above—we should not mistake low unemployment or rising incomes for healthy families. Healthy families include schools that work, low rates of violence in our communities, and low rates of sexually transmitted diseases, all indicators in the FPI.
Regarding our worst indicator, divorce, we must also celebrate fellow Hoosiers choosing marriage over co-habitation. After a decade of belittling marriage and punting our policy prerogatives to the feds, perhaps the tide has turned with the recent fight over the removal of marriage as a basis for strong families in the Indiana GOP platform.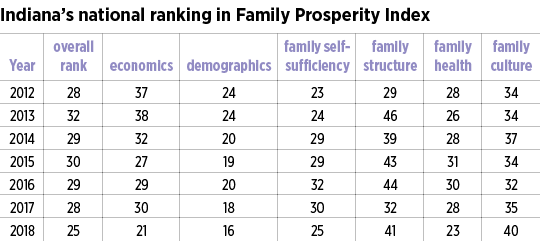 The platform committee proposed dropping marriage, but the delegates overwhelmingly rejected that and restored the prior, stronger language that commits the party to applauding married couples. Republican Party elected officials should take note.
Also, single parenting—the toughest job in America—hampers Hoosier family well-being. With 44 percent of all births in Indiana to unwed mothers (virtually all paid for by Indiana's Medicaid program for the indigent), about 37,000 Hoosier babies are born each year with two strikes against them—no father in the home and an impoverished mother.
Let's promote marriage and the clearly documented success pathway that shows Hoosiers who get at least a high school diploma, stay out of trouble with the law, work any job, and wait until marriage to have children have a good shot at the American dream and at least middle-class prosperity.
Then we'll see Indiana in a top-10 ranking we can all cheer: top 10 for family prosperity.•
Click here for more Forefront columns.
Click here for more Forefront columns.
__________
Smith is president of the Indiana Family Institute and author of "Deicide: Why Eliminating The Deity is Destroying America."
Please enable JavaScript to view this content.