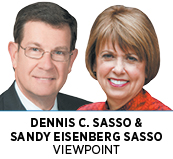 As this column headed to press, President Trump announced he would issue an executive order reversing the abhorrent practice of separating children from illegal immigrant parents at the border.
That this practice was instituted in the first place, is a source of great concern. That government officials sought to defend it with Scriptural sources, when it would have been sufficient to turn to the documents and traditions of American democracy to repudiate it, is worrisome.
In Fort Wayne, Attorney General Jeff Sessions said the practice was supported by the New Testament: "Let every person be subject to the governing authorities" (Romans 13:1). During the American Revolution, this verse was quoted to call for obedience to King George of England. During the Civil War, it was used to support slavery. Hitler used it to close German churches that opposed the third Reich.
Sessions did not think to read the entire chapter. Romans 13:8 says: "Owe no one anything, except to love one another, for he who loves his neighbor has fulfilled the law." Ironically, Paul, whom Sessions quotes, was imprisoned and ultimately killed by the authorities for challenging laws against his values.
Sessions feigns to mingle law-abiding Americanism with piety. The New Testament and other sources point to a time when Jews and early Christians needed to ingratiate themselves to the Roman authorities for the preservation of their lives. Rendering unto Caesar what is Caesar's does not entail the celebration of the dictates of Caesar. The faithful community was to arise to a higher, more humane standard.
It might have been better for the attorney general to call attention to other biblical passages that reflect more faithfully the Judeo-Christian moral message:
Malachi (4:6) hopes to "turn the hearts of the parents to the children and the hearts of the children to the parents." Matthew (19:4) urges, "Let the little children come to me, forbid them not … ." It appears that, for some government officials, biblical literacy is morally selective.
For us, as Jews, the thought of children being forcibly separated from parents is reminiscent of a time in recent European history when children were taken from their parents at the end of railroad tracks, never to see them again. While we believe in America such evil would not happen, the present images cause our souls to tremble.
There is a difference between establishing a reasonable immigration policy and executing cruel and unreasonable punishment upon families seeking asylum. Sessions has decided to restrict protection for asylum-seekers fleeing gangs or domestic violence. Being forced to return to their country of origin is for many a death sentence.
The people affected are not case numbers, but human beings. Nelson Avila-Lopez was deported to Honduras, the country he fled because of gang threats. He died in prison two months later. Juan Carlos Coromilla-Guerrero was deported from Texas to Mexico. Three months later, his body was found riddled with bullets. A woman was sent back to Mexico where her abusive husband lived. She was burned alive in her car.
Mounting internal criticism and international condemnation led to Trump's reversal. Let's hope it will lead to long term solutions worthy of our humanitarian moral heritage.•
__________
Dennis Sasso is senior rabbi at Congregation Beth-El Zedeck. Sandy Eisenberg Sasso is director of religion, spirituality and the arts for IUPUI Arts and Humanities.