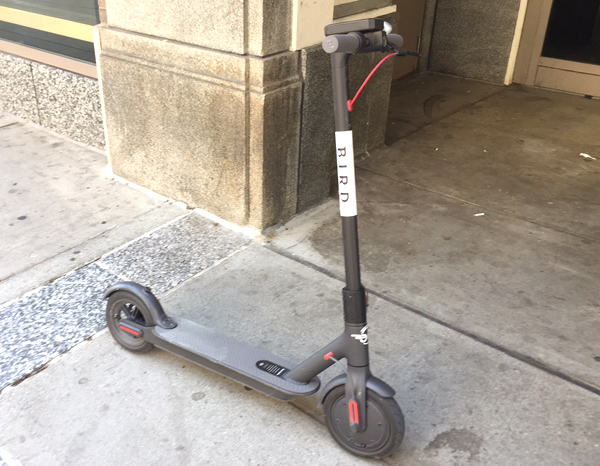 An Indianapolis City-Council committee on Thursday evening voted to regulate businesses that rent out the dockless electric scooters that have caught on quickly since popping up around the city in the past two weeks. The proposed ordinance includes imposing a $15,000-plus annual fee on licensees, requiring insurance to protect the city from liability and mandating safety features on the vehicles, among other rules.
The proposal was approved by all but one member of the Public Works Committee, who raised concerns about safety and allowing the two existing companies—Bird and Lime—to flout the regulatory process. If the full council votes to pass the proposal July 16, companies would immediately be required to get a license to operate legally.
City officials are caught in a tricky position in trying to regulate the companies. On one hand, they're responsible for maintaining the public right-of-way, but on the other, their constituents already seem to be big fans of the scooters, which arrived June 15 when Santa Monica, California-based Bird dropped off dozens of the motorized vehicles on sidewalks downtown, in Irvington and along Massachusetts Avenue.
Lime, the second scooter service to hit the city, released figures Thursday night that showed nearly 3,700 riders have used its scooters to travel more than 12,000 miles across the city since it arrived in Indianapolis on June 23.
Council members asked whether the two companies would stop operating between the time an ordinance is passed and when they receive licenses. Representatives from both firms said that would depend on whether their competitor stops.
Jason Wilde, regional general manager with Lime, said he was concerned about "good players getting the raw end" of the deal if one company complied with a temporary shutdown and the other didn't.
Joe Smith, a lawyer with Faegre Baker Daniels representing Bird, told IBJ after the meeting that the firm would have to "discuss it from a corporate level" and that the business was "not trying to be bad corporate citizens."
Several council members said they were upset that the companies were choosing to operate after the city had made it clear that it wanted them to wait until regulations were in place. The city sent a letter to Bird asking it to halt service for 30 days when it began operating.
Members said the companies are currently flouting the law because they are placing the scooters on the public right-of-way each morning without being sanctioned. There's also a 1997 city code that says scooters, along with skateboards, are not allowed to be ridden in certain areas across the city, including Mile Square.
The new proposal would allow the city, when it's awarding licenses, to "look at the track record of each applicant and determine whether or not they are currently in compliance with regulations and laws as they are today."
"If they continue to operate and have been asked to cease that operation, do we turn a blind eye to this?" said Council President Vop Osili.
Republican Janice McHenry, the lone council member who voted against the proposal, referred to companies' behavior as "bullying" and said she was concerned that other companies who have been waiting to come into the market until regulation is passed are "behind already."
"I don't like the idea of the good guys being punished," McHenry said.
But Smith said he didn't believe Bird was flouting rules or law.
The proposal would require licensed companies to pay a $15,000 fee per year, plus $1 per day per scooter or bike. The license fees would pay for rules enforcement and improving and adding more bike lanes.
It will also require companies to provide certain information to the city, such as serial numbers for every device, manufacturing information, and anonymized data, including origin and destination information for trips, to help with enforcement.
The city would require the companies to offer a 24-hour customer service line, to hold liability coverage to protect the city, to equip vehicles with either a bell or horn and lights, along with a pedometer.
The companies would also have to tell users to wear helmets, to yield to pedestrians, and to explain proper parking procedures.
The devices would be required to be parked upright rather than laid down. There would have to be six feet of passage to be parked on the sidewalk, and the devices wouldn't be allowed to block entrances, driveways or streets.
Department of Business and Neighborhood Services Director Brian Madison said these rules would allow BNS to "aggressively enforce" the companies—but acknowledged that the new rules didn't address all the concerns he has heard about the scooters, including a frequent one about users riding them on the sidewalks.
Riding electric scooters or bikes on sidewalks or the Cultural Trail, however, is already prohibited by law and will remain so, he said.
Karen Haley, who runs the Indianapolis Cultural Trail, said it was important to her that the bikes not litter the landscaping surrounding the trail, and expressed "support for keeping any mobile device out of the beautiful gardens" and "making sure devices don't impede anyone who is using the cultural trail."
Several members of the public came to testify about the proposal, leading to one odd moment when an IUPUI student said he spotted several overweight people in the room who should not be using scooters because their use prevented the healthier option of walking.
Rob Shaw, a supporter of the scooter companies, said the city should have been prepared when the scooter services arrived. "You guys moved really slow" in regulating the scooters, he said. He questioned whether much regulation was necessary at all. "This is a free market," he added.
Council Vice President Zach Adamson told Shaw that he didn't want a "free-for-all market," and that even his own hair salon business requires a governmental license.
Republican Jeff Miller said the council should finalize the regulatory issues and then move quickly on additional safety rules that scooter users would have to follow.
"I do hope we take a firm stand on what is and isn't allowed," Miller said. "We've got figure that out, but just not tonight."
Please enable JavaScript to view this content.