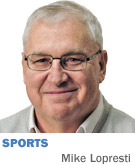 It's 94 degrees at Victory Field, and there's a man throwing batting practice in a hoodie. Heat? What heat? But Brian Esposito is at the ballpark, so he'd be happy in a parka.
The International League standings suggest it's a good time to drop in on the first-year manager of the Indians.
Up in Pittsburgh, the Pirates have been struggling, so the players come and go from Indianapolis, as the parent club tries to find answers. Here? There's a pennant race afoot. The Indians moved, albeit temporarily, into first place last weekend, barely six weeks after they had been 8.5 games behind. Their roster has had more people in transit than the terminal at the airport—12 different Indians have been promoted; transactions come like the tides—and still, the surge has continued.
"A lot of things get turned over at this level," Esposito said. "But that's no excuse for us not to go out and play good, hard-nosed baseball."
So speaks a true baseball lifer. The biggest thrill in Esposito's childhood was playing in the Little League World Series at the age of 12. It is a golden memory with a dark lining. One of his teammates and buddies was a future New York City fireman, who died on 9/11.
Later for Esposito were 13 years as a player in the minors for seven different organizations, and three wonderful games in the big leagues. Dreams can be fleeting. This one came, then vanished like a shooting star.
Lots of people predicted he'd be a good manager one day, and here he is, on a summer afternoon in Indianapolis. Esposito has been at Victory Field since 10 a.m. Actually, he was working before that, with an early-morning call from Pirates Manager Clint Hurdle—nearly a daily ritual—to discuss how things are going, there and here.
"He talks to me a lot about different situations that can get me better as a person and young manager," Esposito said.
He has spent the day deep into his computer and film work. He has had his various and never-ending individual sessions with players, because Triple-A baseball is all about teaching and chatting and preparing and analyzing and adjusting—and doing it all over again tomorrow.
(Photo courtesy of the Indianapolis Indians)
Take the hitters. The first pitch won't be until 7:05, but hours before, they're working on being ready when it comes.
"Essentially, we started taking our at-bats at 4 o'clock in the afternoon," Esposito said. "It's just not that we go out there and hit guys some groundballs. There's a strategy, there's a plan, there's a process in place to make sure these guys are getting exactly what they need, to get on to the next level."
The offensive numbers suggest how well that is working. The Indians entered this week first in the International League in hitting, base percentage, slugging percentage. They had at least 25 more doubles than any other team. They recently homered in six consecutive games for the first time in five years—including three days in a row by Pablo Reyes, all 5-8, 170 pounds of him, batting ninth.
"Everyone has a pretty good idea of what they're trying to do up there," infielder Kevin Kramer said. "It's a lot of different guys doing different things. Probably the best offensive team I've ever been a part of. We just kind of feed off each other, and that momentum builds and builds."
In many ways, Esposito's world is nothing like that of, say, Frank Reich with the Colts or Nate McMillan with the Pacers. He has a team full of professionals who are trying to get somewhere else. Pittsburgh, namely. Or else one of the other 29 big-league teams. Patience is often required, and since when is sports the place for that? But there is also a game to win each day, and in the Indians' case, a pennant race to fight through. It can be tricky business for a manager.
Esposito tries to describe that world.
"At the end of the day, you've got a combination of guys trying to go up, you've got guys who just came back down—they're all trying to get to one spot, but they're all in different parts, emotionally, physically and mentally. So that is something you always have to keep in the forefront of your mind when you're dealing with a Triple-A baseball club. There's always an important game every night, and sometimes for these guys, it's the one going on in Pittsburgh, and they're trying to figure out how they can be a part of it.
"To get everyone pulling on the same rope, it's hard to catch that at Triple-A. This group is pretty special in terms of, the length of the 'woe-is-me' is very small compared to some affiliates that I have seen. That's why I think we have sustained some pretty good baseball and finished up as strong as we did that first half."
It gets even harder as the season goes along, and the personnel moves continue. Some players are promoted up, come back down, go back up, get sent back. The yo-yo effect.
"They are human; they have feelings. They realize they just got sent down, which essentially means they were not getting the job done," Esposito says. "There might be some carry-over. There might be a little of impress-over-perform. So you find a lot of different guys in a lot of different spaces.
"The message down here—something that we've really poured into a lot—is, 'You've got to be where your feet are. You've got to take care of business, or there is no opportunity for you to go up and help that club win.'"
Do they listen? This from Kramer:
"If you don't take care of your everyday stuff, then the long-term goals won't take care of themselves. Everyone here has done a pretty good job of that. It's not an easy thing to do, especially as the summer goes on. We keep each other in check. We're a good clubhouse team."
So the dog days beckon, and the Indians have a pennant to pursue, even as they wait for the phone to ring. Several players from last year's Double-A champion Altoona team have moved up, including the Pirates' No. 1 prospect, pitcher Mitch Keller, and Kramer.
"If you're doing things to play winning baseball, it all takes care of itself," Esposito said. "If there's a level of someone being selfish and forgetting about what they're trying to do here with the team concept in mind, sometimes you might stand out for the wrong reasons. That's the reality of this level. And we've done a really good job of staying away from that standard Triple-A trap."
There's a knock at his door. Someone needs a few pre-game words with the manager. Always something to do for Brian Esposito— the man in the hoodie, so in love with his job to be oblivious to the heat index.•
__________
Lopresti is a lifelong resident of Richmond and a graduate of Ball State University. He was a columnist for USA Today and Gannett newspapers for 31 years; he covered 34 Final Fours, 30 Super Bowls, 32 World Series and 16 Olympics. His column appears weekly. He can be reached at mjl5853@aol.com.