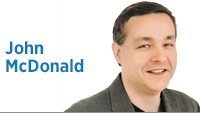 It seems every week there's a new article about how artificial intelligence and automation can more efficiently complete manual tasks. The McKinsey Institute predicts that 39 million to 73 million jobs—nearly one third of the U.S. workforce—will be automated by 2030.
Alone, with no context, this statistic becomes quite daunting. Why are we inventing ourselves out of work?
But it's important to remember that automation and unemployment are not synonymous. We can use these advancements, combined with human creative power, to make better work environments, products and services without resulting in a total overhaul of the known employment demographics.
Instead of a doomsday mentality of mass unemployment, we have to remember we have been here before—many, many times as a species. Think of how workers felt when they found themselves in the midst of the Industrial Revolution or what human "computers" felt when IBM developed machines capable of running thousands of permutations in significantly less time.
With each of these advancements, there was a growing period. Workers were trained on new machinery produced by the Industrial Revolution; human computers were trained in their technological counterpart while continuing to develop theorems and advancements to improve the technologies' accuracy and capabilities.
We know that our generation's "growing pains" are already happening, so we have to shift our thoughts about how to optimize operations, redefine existing roles in our workforce, and create opportunities for employees to form a new career trajectory. With 67 percent of companies in the industrial manufacturing sector having an ongoing smart-factory initiative, those who don't think ahead about digital transformation will be left behind.
To some, this is still not a comforting, nor suitable, answer. Retraining, re-education and a wholesale redefinition of their role is just not something they are interested in or positive they will survive. This is understandable but ultimately unproductive.
Our market demands efficiency and almost instantaneous delivery of intensely custom products. We have seen this unprejudiced shift overtaking every industry. Entire food chains, like Chipotle, exist because of this demand. Adidas is currently developing a way to almost instantly 3D-print a shoe customized to your feet and your stride right in front of your eyes.
Rather than focusing on resisting this inevitable shift, get ahead of it. Adopt changes that you can right now and prepare for the continuous evolution of your industry so you don't go through the shock of a "rip and replace" forcible transition down the road.
Working with Launch Fishers and the Indiana IoT Lab, I've had the opportunity to visit business owners across the state and hear about challenges organizations in our state are facing. I've also heard from business owners who've embraced machine learning and automation to create new occupations and roles for workers who are vulnerable to technology disruption.
Manufacturers in Indiana are saving money by reorganizing business functions using machine learning, robotic printing and other automated systems. There are still plenty of human roles in technologically equipped workplaces, but we can't bury our heads in the sand and ignore the efficiencies and profit margins that result from technological advancements.•
Click here for more Forefront columns.
__________
McDonald is the CEO of Fishers-based ClearObject and chairman of the Indiana Technology and Innovation Policy Committee. Send comments to ibjedit@ibj.com.
Please enable JavaScript to view this content.