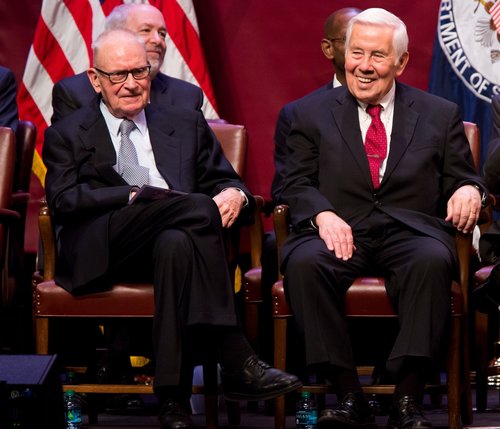 Indiana University has named its School of Global and International Studies after two Indiana political legends—former U.S. Rep. Lee Hamilton and former U.S. Senator Richard Lugar.
The school will now be known as the Lee H. Hamilton and Richard G. Lugar School of Global and International Studies, or the Hamilton Lugar School for short.
The announcement Wednesday afternoon kicked off a $25 million fundraising campaign, the proceeds of which will help establish a scholarship program and endowed faculty positions. 
IU President Michael McRobbie said the school is a symbol of IU's "global engagement in an increasingly complex and connected world."
"We are proud to bring the great legacies of Hamilton and Lugar, two of the most revered voices in foreign policy in the United States, to further cement our commitment as one of the nation's most internationally focused universities," McRobbie said in written comments. "In their spirit, where partisanship stops at the water's edge, we will embody and set the tone for a school that truly promotes an understanding of contemporary and global issues with the mission to educate the next generation of global leaders."
Hamilton, a Democrat, served in the U.S. House from 1965 to 1999. Lugar, a Republican, served in the U.S. Senate from 1977 to 2013, becoming the longest-serving member of Congress in the state's history. Before joining the Senate, Lugar was Indianapolis mayor from 1968 to 1975.
According to IU, "both statesmen led efforts to shift U.S. foreign policy away from a Cold War footing and toward the challenges and opportunities of a new century."
The school, which is six years old, has already amassed impressive credentials. IBJ reported last fall that the school, led by founding dean Lee Feinstein, a former U.S. ambassador to Poland under President Barack Obama, was growing rapidly. Enrollment at the school had risen 55 percent since its 2012 formation, with 631 undergraduates and 162 graduate students enrolled at the time, according to IU.
Secretary of State John Kerry visited Bloomington in 2015 to christen the school's new $53 million headquarters. Hamilton and Lugar both have offices in the school and host events there.
Feinstein told IBJ last year that Hamilton and Lugar's presence has the benefit of modeling bipartisan cooperation for students.
"Students of this generation really have no experience of bipartisanship in foreign policy," he told IBJ. "It's not within their memory. One of our high priorities is to demonstrate that people who come from different political backgrounds can nonetheless join together to identify ways forward even if they don't agree completely."
Please enable JavaScript to view this content.