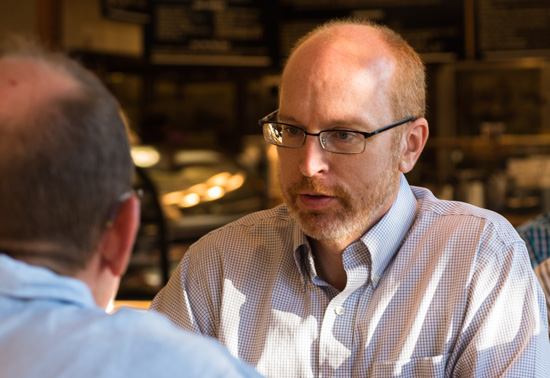 Longtime Indianapolis Star columnist Matthew Tully has died after a two-year battle with stomach cancer, according to the newspaper.
Tully, 49, had worked for the Indianapolis Star since 2002, writing nearly 2,000 columns over that time. The Gary native was named Indiana Journalist of the Year in 2008 by the Society of Professional Journalists. 
Tully, known as a political junkie who favored the left, wrote columns on all topics, from politics to social issues, but some of his most memorable work centered on education issues, including a project in which he was embedded at Indianapolis' Manual High School for nearly a year, telling the stories of of the students and staff at the struggling school.
The experience eventually inspired a book authored by Tully called "Searching for Hope: Life at a Failing School in the Heart of America." It prompted the Star to launch an initiative dubbed "Our Children Our City," which was a 10-year commitment to address children's issues in the city.
Tully, an Indiana University graduate and an avid Chicago Cubs fan, leaves behind a wife, Val, and 7-year-old son, Reid.
The Star stated it was "heartbroken" by the loss on Twitter, sparking outpouring of reactions.
"Matt always asked the right questions — questions that challenged us to be better citizens and neighbors," Indianapolis Mayor Joe Hogsett said in an email Tuesday. "Indianapolis was stronger, our city's hurdles less daunting and victories more sweet, as seen through his eyes."
Purdue University President and former Indiana Gov. Mitch Daniels released a statement mourning Tully's loss, harking back to when Daniels was a "no-name, first-time candidate" in 2003-04. 
"Ours was Matt's first major statewide campaign, and he covered us closely, occasionally traveling with us and learning some of what I was learning about the varied peoples and problems of our diverse state," Daniels wrote. "Then, and always, Matt probed, and challenged, and criticized when he disagreed. But he was a thorough, tireless, away-from-the-desk journalist, even as technology and market pressures were endangering that valuable species."
"And he was fair," Daniels added. "When he saw real results, he acknowledged and reported them.  He never fell into the cynicism that 'they're all the same' or that serving in public life automatically marks a person as an untrustworthy self-seeker. He loved his son, who has cruelly lost his father just as he enters the years when a boy most needs a firm hand and a good role model. I hope Reid will remember enough of the fine person Matt Tully was to grow up in a way his dad would be proud of."
Indiana Gov. Eric Holcomb complimented Tully for being a tough journalist.
"Matt Tully set a high bar in the Fourth Estate and was the master of the follow-up question, always digging deeper," Holcomb said in a written statement. "A 'Tully column' was one always read, because you knew you would learn something, at times painfully about yourself if you occupy the office I now do. Every visit we had ended with talk of family and the Cubs. I will miss coffee and community conversation with Matt and think of the Tullys often."
Tully told IBJ in 2014 that he liked to do his interviews in coffee shops because it gave him a chance to get to know people better. "Having breakfast or coffee or a beer with that source allows you time to get to know the person a little bit before you get to the serious business," he said. "I just think it leads to a better interview. Plus, I love coffee."
Tim Swarens, another columnist at the paper, posted on Twitter that he was "grieving deeply today over the loss of a friend and colleague."
"Matt Tully loved this city and state," Swarens wrote. "He served both exceptionally well. He was as fine a journalist as I've had the honor to work with. Most of all, he was a dedicated, loving father and husband."
Alvie Lindsay, news and investigations editor at the Star, posted on Twitter that Tully was "a first-class journalist and a first-class person."
Tony Cook, an investigative reporter there, posted simply that "Indiana has lost a truly original voice." 
Please enable JavaScript to view this content.