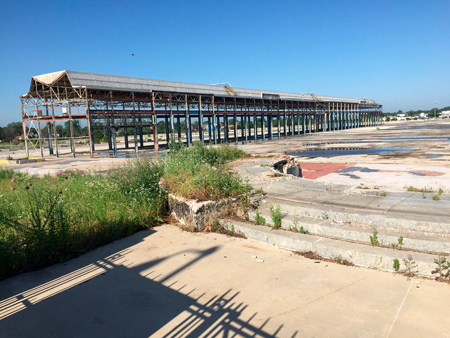 Local officials involved with the bid to bring Amazon's $5 billion HQ2 project to Indianapolis remained mum on Monday after reports over the weekend that indicated as many as three competitors were in "advanced" or "late" stages of negotiations.
On Saturday, The Washington Post reported that the internet behemoth had held advanced discussions about opening the massive campus in Crystal City, which is a large residential and office complex in Arlington, Virginia.
The site is one of three candidates in the Washington, D.C., area, which is considered a favorite for landing the project. Amazon CEO Jeff Bezos owns a home in the nation's capital and also recently purchased the Post.
On Sunday, The Wall Street Journal reported that Amazon was in late-stage talks with a small handful of communities, including Crystal City, New York City and Dallas.
Neither paper named their sources for the story. Officials representing the 20 finalists for the project, which include Indianapolis, are operating under strict non-disclosure agreements.
Accordingly, local organizers for the Indianapolis bid declined to comment Monday on the city's chances as Amazon nears the Dec. 31 deadline it has set to make its decision.
"While we will not comment on any specifics of the Indianapolis regional bid for Amazon HQ2, we remain dedicated to providing Amazon the information needed for their team to make this important decision," said Joe Pellman, director of marketing and communications for Indy Chamber, which took the lead in spearheading the local bid. "We have no further updates at this time."
The office of Mayor Joe Hogsett referred inquiries to the Indy Chamber. A representative for Fishers Mayor Scott Fadness, who has been involved in the bid process, did not immediately respond with a comment.
A spokesperson for Gov. Eric Holcomb said she had nothing to share. The Indiana Economic Development Corp. responded to IBJ by noting that HQ2 negotiations are confidential.
Amazon announced last year that the retail giant was looking to open a second headquarters somewhere in North America, bringing with it as many as 50,000 new jobs. More than 200 states and municipalities threw their hats in the ring, offering Amazon millions in tax incentives.
Because Amazon is reportedly in "advanced talks" does not mean the deal is certain. Shortly after the Post published its story, Mike Grella, Amazon's economic development director posted on Twitter, "Memo to the genius leaking info about Crystal City, VA as #HQ2 selection. You're not doing Crystal City, VA any favors."
The Post indicated that Amazon could make its decision as early as this month.
Local leaders are widely believed to have pitched to Amazon the largely vacant 103-acre former site of a GM stamping plant on the west outskirts of downtown.
IBJ reported last month that the developer of the site is moving ahead with plans for a $1.4 billion mixed-use development on the site. To be dubbed Waterside, the project is expected to include residential development, hotel space, offices, commercial and retail development, parking garages, public art, green space and water features.
Officials with Indianapolis-based Ambrose Property Group declined to address whether they believed the site still had a shot with Amazon.
"I think for us the right thing to do is continue through our process," said Aasif Bade, Ambrose's co-founder and president. "We're ready. We're entering some pretty serious conversations with a couple of potential tenants."
Please enable JavaScript to view this content.