Is it possible to raise a bar too high?
That's the question
I was left with after the stunning "An Evening with the Stars" benefit
for the would-be Indianapolis City Ballet on Sept. 12.
Without a corps
of its own to take the stage, the ICB powers that be rounded up some of the top young dancers in the
world, staging a can-you-top-this evening at the Murat Theatre that was rarely short of
magnificent.
The program was, by turns (and sometimes
simultaneously), gorgeous and funny and thrilling and jaw-dropping. It was moving. It was charming. And
I can't recall another time when I felt compelled to give a standing ovation
mid-performance.
It's probably a good thing
that a significant amount of fund raising and organizational time must pass before Indianapolis City
Ballet tries its own production. Following this would be impossible.
The evening started with a local tie—David Hochoy of Dance Kaleidoscope worked with dancers from
the New York City Ballet and the American Ballet Theatre on an adaptation of his "Fascinatin'
Rhythm." An unfortunate hiss in the sound system did diminish but didn't destroy its introspective elegance. The
leaps were lovely, the dancer-as-furniture moves stopped just short of being silly, and it seemed that everyone from the potential
funders in the orchestra section to the student in the balcony was hooked.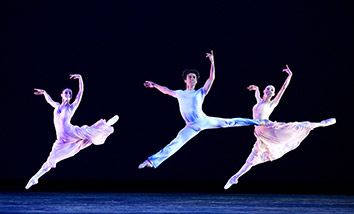 At the Indianapolis City Ballet gala,
David Hochoy choreographed New York City dancers. (Photo Courtesy Indianapolis City Ballet)
That hook went far deeper when Kirov Ballet dancers Anastasia
and Denis Matvienko took a more traditional route with a pas de deux from "Diana &
Acteon." The thunderous applause barely died down before Stuttgart Ballet's Alicia Amatriain
and Jason Reilly showed us ballet's possible future with "Mono Lisa"
featuring ultra-precise, primal, extreme movements—and attitude to burn.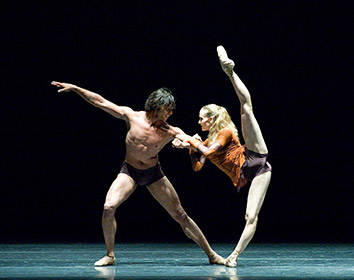 A Stuttgart
Ballet duo was stunning. (Photo Courtesy Indianapolis City Ballet)
While on my feet, a sadness
hit. Great art makes me generous, and I couldn't help but think of the many people
I know who would have loved being elevated and shaken by this combo of creativity plus excellence but who weren't
among the 1,850 other people at the Murat.
I also began to wonder
what foolish programmer would put the best stuff right up front.
The fallacy of that thought was soon revealed. Excellence wasn't a highlight of this program, it
was an average.
Gennadi Saveliev from the ABT offered spirited spins on the
traditional "Gopak." Julie Kent and David Hallberg not only danced stunningly
in the balcony pas de duex from Prokofiev's "Romeo and Juliet," but also gave
acting performances that would shame most seasoned Shakespearian actors. Then, after
intermission, Amatriain and Reilly returned for a truly hilarious "Le Grand
Pas De Deux" set to Rossini's music. When it comes to dance, "funny" usually means
merely "amusing." But the bespectacled ballerina and her earnest partner earned hearty, joyful belly laughs. Kudos,
too, to choreographer Christian Spuck.
And there was more. ABT's
Sarah Lane and Gennadi Saveliev made one-handed lifts look simple and elegant in
a piece from "Le Corsaire." The Matveinkos threw themselves into a hyperkinetic
"Radio & Juliet" (set to the music of Radiohead) and the Kent/Hallberg duo created more stage drama with a
piece from "Manon."
And then came Miquel Quinones.
I had heard about "Caught," a signature work of Parsons Dance
Co. But reading about it or watching a YouTube clip is nothing like experiencing it live.
It started with the dancer in circles of light. His movements indicated that he was preparing
for something.
The lights strobed, catching him in a series of poses.
And then he flew.
Captured in the light at the apex of every leap, Quinones moved through the air, gracefully, impossibly.
The piece carried with it the thrill of breaking boundaries and the ache of what we can't do. I
cannot praise it—or the performance—highly enough. It was transcendent. And the Murat shook
with applause.
How do you follow that? The programmers tried with George
Balanchine's "Stars & Stripes." But somehow mere excellence didn't seem enough.
The bar was too high.
Overall, a message was sent
and it's an exciting one: The goal of ICB, if/when it arrives, isn't to create
good-enough ballet. The goal is greatness.
As a presenter, that goal
was achieved on the 12th.
It's one thing, though, to present
the best in the world, it's another to create it.
But
far more than I was a few weeks ago, I'm now anxious to see what our new ballet company can do
when it's ready to face the music and dance for itself.•
__________
Visit ibj.com/arts for additional reviews,
previews and arts discussion. Twitter: IBJarts
Please enable JavaScript to view this content.