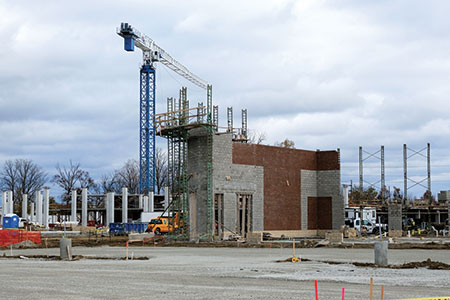 The developer responsible for The Yard at Fishers District is eyeing adjacent land along East 116th Street for more commercial development.
Thompson Thrift Retail Group has requested Fishers rezone 8.67 acres of land east of The Yard for a mixed-use project that could include a boutique hotel, townhomes, retail and office space. The rezone, which would change the zoning from planned unit development commercial to planned unit development mixed, was slated to be heard at Thursday's Fishers Plan Commission meeting but has been postponed to next month.
A portion of the land—about 1.6 acres—was previously targeted for development by KLC Realty LLC, which had originally filed plans to construct two retail and office buildings at the southeast corner of 116th Street and Lynn Drive. (The Yard has been staked out east of the Ikea at 116th Street's intersection with Interstate 69.)
KLC Realty in 2017 requested the land be rezoned from residential to a commercial planned unit development and dubbed the project The Stations at Fishers District.
Construction on that project never took off, and recently Thompson Thrift Retail Group acquired the property from KLC Realty. Now, the group has another 6 acres south of that parcel under contract.
The land is currently owned by Sunbeam Development Corp.
Thompson Thrift Retail Group hopes to close on the property in 2019, Eric Wojak, development director for Thompson Thrift, said.
The two properties, totaling nearly 9 acres, could be developed into a blend of office and retail space with townhomes and a boutique hotel.
Wojak said Thompson Thrift is still evaluating best uses for the land and has been in contact with a few developers that could collaborate on the project.
"We're still very much in the planning stages," he said.
While the project would be separate from the Yard at Fishers District, Wojak said it would be an extension of it based on proximity. The two developments will be connected in some way.
"We feel the uses we're evaluating currently would be a tremendous complement," he said.
The Yard at Fishers District, a 17-acre culinary district currently under construction at the southeast corner of East 116th Street and Ikea Way, also includes shopping, 260 luxury apartments and a four-story hotel.
Its first tenants are expected to open this fall.
Wojak said Thompson Thrift Retail Group could begin construction on The Stations as soon as this summer.
Please enable JavaScript to view this content.