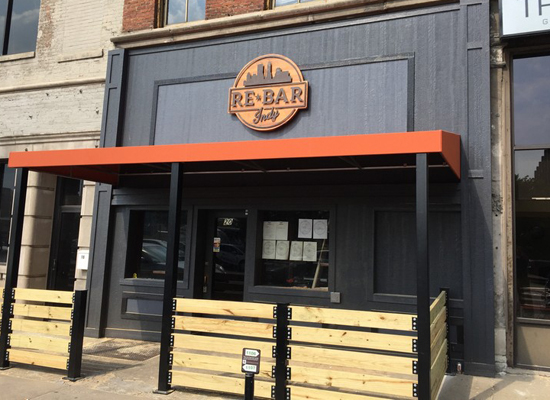 Rebar Indy, the downtown watering hole and restaurant that closed in January, will soon reopen under new ownership.
Four business partners, including orthopedic surgeon Jason Watters, opened Rebar in the summer of 2016. Watters also is manager of a partnership that owns the building, located at 20 N. Delaware St., which was purchased in 2017 for $219,000.
Chef Charles Mereday has purchased the Rebar Indy business and has signed a lease for the spot. He expects to reopen Rebar either this weekend or early next week.
Mereday said he expects to keep many things the same, including the establishment's name, its self-serve beer wall with 20 taps, and its selection of brews. "Their beer program, I think, has been one of the best in the city," he said.
But Mereday does plan some changes to the menu. It will still offer casual bar food—think burgers and tacos—along with some new items such as grilled salmon, vegetable dishes and salads. "I'm just really looking forward to bringing some bold flavors and some freshness to it," he said.
A relative newcomer to the area, Mereday moved to Indianapolis a little over two years ago from Naples, Florida, where he owned four fine-dining restaurants called Mereday's. 
His first local venture was the Mile Square Bistro at 443 N. Pennsylvania St. Mereday took over the former City Café space there and reopened it in early 2017, but the restaurant lasted only a few months before closing.
Then, late last year, Mereday helped The Vanguard's owner, Bill Ficca, reopen the Broad Ripple bar and restaurant. The Vanguard had closed in June after losing key employees to another restaurateur.
Mereday said he left The Vanguard this month because he wanted to open his own place instead.
Watters and his partners own several local properties, and Mereday met them while he was looking for locations for his own restaurant.
When Rebar opened, Watters told IBJ in 2016 that he and his partners made a "significant investment" in renovating the former Paddy's Legal Beagle space, including adding the self-serve beer wall.
The infrastructure of the space was appealing to Mereday, as was the fact that Rebar is near a flock of new downtown apartment buildings—potential sources of customers.
Starting out, Rebar will offer both lunch and dinner. Mereday said he'll continue offering lunch if business is good enough. It's harder for restaurants to make money on lunch, he said, because fewer people order alcohol at that time of day and profit margins are slimmer.
The three-story Italianate-style building was constructed in 1866 by brothers John and Adam Hereth to house their saddle-and-harness shop, according to HistoricIndianapolis.com. Law offices mostly occupied the upper floors of the building, which was named the Hereth Block.
Rebar Indy hung its hat on its scratch kitchen, a burger blended from three different meats, and the self-serve beer wall. The space was designed to sport a neo-industrial look, and all of the furniture was handmade from reclaimed materials to complement the design.
Rebar ended its run in January. The owners posted a sign on the door saying, "Rebar Indy is indefinitely closed for business while we search for a new owner/operator."
Please enable JavaScript to view this content.