The Indy Eleven appears to face long odds in landing a Major League Soccer franchise, a requirement the team needs to meet under pending state legislation to get $150 million for a stadium.
But winning an MLS spot is not out of the question, sources close to the league told IBJ, and Indianapolis' outlook could change in a big way rather quickly.
The Statehouse bill could be a critical step in moving Indianapolis to the head of the class of cities hoping for one of the few MLS expansion franchises that are—or could be—up for grabs.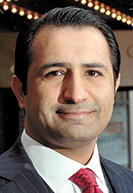 Ozdemir
The Eleven is currently part of the MLS-affiliated United Soccer League, one step below MLS. The team consistently drew more than 10,000 fans per game in its years playing at IUPUI's Carroll Stadium in the now-defunct North American Soccer League, and it did the same at Lucas Oil Stadium in 2018, its first year in the USL.
"What [Indy Eleven majority shareholder] Ersal Ozdemir has done with his team in the USL, and in the NASL before that, has definitely gotten people's attention," said Ian Thomas, who covers the business of soccer and the MLS for Sports Business Journal. "He's built a strong fan base there in a relatively short period of time."
But while Thomas and others close to the league are impressed with the Eleven's fan base and corporate following, they say team officials still have work to do to earn an MLS franchise—and not much time to do it.
"If they can get the stadium situation worked out, that would ramp them up the list pretty quickly," Thomas said. Eleven officials "will get a sense pretty quickly whether getting [an MLS] team by 2022 will be possible."
MLS Commissioner Don Garber and his lieutenants are widely believed to be weighing four factors to determine whom to let into the MLS and whom to stiff-arm.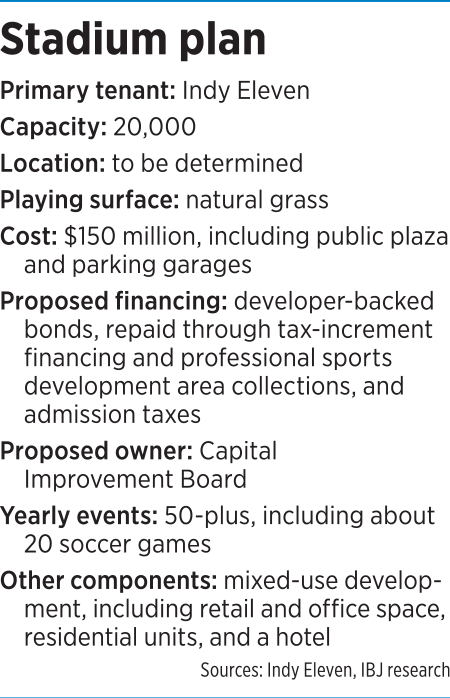 "The MLS wants an owner with very, very deep pockets; a stadium or at the very least a very firm stadium plan; strong fan support; and strong corporate support," said Paul Kennedy, editor and general manager of Soccer America, a publication covering the sport. "Having the funding lined up for the stadium is very significant, but it isn't the only issue the MLS will want to be clear on."
The Indiana Senate on Feb. 26 passed a bill 48-1 authorizing funding for a soccer stadium for an MLS franchise willing to pay 20 percent of the construction costs—estimated at $30 million. That could be the Indy Eleven, if it becomes a franchise within three years. Or it could be another MLS team that comes to Indy within that time frame.
The bill now moves to the House for consideration.
Even if the House passes the bill and the governor signs it, sources said Indianapolis still trails other candidates for an MLS expansion franchise in other ways, like team financing and political support.
It's complicated
The expansion situation is fluid. The league currently has 24 teams, including Cincinnati, which will begin play this year. In December 2017, MLS officials announced the league would expand to 28 teams. Ozdemir's Eleven was one of 12 teams to apply for an expansion franchise, but was nixed.
Franchises in Miami and Nashville are joining next year.
In January, MLS officials announced Austin would become the league's 27th team. Austin recently signed a lease with Austin FC majority owner Anthony Precourt, a California-based investor, to provide land for a privately funded $225 million stadium.
Garber told Sports Illustrated in February the league has no "specific timetable" to announce the 28th team. Sources within the MLS told IBJ the league would consider expansion to 28—or possibly even 30 teams—over the next year. MLS officials are expected to make some type of announcement on the timing this year.
MLS' communications boss, Dan Courtemanche, did not return calls or an email seeking comment.
Even if the MLS expands to 30 teams, Indianapolis has competition. St. Louis, Phoenix, Sacramento, Las Vegas, Detroit, Raleigh and Charlotte are all positioning for a run at a franchise. That means at least five cities would be left out.
Several sources close to the situation say it's unlikely the league will commit to more than 28 teams by the 2022 season, the bill's deadline for stadium funding.
Sources close to the MLS told IBJ the lack of a 20,000-seat soccer-specific stadium has been the team's biggest ding in franchise eligibility, but the financial wherewithal of Ozdemir and his ownership group has also been questioned and the Eleven's effort has not been strongly backed by high-level local political leaders.
"They didn't have many or really any state lawmakers or the governor standing up, raising their hands, and saying, 'Yes, we support this team and really want an MLS franchise,'" a source within the MLS told IBJ. "That's seen as a problem."
"I think the MLS is looking for something more concrete than [promised state funding]," said Patrick Rishe, director of Olin's Sports Business Program for Washington University in St. Louis, and founder and president of the sports consulting firm Sportsimpacts.
"St. Louis and Sacramento are well beyond the promissory stage," he said. "They have concrete plans and are much closer to the end line. Right now, there are several markets that have a better proposal on the table than Indianapolis and are in more engaged conversations with the MLS."
Billionaires wanted
The MLS has evolved rapidly over the last decade as owners such as billionaires Arthur Blank, owner of the NFL's Atlanta Falcons; soccer great David Beckham; and Nashville's John Ingram, whose holding company took in $2.3 billion last year, have joined the league.
St. Louis' bid for a franchise got a major boost in October when it was announced that a group led by the founding family of global car-rental behemoth Enterprise Holdings (the Taylors) would be principal owners of that city's soccer team. The Taylors are teaming with the family of Jim Kavanaugh, CEO of suburban St. Louis-based World Wide Technology and a former professional soccer player.
Sacramento's efforts were supercharged in January when Ron Burkle, a Hollywood tycoon with a reported $2 billion net worth, agreed to become lead investor in Sacramento Republic FC. Burkle also bought a site in downtown Sacramento, where a $250 million stadium is being built to MLS specifications. A 14-acre entertainment district also is planned for the site.
"The kind of investors the MLS is attracting are billionaires, not millionaires," said Sports Business Journal's Thomas. "I wouldn't be surprised if Ersal sought to bring on more investors."
Ozdemir has made two attempts to strengthen the team's ownership group. In January, he added six owners. President and CEO of Indianapolis-based Heritage Environmental Services Jeffrey A. Laborsky is the only carryover from his first group. Additions are:
◗ Brian Bauer, president of Indiana University Health Fort Wayne;
◗ Don Gottwald, chief operating officer and chief strategy officer of Carmel-based KAR Auction Services Inc.;
◗ Shane Hageman, president of Carmel-based real estate investment firm Hageman Group;
◗ Fred Merritt, president of Fort Wayne-based LFM Investments Inc.;
◗ Quinn Ricker, president and CEO of Anderson-based Ricker Oil Co.; and
◗ Chris Traylor, co-president of Traylor Bros. Inc. and representative of Traylor Family Capital, both based in Evansville.
Ozdemir remains steadfast in his belief that his group has the financial wherewithal to belong in the MLS. He told IBJ his group will have no problem securing financing for its part of the stadium and even a $150 million MLS expansion franchise fee when the time comes. If and when the Eleven gets into the MLS, the expansion fee will likely have gone up.
Ozdemir said the ownership group has "collectively 12 billion [dollars] in [annual] sales and employs 20,000 people." He points to his own company, Keystone Realty Group, as one of the state's largest development firms.
He declined to state the net worth of the ownership group. But he said he will not add owners simply to appease the MLS.
"We'll continue adding more people that have tremendous reputations … business and civic leaders who bring value to the organization," he said. "There's not a certain number—we don't need to add anymore—we will only add them because we want to and they bring the ownership group value, not because we have to."
Things could change
But Ozdemir hedged in the hours after the bill sailed through the Senate and was sent to the House on whether three years is enough time to secure an MLS franchise.
"As we've said before, our goal is to become an MLS franchise. For us to have a professional team in Indiana, we really need a permanent home, regardless," he said.
Ozdemir declined to say whether Eleven officials might lobby to have the MLS-mandate language removed from the bill.
He also deflected a question about whether he's in conversations with the MLS about a franchise, saying it's premature to talk about the process. He stressed that Eleven officials are taking it one step at a time and are merely concerned with getting the bill through the Legislature and stamped by the governor into law.
But sources said St. Louis' and Sacramento's rather sudden vaults to the top of the MLS hopefuls heap shows that things can change dramatically in short order.
"St. Louis' bid has shown that one key announcement can leapfrog one city right into contention," said Washington University's Rishe, who is also a contributing sports business writer for Forbes magazine.
A land purchase agreement and a stadium site plan could boost Indianapolis' bid, sources close to the MLS said. MLS officials like that Ozdemir is a local developer and they like the idea of the stadium's being part of a bigger commercial complex. Rishe said the stadium plan would get an even bigger thumbs-up if it were part of an urban revitalization effort.
"That gives it more visibility and the vibe the MLS is looking for," he said.
Ozdemir's Keystone Realty Group is involved in some high-profile local projects, including CityWay apartments and retail space; 3 Mass Condos, Shoppes and Garage; Broad Ripple Parking Garage and Shoppes; and Olivia on Main Luxury Residences and Shoppes in Carmel.
Ozdemir has proposed that the stadium—which would be owned by the city's Capital Improvement Board—be part of a $550 million mixed-use development spearheaded by Keystone.
Crowded local landscape
Another question is whether Indianapolis can support a third major-league franchise. With an NFL and NBA franchise, along with events at the Indianapolis Motor Speedway and a AAA minor-league baseball team, extracting sports money out of the market, some wonder where the Eleven would get enough ticket and sponsorship revenue to sustain an MLS team.
"It's a wonderful community for sports, but right now I don't think it's a viable city" for one of the remaining MLS franchises, Rishe said.
Running an MLS team would cost considerably more than running a USL team, and MLS officials are going to want proof the local operation can be sustained.
The MLS currently has a relatively low salary cap—just more than $4 million annually. Still, that's five to 10 times more than a USL player payroll.
And due to cap exemptions, competitive MLS teams usually pay $10 million to $14 million annually in player salaries, sources close to the league told IBJ. In addition to that, some of the wealthier owners—like Blank—have spent tens of millions more to acquire players from other leagues, especially those in South America.
Though the Indy Eleven currently trains at Grand Park Sports Campus in Westfield and Ozdemir said that's the plan for the foreseeable future, the team would eventually need its own training center if it graduates to the MLS. That could cost another $50 million or so, sources said.
Sports Business Journal's Thomas conceded that Indianapolis is a crowded sports market but said, given its size, there should be room for an MLS team.
"I don't think competition in the marketplace scares the MLS as long as the team connects with the … young, multicultural fans the MLS attracts. That fan base is very attractive to sponsors as is evident by the fact that the MLS has attracted a lot of blue-chip sponsors."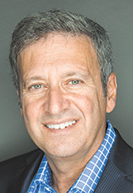 Ungar
MLS league sponsors include such names as Audi, Adidas, Coca-Cola, Heineken, Home Depot, Allstate insurance, AT&T and EA Sports.
Ken Ungar, founder and president of local sports marketing firm Charge, agreed that the MLS has an attractive demographic. Though Ungar works most closely with sponsors in motorsports, some of those sponsors—including Honda—are also in soccer.
"Soccer has a really nice core of avid fans," Ungar said. "And avid fans are the ones that really tune into sponsor messages."
If Indianapolis can't secure one of the next three MLS franchises, it could be a long wait to get another bite at the apple.
"I don't see the MLS expanding to 32 teams in the next decade," Rishe said. "Once they expand to 30 teams, the opportunity for a city to get an MLS franchise could be closed for a long time."•
–Mickey Shuey contributed to this story.
Please enable JavaScript to view this content.