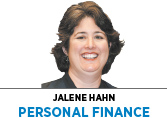 A recent Kiplinger article, "5 Big Problems to Solve Before You Retire," lumped financial advisers into two camps.
"There are those who promise everything is going to be fine; you don't have to fret about retirement, they say, because they'll help you make more than enough money to get you through. And then there are the hand-wringers who just can't stop with the worrying and their warnings that you'll never have enough."
The truth lies somewhere in the middle. I tend to be more of a "hand-wringer," in part because of the long time horizon and the uncertainty.
I joke with my clients that, "If I only knew when you were going to die, my job would be so easy." My clients and I spend a lot of time working on the balancing act of spending enough while they are healthy vs. saving for the possibility of living longer.
Many of my clients are also interested in leaving a legacy to their children or grandchildren. We recognize that there is uncertainty about life expectancy and the quality of life for their remaining years, and their plan needs to be adjusted along the way. As the baby boomers are hitting retirement age with increased projected longevity and inadequate savings, more research is addressing the question of how best to deal with longevity risk.
I came across an article written by Jeyaraj Vadiveloo, director of the Janet and Mark L. Goldenson Center for Actuarial Research at the University of Connecticut, discussing a project measuring not just longevity but also the quality of life.
The Goldenson Center's calculator looks at factors that affect your quality of health—for example, income, level of education, rudimentary fitness and lifestyle data points. I favor a more detailed calculator from www.livingto100.com that I encourage my clients to use. It doesn't attempt to break out healthy years from total years. While a number of unknown factors could lead to a shorter-than-projected life, this gives us a pretty good guess of how long to plan.
Wade Pfau, chief academic officer and director of the Retirement Income Certified Professional program at The American College, states, "Longevity risk—the risk of running out of assets before running out of time—is fundamental to retirement. We know about the distribution of longevity for the overall population, but an individual cannot know in advance precisely where he or she will fall in the distribution."
I attended a workshop many years ago conducted by William Bengen, who developed the 4% rule. It states that "retirees who withdrew 4% of their initial retirement portfolio balance, and then adjusted that dollar amount for inflation each year thereafter, would have created a paycheck that lasted for 30 years."
His workshop expanded on how the 4% rule could be adjusted using a "layer cake" analogy. The initial 4% could be adjusted based on a variety of factors including asset allocation, time horizon, likelihood of success and whether or not you want to leave a legacy.
Pfau noted that, while following this approach works, "most of the time, you underspend and yet still run the risk of running out."
Pfau and others have been conducting additional research on various strategies to adjust portfolio distributions to mitigate running out of money.
In the past, the only sure way to not run out of money was to purchase an annuity. Annuities had several drawbacks, including high fees and long surrender periods. Advisers now have lots of tools in the toolbox to help clients minimize longevity risk. Continued research will improve tools and strategies available to minimize longevity risk.•
__________
Hahn is a certified financial planner with WWA Planning and Investments. She can be reached at 812-379-1120 or jalene@wwafp.com.
Please enable JavaScript to view this content.