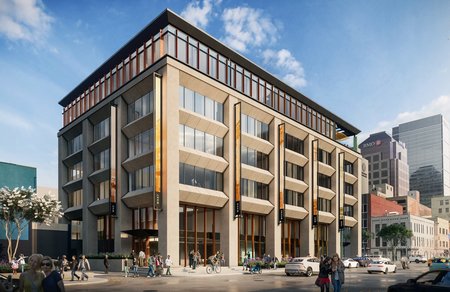 A local developer plans to spend more than $25 million to convert an office building at a busy downtown Indianapolis intersection into a Marriott-branded boutique hotel by the end of 2020.
KennMar LLC hopes to redevelop the five-story building at the southwest corner of Washington and Delaware streets—home to several local law offices—into a six-story hotel and restaurant called Hotel Indy.
The company plans to convert the building at 141 E. Washington St. (see current image below) into a 90-room hotel under the Tribute by Marriott brand, KennMar president Brent Benge told IBJ. The 60,000-square-foot building was built in 1969 for State Life Insurance Co. and has been the home of local law firm Riley Bennett & Egloff since 2003.
"We are just trying to create something that is Indy's boutique hotel, and we hope this is it," he said. "We have our work cut out for us, but that's what we're pushing for."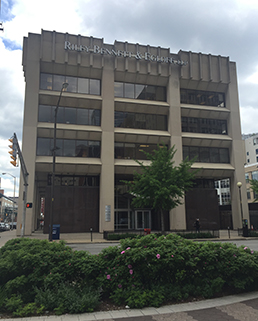 Hotel Indy will "pay homage to a lot of the great individuals from Indianapolis," as well as focus on the city's arts and cultural offerings, including exhibition art and music, Benge said.
The Tribute portfolio includes 21 hotels in the United States and 18 in other countries, with locations in Chicago, St. Louis, Detroit and other major U.S. cities. Each hotel has its own name and a design that fits each city, according to the Tribute by Marriott website. For example, the Tribute property in Chicago is called Hotel Zachary in homage to Zachary Taylor Davis, the Chicago architect who designed Wrigley Field in 1914.
"We want this to be the place where people can experience the city of Indianapolis," Benge said. "We're not just talking about art that you see hanging on a wall—we want to capture the city's spirit."
The lead architect on the project is Indianapolis-based Ratio Architects Inc.
The 0.6-acre property was purchased last November for $6 million by KennMarr subsidiary Hotel Indy Properties LLC. The building, fully occupied at the time of its purchase, has long been home to multiple law firms, including Riley Bennett & Egloff and Voyles Vaiana Lukemeyer Baldwin & Webb.
The 60,000-square-foot building was previously owned by Riley Bennett & Egloff, which acquired the property in 2003 from Freihofer Commercial Real Estate Services Inc. State Life Insurance owned the building from 1969 to 1998 before selling it to Freihofer.
Several tenants have already begun moving out from the building, with the rest scheduled to vacate by late August. Work on the building's interior is expected to start around that time, Benge said.
Riley Bennett & Egloff partner Ryan Leitch said the firm was approached about a possible sale in mid-2018 through Indianapolis-based broker Sam Smith of Resource Commercial, who was representing KennMar.
Leitch said the firm, which occupies the two top floors of the building, will move to the fifth floor of the office building at 500 N. Meridian St. on Aug. 1. It's expected to lease about 18,500 square feet.
Leitch and RBE attorney Raymond Seach were involved in the sale, along with Resource's Smith, who brokered the deal.
Benge said the hotel is expected to open by late 2020, with a fast-tracked timeline because the building is in excellent condition.
"The entire building has been impeccably maintained," Benge said.
The project must first get approval from multiple city boards, starting with the Regional Hearing Examiner, which is expected to hear the proposed plan at its May 23 meeting.
The conversion is expected to gut the entirety of the building, while replacing much of the façade on the first two levels with glass.
A sixth floor is expected to be added to the building, along with a rooftop patio area on the northwest corner of that level. Most of the rooms will be on the second through sixth floors.
A restaurant also is planned for the hotel, though Benge said multiple concepts are still being considered and design details haven't been finalized. A western portion of the property will be used for an outdoor courtyard.
The hotel also will include meeting and conference rooms, a workout area and other hotel amenities.
Benge said the hotel will offer an upscale but "affordable" experience for guests, though he did not offer a specific range.
For comparison, standard weekend rooms at Tribute hotels in Chicago and Nashville are about $400 to $600 per night.
The 34-space parking lot on the building's south side will be used for guests, he said, noting it's likely other nearby garages and lots will also be used for overflow parking.
He said the firm is hopeful Hotel Indy will play off other downtown revitalization efforts, including the planned $360 million overhaul of Bankers Life Fieldhouse and the eventual redevelopment of the current Marion County Jail.
"We love what we're seeing downtown right now," he said. "We believe in the redevelopment of this area."
Several hotels have sprouted up or are planned for the core downtown area, including a new Kimpton hotel at Pennsylvania and Washington streets and an Aloft project along Market Street. The former IBJ Media building one block west of Hotel Indy also is slated to become part of a hotel in the coming years.
As IBJ reported last year, more than 2,800 hotel rooms are expected to come to the market in the next five years.
Please enable JavaScript to view this content.