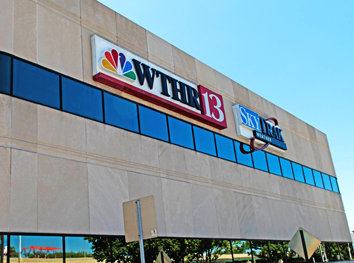 After 44 years under the same ownership, Indianapolis NBC affiliate WTHR-TV Channel 13 has been acquired.
Dispatch Broadcast Group announced Tuesday morning that it has sold WTHR, plus its Columbus, Ohio, CBS affiliate WBNS-TV, as well as WBNS Radio in Columbus—which broadcasts on AM and FM—for $535 million in cash to Tysons, Virginia-based Tegna Inc.
The Dispatch Broadcast Group is being sold by the Ohio-based Wolfe family, which has had media holdings in Columbus for more than a century. WTHR has been owned by  company since 1975. The station has long been a ratings leader in Indianapolis in local news and with its NBC programming.
The transaction, structured as a stock purchase, represents a purchase price multiple for the company of 7.9 times expected average 2018-2019 earnings before interest, tax, depreciation and amortization, Tegna officials said in a press release.
"We have long admired the talented and award-winning teams at WTHR's and WBNS's television and radio stations, and are honored that the Wolfe family has entrusted us to build on each station's commitment to high-quality journalism and serving the greater good in their community," said Dave Lougee, president and CEO of Tegna, in a written statement. "These stations are an excellent strategic and financial fit with our portfolio of leading big four affiliates and brands in top markets. We continue to invest in growth and remain true to our track record of acquiring highly attractive assets that create immediate value for shareholders."
Tegna Inc. was created in June 2015 when media conglomerate Gannett Co. split into two publicly traded companies. Tegna comprised the broadcast TV and digital media divisions of the old Gannett. Tegna, which owns or operates 47 television stations in 39 markets, is the largest owner of stations affiliated with NBC and CBS, and the fourth-largest owner of stations affiliated with ABC, according to company officials.
Tegna has been on something of an acquisition spree having announced the acquisition of 11 stations from Nexstar-Tribune earlier this year.
It's not clear how or if the sale will affect local staffing or programming. WTHR officials did not immediately return a phone call seeking comment.
While industry experts said they were hard-pressed to think of a strategic benefit from being a small player like Dispatch in an era of consolidation, but Dispatch officials had remained steadfast in their independence.
"We are not for sale," said Larry Delia, WTHR general manager and president of Dispatch Broadcast Group, told IBJ in December. "We are happy to be in this business. It is a good business, and it is a strong business. … We are one of the strongest-performing broadcast operations out there."
"There are pros and cons as a small player. But in our case, we have no leverage in terms of debt structure. We have an ability to run our operations independently as each market sees fit and really perform to high standards. We are not linked to a homogenized plan set by a large corporation that would necessarily dictate a model to all of our TV stations," Delia added.
It's not clear what changed in the last few months, but there have been signs in recent months that Dispatch was positioning itself for a sale.
The family previously demonstrated a willingness to unload a prized asset in response to changing market conditions when it unloaded its flagship Columbus Dispatch newspaper in 2015 to New York City-based Gatehouse Media after 110 years of ownership.
And WTHR has taken a number of cost-saving steps in recent years, from discontinuing its pension for new employees to getting rid of its news helicopter to trimming staff, including parting ways late last year with sports columnist Bob Kravitz.
Please enable JavaScript to view this content.