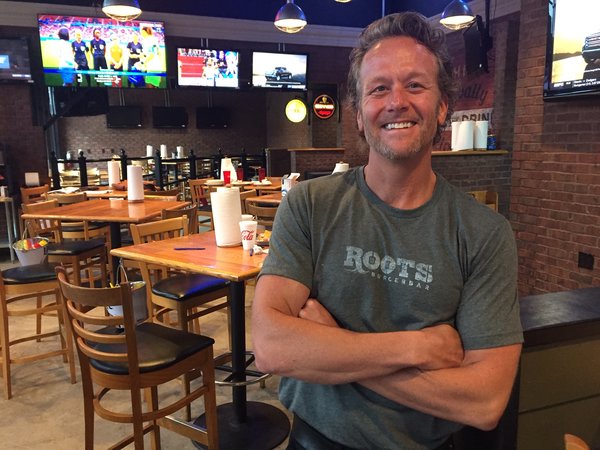 Two-and-a-half years after selling his namesake restaurant chain Scotty's, entrepreneur Scott Wise is launching another eatery. Roots Burger Bar will be located in the same Muncie location as his original restaurant but will have a more casual feel and tighter menu.
Wise tells IBJ Podcast host Mason King that he's both emotional and excited about the new start, which he says has been like hitting control-alt-delete on his career.
But it hasn't been an easy path. Wise explains why he believed selling Scotty's was a good move, why he planned to stay with the company that bought it for five years and what happened to make him leave so quickly. He also talks about the impact his parents and a near-death experience had on his life.
Scotty's Holdings LLC, which filed for Chapter 11 bankruptcy protection in December and has closed several restaurants, did not return a request for comment about Wise's comments in the podcast. 
IBJ reporter Susan Orr has more about Wise's new Roots restaurant. 
Click here to find the IBJ Podcast each Monday. You can also subscribe at iTunes, Google Play, Tune In and Spotify. Here are some of our recent podcasts:
IBJ Podcast: How offering PTO for volunteering can boost retention, improve recruitment
IBJ Podcast: It's not your grandfather's library system anymore
IBJ Podcast: Exploring artificial intelligence, learning from failure and more in our Innovation Issue
IBJ Podcast: Pete the Planner talks about paying for college
IBJ Podcast: Oliver Winery makes big business of sweet wines (but that's not all)
Photo of Scott Wise is by IBJ's Mason King. Photo of the restaurant is courtesy of Roots.
Please enable JavaScript to view this content.