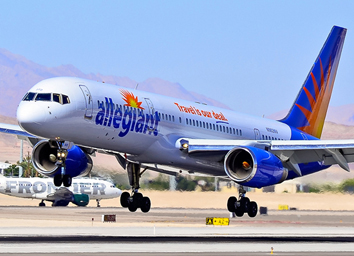 Low-cost airline Allegiant Air plans to launch nonstop routes from Indianapolis to both Boston and Los Angeles in May, the airline announced Tuesday.
Allegiant said it also plans to offer nonstop flights to Rapid City, South Dakota, for the Sturgis Motorcycle Rally over an 11-day period in August.
Service from Indianapolis International Airport to both Boston Logan International Airport and Los Angeles International Airport will begin on May 28. Service to Rapid City Regional Airport runs Aug. 4-14. The rally takes place in Sturgis from Aug. 6-15.
One-way tickets will run as low as $49 to Boston, $69 to Los Angeles and $99 to Sturgis, the airline said.
The routes will operate twice a week. Flights to Boston and Los Angeles will operate on Monday and Friday. Rapid City service will operate on two consecutive Wednesdays and Saturdays: Aug. 4 and Aug. 11, and Aug. 7 and Aug. 14.
The new flights are part of a larger service expansion that Allegiant announced Tuesday. In all, the Las Vegas-based airline is adding 34 routes at airports around the country, including nine limited-time routes to Rapid City.
"As summer approaches, we expect a lot of pent-up demand for travel, especially for places where people can hike, fish, camp or visit the beach," Allegiant Senior Vice President of Revenue Drew Wells said in written remarks. "With this expansion, we've added even more service to destinations known for their outdoor appeal."
Allegiant began serving Indianapolis in 2015 and opened a crew base here in 2018. The airline currently offers service between Indianapolis and seven destinations: six cities in Florida plus Las Vegas. Each of those routes offers flights from once to three times per week.
Please enable JavaScript to view this content.