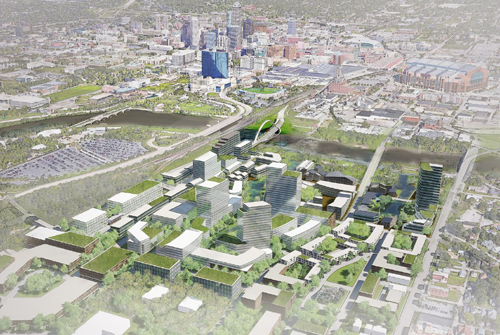 Ambrose Property Group isn't talking specifics about why it has dropped plans to redevelop the former GM stamping plant on the west edge of downtown into Waterside, the $1.4 billion mixed-use project it had proposed.
But other real estate developers and experts say it's likely the Indianapolis-based firm just couldn't secure the financing needed to move forward with the massive, 103-acre project.
And they have mixed opinions about whether it's likely the site will remain one parcel or be split into multiple projects.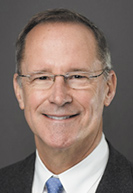 Mike Wells, president of REI Real Estate Services, said he "never really believed that [Ambrose's] ambitious proposal, on a risk-reward basis, was really worth the risk."
"I would speculate that they probably ran into some resistance trying to raise capital for doing such an ambitious project in that location," said Wells, whose firm had previously proposed an amphitheater for a part of the site.
He said the Waterside project faced hurdles to secure financing—particularly as the price tag for it ballooned from the original $550 million to more than $1.4 billion.
Larry Gigerich, executive managing director for Fishers-based site-selection firm Ginovus, said rising construction costs likely played a role in the decision to abandon the project.
Ambrose issued a statement Friday morning saying that it plans to reposition the firm to focus on e-commerce and industrial development and away from mixed-use and office projects, including Waterside. Ambrose officials declined to answer questions about the decision.
The move comes just a year after Ambrose detailed plans for the site that included 1,350 residential units, 620 hotel rooms, 2.75 million square feet of office space and 100,000 square feet of retail space.
Ambrose announced in May that it was partnering with commercial real estate firm Gene B. Glick Co. to build and manage apartments at the site. And just a few weeks ago, it announced it was hosting a competition to find a design for the old crane bay that still sits on the site.
But on Friday, Ambrose said it had enlisted JLL to sell the property and expects "significant interest from developers locally and nationally."
A project agreement Ambrose signed with the city would not allow a new developer to take over the existing project—with incentives from the city—without permission from the city's Department of Metropolitan Development.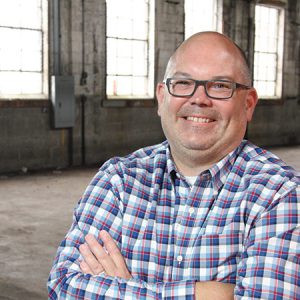 Gigerich said he believes the site would be best suited to remain one parcel, rather than split into different—and potentially contrasting—developments.
It's one of those sites where you have an opportunity once every 50 or 100 years to do something really special," he said. "So I think there will be a lot of interest in this land, once again."
One possibility? The Indy Eleven owner Ersal Ozdemir's proposed $400 million stadium and mixed-use village called Eleven Park. Ozdemir has persuaded the General Assembly to provide a funding mechanism for the stadium but hasn't chosen a site.
"I think it certainly would be something reasonable and logical to look at," Gigerich said. "With Ozdemir being a developer himself [at Keystone Corp.], it would make sense that that could be an option on the table."
Ozdemir and the Indy Eleven did not return calls seeking a comment on Friday.
But there is already some interest in the property.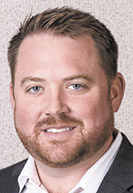 Tony Knoble, president of Indianapolis-based developer TWG, said he would be interested in developing at least part of the property into a new apartment project. But Knoble said he would not want to take ownership of the entire site right away.
"I'd love to be able to buy some of that and do a partner project," he said. "We could take it down in chunks. I think trying to do that thing all down at once was probably the biggest issue."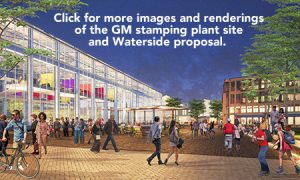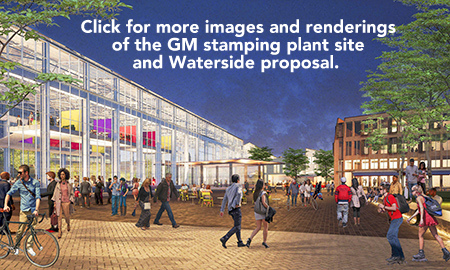 Knoble pointed to TWG's ongoing development at the former IPS Facilities Maintenance Division site as a model for a potential project at Waterside. The $26 million Wesmont project, south of East 16th Street along the Monon Trail, will add 188 market rate and workforce-rate apartment units.
He said he would be interested in buying about 15 acres at the Waterside property, to start out. He noted the overall site is significantly bigger than the 12-acre, $300 million Bottleworks District project on Massachusetts Avenue. Now under construction, the project calls for residential units, office space, retail uses and a hotel.
Starting with an apartment project likely would get the ball rolling on other components, Knoble said.
"With that, you can probably start to get some retail and some commercial going over there," he said.
Knoble said the proximity of Waterside to downtown remains a plus for the site, but that getting buy-in from developers and investors on a project of that magnitude is tricky.


"It's a huge undertaking … raising other people's money for that much speculative development on the other side of the river is just really difficult," Knoble said.
The site is bordered by the White River to the east, Harding Street to the west, West Washington Street to the north and Oliver Avenue to the south.
The stamping plant opened in 1930 and employed more than 5,000 people at its peak. The workforce had dwindled to about 700 by the time the facility closed in 2011. That's when RACER Trust, the Michigan-based entity responsible for facilitating redevelopment of former GM properties, started looking for someone to develop it.
After an initial round of proposals in 2014—which included a bid from Ambrose—RACER chose REI Investments to develop half the property. REI had planned to build an outdoor concert venue on about half the land. The city, meanwhile, planned to put a new criminal justice center on the other half of the property.
But REI couldn't secure financing for its part of the project, and the city eventually canceled plans to put the criminal justice center there.
That led to a second round of bids in 2017, which Ambrose won.
Although the RACER Trust no longer holds an interest in the property, it issued a statement on Friday saying that it was "ready to assist" the city of Indianapolis in finding a new owner. RACER said it "is hopeful that this sale will result in a buyer with the resources and capabilities to realize the property's substantial development potential."
RACER said it was "very disappointed that the reuse of the property will naturally be delayed by this" but it said the "potential for attracting transformative new uses of this valuable property remains strong."
Roger Lee, who co-owns a dozen homes in the Stringtown neighborhood on the near-west side, said Ambrose's decision doesn't dampen his enthusiasm about the area, where a number of other projects—including the redevelopment of Central State Hospital—have been successful.
But Lee said there are several reasons why Ambrose might have run into difficulties with Waterside.
The project had not announced any anchor tenants, Lee said, and it's not obvious who might want to be an anchor tenant at the site. Without that level of certainty, Lee speculated, investors might have been hesitant to sign on to the project.
"It's hard to get investors to just throw money at it on a speculative basis," Lee said. Ambrose "didn't have the track record or the anchor tenant to make that $1.4 billion an easy raise."
The lack of infrastructure at the site is another issue Ambrose would have had to tackle, Lee said. "I think there were probably more complications to develop it than they thought."
Wells said the site likely would work better if it was focused around industrial opportunities and warehousing, rather than the complex residential, office and retail plan offered by Ambrose.
But the site's neighbors say they would still like to see a mixed-use development there. Ambrose had been working closely with community groups to get their input on how to complement the existing neighborhood.
Jay Napoleon, a resident of The Valley, which is just south of the site along the White River, said he learned of the news about the project when Ambrose contacted him late Thursday.
"After the initial shock of this, our neighborhood is more or less committed to moving forward with the vision that was established with Waterside," Napoleon said. "On the bright side, the site is shovel-ready—ready to go. How that happens with another developer, we don't know yet."
Napoleon said he's adamant that his neighborhood have a voice in what happens with the property. He doesn't want a developer to grab hold of unsuitable development ideas out of desperation.
"We have to have a seat at the table, however this shakes down," Napoleon said. "We are a resilient bunch around here, and we're not just going to take table scraps. This location is too important to the city and the state to just take for granted."
Please enable JavaScript to view this content.