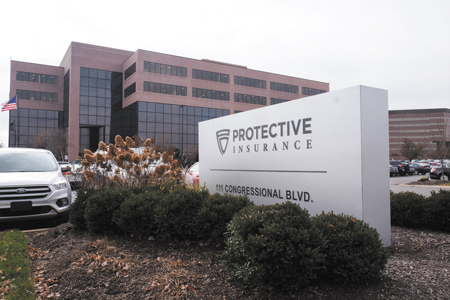 Carmel-based Protective Insurance Corp.—the area's 12th-largest public company—is set to be acquired by Ohio-based insurance giant The Progressive Corp. in a stock deal worth $338 million, the companies announced Tuesday.
Progressive plans to retain Protective's employees and its Carmel offices, according to a joint statement released by the companies. Protective, which until 2018 was known as Baldwin & Lyons Insurance, has 500 employees. The 91-year-old company offers property, liability and Worker's Compensation insurance for the trucking industry and public transportation fleets.
Progressive, based in the Cleveland suburb of Mayfield Village, is the nation's third-largest auto insurer and among the top 15 homeowner's insurance carriers. The company has more than 41,000 employees around the United States, including significant employee bases at multiple offices in suburban Cleveland as well as Colorado Springs, Colorado and Tampa and St. Petersburg in Florida.
In the deal, which is expected to close by the end of the third quarter, Progressive has agreed to acquire all of Protective's outstanding Class A and Class B common stock for $23.30 cash per share. The price represents a 49.1% premium and a 63.2% premium, respectively, to Protective's 30-day average Class A and Class B share prices as of Friday.
"We are excited to announce this agreement with Progressive, which is a milestone in Protective's history," Protective CEO Jeremy Johnson said in a written statement. "With Progressive's scale and resources, we expect to deliver greater value to our policyholders, while continuing to provide the exceptional service they have come to expect from us."
The acquisition will allow Progressive to venture into new lines of business.
"As a leader in commercial auto insurance, we're excited to expand our capabilities with the expertise Protective offers in larger fleet and affinity programs and by providing additional product lines for us to add to our portfolio," Progressive Commercial Lines President Karen Bailo said in written remarks.
The news was not altogether unexpected. As part of the Progressive deal, Protective's largest Class A shareholder, the Shapiro family of suburban Chicago, agreed to terminate a contingent agreement they had reached in May with another would-be acquirer.
In that deal, the Shapiro family would have sold nearly 1 million Class A shares, or 35% of the total, for $18.30 per share to two insurance industry veterans. The would-be purchasers were V.J. Dowling, founder of Connecticut investment firm Dowling Capital partners, and David Delaney, CEO of Long Beach, New York-based Lancer Insurance.
That deal was subject to numerous conditions, among them the requirement that Protective's board not oppose the stock sale. But the Shapiros said in a public filing that if the board opposed the sale, the family would attempt to replace the board with new members who supported the deal.
Protective's board rejected Dowling and Delaney's offer in June but announced that it was exploring "strategic alternatives." The phrase often signals a company's interest in being acquired.
Protective had also announced in November 2018 that it was pursuing "potential strategic partnerships or transactions," but no deal came out of that effort.
Protective has had its ups and downs in recent years. In March 2016, three of the company's top executives retired abruptly, citing clashes with Steven Shapiro, who at the time was the company's executive chairman. Following those departures, Protective launched an expansion that led to financial losses of $34.1 million in 2018. The company rebounded in 2019, posting a profit of $7.3 million. Fourth-quarter and full-year 2020 financial results have not yet been posted.
In 2019, Protective reported revenue of $495.6 million, ranking it 12th on IBJ's annual ranking of largest Indianapolis-area public companies.
Protective's Class A shares were trading at $22.90 Tuesday morning, up 39% from Monday's close. The company's Class B shares were trading at $22.94, up 53%.
Shares of Progressive were trading at $85.88, down less than 1%.
Please enable JavaScript to view this content.