The Indianapolis City-County Council has put teeth in the city's minority contracting processes by adding penalties for contractors and vendors that do not make a good-faith effort to meet goals for using diverse companies.
But not everyone agrees the change will make a significant difference in ensuring the city's bidding process is more inclusive, and they argue more work needs to be done.
For years, city code has set contracting goals for working with disadvantaged groups, which affect companies with minority, women, veteran and disabled owners. But there's never been any repercussions for vendors and contractors that try to skirt those goals.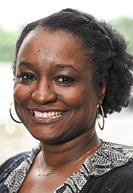 According to city code, 27% of a contract's funding should go to firms certified with the city as what's called an XBE. The rules further break down XBEs into categories, and call for 15% of contract funding to go to minority-owned businesses, 8% to woman-owned firms, 3% to veteran-owned and 1% to disabled-owned businesses.
But a disparity study released late last year found that minority- and women-owned businesses are substantially underused in the city's contracting and procurement processes.
Those findings are what led to the changes.
"There are certain things that come along with having a contract with the city and it's different from having a contract with a private entity," Camille Blunt, director of the Office of Minority and Woman Business Development, told IBJ. "We highly encourage you to work with diverse businesses because we are a city of diverse cultures and we want to be inclusive of everyone and that's always been the goal. It's just been hard to get to that finish line."
The changes will largely affect prime contractors, which typically win bids to oversee most of the construction of a project and hire subcontractors to complete it. That means the prime contractors must find a mix of subcontractors—such as firms that do concrete, framing, plumbing, lighting, etc.—to meet the city's goals.
Blunt said companies that frequently bid on city projects typically make a good-faith effort to meet the city's goals, but there have been projects in which no XBE firms were used.
Until now, the office—which is charged with serving XBE businesses by connecting them with contract opportunities—could only encourage contractors to mind the goals.
That's changed. The Indianapolis City-County Council earlier this month voted along party lines to penalize contractors the OMWBD determines have not put forth enough effort to include XBEs in city projects.
The penalties include withholding a portion of or all future payments for the project until the vendor is in compliance; placing the vendor on the city's debarred vendor list, which prevents them from bidding on other contracts for a period of time; or terminating the contract.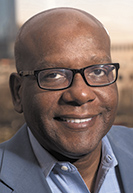 John Thompson, who owns four local businesses certified as XBEs, including Thompson Distribution and First Electric Supply, applauds the council for making the change. He said contracts with the city are filled with other types of requirements backed by penalties, but failing to use minority contractors had no consequences.
Without penalties, the XBE requirements were "just a goal," he said. And the signal sent, he said, was that XBE goals were "something you marginalized; it was not important to you."
Blunt told IBJ her office hopes it doesn't have to penalize contractors and will work alongside them from the start of a contract until it's finished to help them stay in compliance. The goal of the changes is to encourage inclusivity, she said.
Hogsett proposed the changes in his State of the City address in August. "These efforts will allow us to take another important step forward as we seek to demolish economic barriers in Indianapolis," he said at the time.
The problem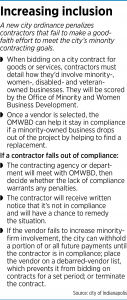 The city disparity study looked at five years of contracts—which included thousands of projects entered into by Republican Mayor Greg Ballard's administration at the end of his second term and by the Hogsett administration in its first term.
It assessed two factors in the relationship between minority-owned businesses and city contracting—utilization and availability—to calculate the level of disparity.
Utilization is the percentage of contract dollars spent with minority-, woman-, veteran- and disabled-owned businesses, while availability is the percentage those businesses might have been expected to receive based on their ability to perform specific types and sizes of contracts.
The study determined that, during the five-year period, city contracts were valued at $876 million. Of that total, XBEs were available to bid on $169 million, or 19.3% of contracts. They received $128.1 million in contracts, or 14.6%.
It was the first comprehensive disparity study to be conducted in about 20 years and revealed that goals on their own aren't enough to achieve the desired level of inclusivity.
Going forward, the city will conduct a disparity study every five years that leads to a utilization plan for XBEs.
Blunt said her office doesn't expect every contract to meet the goals because, while the city has nearly 800 certified XBEs, some sectors have few firms to choose from.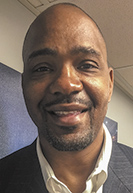 But if vendors and contractors on each contract make at least a good faith-effort to use XBEs, that would lead to a more inclusive bidding process, she said.
"There are certain projects where we know that there are high levels of work that could be given to our certified XBEs, and it's not happening," she said. "And so I think that contractors need to understand that there are certain responsibilities that come along with doing municipal work. As the 12th- or 13th-largest city in the United States, we have to do better."
Antonio Lipscomb, president of the Minority Contractors Collaboration, which launched about two years ago to serve as a voice for minorities involved in the construction industry, told IBJ the city could help solve violence and other crime in the Black community by giving Black-owned companies, which tend to hire Black employees, more work.
"We have a real problem with homicides and Black-on-Black crime. Access to contracts is the solution," he said. "We can take a gun out of the youth's hand and put a hammer in their hand."
A solution
The changes to city code essentially establish a more thorough review of whether city contracts are meeting usage goals.
When a contractor bids on a city project, it will include its plans for using XBEs. Blunt's office will give the company a worksheet on which it can document ways it made a good-faith effort to include XBEs.
The office will then score the company based on those actions, which include advertising in minority-focused media for at least 10 days before bids are due; sending mailings to XBE firms notifying them of contracting opportunities; documenting reasons an XBE firm's bid was rejected; and documenting efforts to provide technical assistance to an XBE firm in obtaining the bonding or insurance required by the city.
If a contactor can't prove it made a good-faith effort to reach XBEs before bidding on a project, it likely won't be awarded the bid, Blunt said.
Once a contractor is selected for a project or to fulfill services or goods, it will have to stay in compliance, she said.
Along the way, her office will be available to help contractors meet those goals by connecting them to XBEs. And the contractors will be warned if they're falling out of compliance.
Penalties will be imposed if it appears a contractor isn't trying hard enough to use XBEs, Blunt said.
Previously, she said, contractors would send a blast email to XBEs on a list to gauge their interest in participating on a contract or they'd run an ad in a newspaper for a few days.
That's not enough, Blunt said.
Thompson said his companies rarely receive faxes anymore. But that's still the way some contractors request quotes from XBE firms, which likely means the company is just trying to appear to meet the city's goals.
While the city has clamped down on that some in recent years, the new penalties are needed to ensure contractors really are trying to include XBEs, he said.
When the changes went before the council, the Republicans voted against them.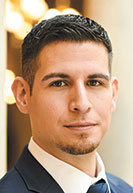 GOP Councilor Michael Paul Hart said he has heard from contractors that lots of people are "playing the system" and not following the usage guidelines. But he is worried the new rules give too much penalizing power to Blunt or whoever leads that office in the future.
Hart said a compliance committee should be charged with determining whether contractors are making good-faith efforts. That way, a body of people is making the decision rather than just one person.
He also said it's cumbersome for companies to have to be certified by both the city and state for projects—and he's looking at ways to change that.
More effort
Many people IBJ spoke to said the changes are a good first step but more needs to be done.
Thompson said more effort needs to go into ensuring that companies certified for specific services are actually able to provide that service. The city also could make a more concerted effort to divide projects into smaller contracts, he said, to enable XBEs to bid as prime contractors rather than always serving as a subcontractor. And the city itself needs to make an effort to pick XBEs as prime contractors more often, he added.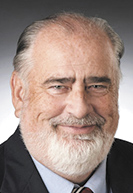 J.R. Gaylor, president and CEO of the Associated Builders and Contractors of Indiana, said another way to encourage minority participation would be to award contracts to companies that employ a high number of minorities, rather than focusing only on minority-owned firms.
Meanwhile, Lipscomb isn't all that impressed with the changes. He said the city needs to do more to put African American businesses to work. Black people make up 28% of the city's population, therefore more than 15% of contracts should go to Black-owned businesses, he said.
He agreed that the city could help Black businesses be successful by breaking up contracts into smaller pieces. Black-owned firms often don't have the capacity to fulfill a large contract on their own.
And he said the city could help create more Black entrepreneurs by investing in training providers that serve Black communities.
"As I look around, I see all these major developments, new construction going up all throughout the city. I don't really see people who look like me on those job sites," he said. "We need to make sure all parties are included in the investment that's coming from the city."•
Please enable JavaScript to view this content.