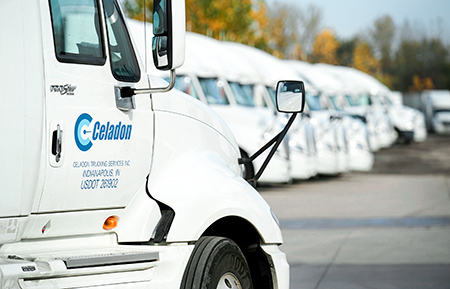 In an uncommon turn of events, all fraud charges against two former Celadon Group Inc. executives have been dropped, ending a federal criminal case that had been ongoing for more than two years.
On Thursday, Judge Jane Magnus-Stinson granted prosecutors' request to dismiss the charges against Celadon's former president and chief operating officer, Eric Meek, 42, and its former chief financial officer, Bobby Peavler, 42.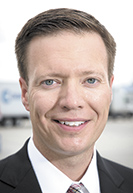 Both Meek and Peavler were charged in December 2019 with multiple counts of fraud and making false statements to a public company's accountants while they were working at the now-defunct Indianapolis-based trucking company. Meek had faced 10 charges, while Peavler faced 12.
In their motion, filed Wednesday in U.S. District Court for the Southern District of Indiana, prosecutors said, "the government believes that the indictment should be dismissed with prejudice, in the interests of justice."
The filing did not elaborate on the reason for prosecutors' request, and the U.S. Attorney's Office for the Southern District of Indiana declined a request from IBJ to comment on the action.
Because the charges were dismissed with prejudice, the case is now permanently closed and cannot be reopened later.
Attorneys Michael Kelly of Washington, D.C. and Sergio Acosta of Chicago, both of law firm Akerman LLP, represented Peavler in the case.
"Bobby Peavler was innocent of these charges, and we are delighted for Bobby and his family that justice has prevailed," Kelly said in a prepared statement.
Indianapolis attorney Jonathan Bont, who represented Meek, called it "very" uncommon for federal criminal cases to end in a dismissal of all charges.
"I'm very happy with this result for Eric and his family, and for Bobby and his family," Bont told IBJ.
In another unusual aspect of the case, last month the court granted permission for Meek and Peavler to take depositions from five witnesses each—something that does not typically happen in federal criminal cases.
This allowance, Bont said, was related to an issue that had been an ongoing point of contention in the case. Peavler had agreed to be interviewed by prosecutors, but later said that the government's version of that conversation was not accurate. During a pretrial conference earlier this year, prosecutors told the court that they had relied on a human note-taker during that interview and had not made a recording.
In a court document filed July 12, Magnus-Stinson said she was allowing "the unusual remedy" of allowing the defendants to conduct pretrial depositions as a way to help determine "whether there is any merit to Mr. Peavler's contention that the government may have committed systemic misconduct."
Bont said he was unaware that prosecutors planned to ask for a dismissal until the filing showed up on the case docket.
Chicago attorney Sergio Acosta, who represented Peavler, could not be reached for comment Thursday.
The case had been delayed several times because of the pandemic, and a jury trial that had been scheduled to begin in February was postponed because Indiana was at the time experiencing an upsurge in COVID-19 cases.
All the charges against Meek and Peavler related to a complex joint-venture arrangement involving the sale of trucks through a Celadon division called Quality Cos. A third executive, Former Quality President Danny Williams, entered into a plea agreement on three charges in April 2019. That same month, the U.S. Department of Justice ordered Celadon to pay $42.2 million to settle securities fraud charges.
On December 9, 2019, just four days after Meek and Peavler were charged, Celadon filed for bankruptcy and ceased operations, a move that wiped out about 4,000 jobs.
It was a bitter close to one of central Indiana's great entrepreneurial success stories. Stephen Russell, the son of a New York City taxi driver, launched the business with a single truck in 1985 and grew it into the largest provider of international truckload services in North America, with more than 150,000 annual border crossings between the United States, Canada and Mexico.
But the Indianapolis-based company lost its way after Russell stepped aside as CEO in 2012, four years before his death at age 76. In addition to operational challenges in recent years, Celadon became engulfed in what federal prosecutors called a massive accounting fraud.
Prior to the shutdown, Celadon operated a fleet of about 3,300 tractors and 10,000 trailers.
Through the years, Celadon expanded to offer a broad range of trucking-related services, including warehousing, supply chain logistics and tractor leasing.
In its Chapter 11 petition, the company said it has assets of about $427 million and debts of $391 million.
Meek and Peavler were accused of buying and selling trucks at inflated values through Quality Cos. to make Celadon's financial condition appear stronger than it actually was.
Please enable JavaScript to view this content.