The Democratic candidates running in Indiana's 5th Congressional District expressed differing views on health care, term limits and eliminating the Electoral College during a forum Tuesday night.
Four of the five candidates—Jennifer Christie, Christina Hale, Andrew Jacobs and Dee Thornton—participated in the virtual forum hosted by Indiana Town Halls and WFYI Productions, and answered questions submitted by voters in the district. Candidate Ralph Spelbring did not participate.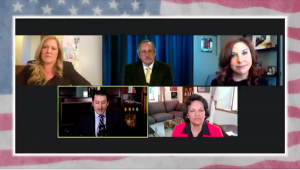 The candidates agreed on certain topics, saying they didn't think President Donald Trump and the federal government have responded well to the COVID-19 crisis and contending there is a need for comprehensive immigration reform.
They also said they'd be willing to work with members of the other party to get things accomplished in Congress. Hale emphasized that she has already shown she can work with Republicans during her time as a state lawmaker.
"Most issues are not partisan, they're human," Hale said. "I'll work with anyone and everyone to get things done."
But they disagreed on other issues.
On health care, all of the candidates had slightly different opinions. Christie said she strongly supports Medicare for all. Jacobs said he likes the idea of Medicare for all but would like to see a completely single-payer system.
"That is how this is done in other countries and it's how we should be doing it," Jacobs said.
Hale said she supports a public option and helping people who don't have coverage get access to health care, but she thinks people who already have health insurance should be able to keep it.
Thornton said she thinks Medicare should be expanded to those older than 50 and that lawmakers should find a way to smoothly transition to a universal plan.
On term limits, only one candidate—Thornton—explicitly expressed support for the issue. She said members of the U.S. House should have longer terms, of three or four years instead of two, and be limited to a couple of terms.
"Then we'd always have fresh, new ideas coming in," Thornton said.
Hale and Christie said they were open to the idea of term limits but they didn't believe it would solve the problem in Congress. Instead, both candidates talked about the problem money can play in politics.
"Term limits are important but won't get to the root cause," Christie said.
Jacobs said he doesn't support term limits, because he thinks it would only create more lobbyists.
When asked how they felt about the idea to eliminate the Electoral College, two candidates—Hale and Jacobs—said they did not support it.
Thornton and Christie both said they would support it.
The Democratic candidates are hoping to have the chance to flip the 5th District seat from Republican control this year.. The district includes all of Hamilton, Madison, Tipton and Grant counties and portions of Marion, Boone, Howard and Blackford counties,
The seat is held by Republican Susan Brooks, who is retiring. Fifteen Republicans are running for the chance to succeed her. Fourteen of those 15 candidates met in a similar forum Monday night.
The primary election is June 2.
Please enable JavaScript to view this content.