Most of the Republican candidates running in Indiana's 5th Congressional District say the federal government has responded well to the coronavirus pandemic.
During two virtual candidate forums hosted by Indiana Town Halls and WFYI Productions on Monday night, 14 of the 15 Republicans seeking the seat were asked to rate the Trump administration's actions so far related to the global health crisis.
Most of the candidates praised President Donald Trump and Vice President Mike Pence.
Former Indiana Bureau of Motor Vehicles Commissioner Kent Abernathy said he thinks the White House has done "a tremendous job" and described the situation as a war.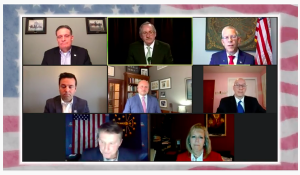 Former Marion County Prosecutor Carl Brizzi agreed with Abernathy's war comparison and called the coronavirus "the invisible enemy." Brizzi repeatedly talked about how he believes China should be held accountable for its role in spreading the disease.
Pediatric rehabilitation specialist Chuck Dietzen said he prefers for the government to be proactive, rather than reactive, but the administration didn't have a choice in this situation.
"I think the administration has done a great job," Dietzen said.
Former nurse Beth Henderson said she understands officials are trying to weigh the public health crisis with the economic crisis, and suggested that the sooner the economy can start rolling again, the better off the country will be.
Several candidates also applauded Gov. Eric Holcomb, but criticized governors from other states, like Michigan Gov. Gretchen Whitmer, who is a Democrat.
Micah Beckwith, former student ministry worship pastor at Northview Church in Carmel, said Whitmer's actions to shut her state down have basically made her a communist. He said he thinks Trump has done "a decent job" responding to the virus.
Some of the candidates who complimented the work the White House has done didn't feel the same way about Congress, though.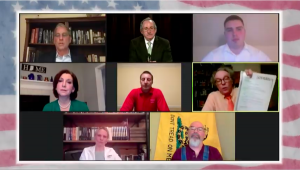 Indiana State Treasurer Kelly Mitchell said she has been "disgusted" by members of Congress, such as House Speaker Nancy Pelosi, for holding up relief packages in order to get funding or support for various "pet projects."
Two candidates—Matthew Hook and Mark Small—said they didn't think the federal government has handled the pandemic well.
Hook said he'd give the administration a "C-" or "D+" due to not having enough support for health care workers and not having enough testing immediately available.
"I think we're on the lower end of the grading scale, quite frankly," Hook said.
Small suggested an even worse grade of a "D-" or "F" because he thinks the federal government has failed to provide a nationwide and coordinated approach.
But state Sen. Victoria Spartz said she thinks leaving more decisions to state and local governments is a good thing and commended the Trump administration for allowing that to happen.
The candidates were also asked about whether everyone should have access to health care, and most of them agreed there should be access, but emphasized that it doesn't mean the government needs to provide it.
Small was the exception to this consensus though, saying he believes the country needs a single-payer health care system.
All 14 candidates said they would be loyal to the U.S. Constitution over being loyal to the Republican party when asked about it.
Nearly all of the candidates said they would support term limits, except Allen Davidson, who said he was "neutral" on the topic; Small, who said he was against it; and Mitchell, who said she thinks it's up to the voters to decide but doesn't plan on having a career in Congress.
One Republican candidate—Victor Wakley—did not participatein the forum.
Indiana Town Halls is hosting a virtual candidate forum for the five Democratic candidates at 7 p.m. Tuesday. It can be streamed at IndianaTownHalls.org.
The 5th District seat, which includes all of Hamilton, Madison, Tipton and Grants counties and portions of Marion, Boone, Howard and Blackford counties, is held by Republican Susan Brooks, who is retiring. The primary election is June 2.
Please enable JavaScript to view this content.