Indiana Democratic gubernatorial candidate Woody Myers said he wants Hoosiers to take the spark ignited by the police killing of George Floyd in Minneapolis and use it to build better communities.
During a speech Thursday evening televised by WISH-TV Channel 8 as part of the Indiana Democratic Party's virtual convention, Myers talked about his experience with racism as a child in Indianapolis, where he said he was sometimes treated with disrespect and humiliated in front of others.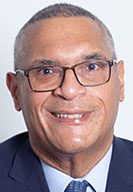 He said he had a gun pointed at him once, but he was never shot.
"I've seen racism for decades," Myers, 66, said. "But I've also seen what can be accomplished if we work together."
He is the first person of color to be a major-party nominee for Indiana governor.
Myers said he became a doctor and is now running for governor because of educators who encouraged him along the way. He previously served as Indiana state health commissioner and chief medical officer for Anthem Inc.
He said in his administration, he would create opportunities for all Hoosiers, implement sustainable climate policies, increase funding to education, be fiscally responsible and provide transparency.
"Let's build the future we deserve together," Myers said.
Myers' running mate, former longtime state lawmaker Linda Lawson, struck a similar tone in her remarks, calling for better leadership in government and also referencing the unrest seen across the country and in Indianapolis in recent days. Lawson also has a background in law enforcement, serving as the first female police officer in Hammond.
"In recent days, our nation has heard a wake-up call," Lawson said. "We must heed that call."
Also during the event, the two Democratic candidates for Indiana attorney general offered brief statements.
Indiana State Sen. Karen Tallian talked about her work at the Statehouse on health care, marijuana laws and criminal justice.
"I've been living and breathing this stuff for 15 years," Tallian said. "We have to take this important office, and this year we can do it."
Former Evansville Mayor Jonathan Weinzapfel focused on his ability to bring people together to solve problems, such as when his city was devastated by a tornado while he was in office. He also said he would protect access to health care and work on criminal justice reform.
"We've seen through times before," Weinzapfel said. "We can get through them together."
Indiana Democratic delegates are voting by mail in the attorney general race with a June 12 deadline to submit ballots. The winner is expected to be announced June 18. Whoever wins will face the winner of the four-way Republican primary, which also is being conducted by mail.
Indianapolis Mayor Joe Hogsett, former South Bend Mayor and presidential candidate Pete Buttigieg, U.S. Congressman Andre Carson and 5th Congressional District candidate Christina Hale also spoke during the virtual event.
Indiana Democrats will still host the party's state convention on June 13, but it will be conducted virtually. Candidates are expected to speak during that event as well.
Please enable JavaScript to view this content.