Indiana Democratic gubernatorial candidate Woody Myers got tested for COVID-19 on Thursday at Aria Diagnostics and called on the state to ramp up testing immediately.
The number of individuals being tested has generally increased, but the state is still falling short of its goal of testing 6,300 Hoosiers per day. As of Thursday, a total of 72,040 tests had been done, but the latest day-over-day increase was less than 2,600.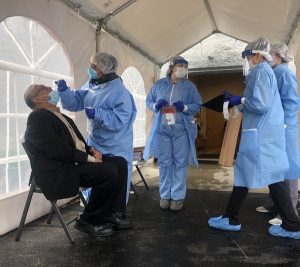 Myers, a former state health commissioner and Anthem Inc. executive, said he thinks the state should be conducting 10,000 tests per day to meet guidelines from national experts. Researchers at Harvard University have suggested a daily minimum of 152 tests per 100,000 individuals.
"We've got to ramp it up," Myers said. "If we are going to reopen the economy sooner rather than later then we have got to dramatically increase the availability of testing in our state."
Early on, the state performed "targeted testing," restricting tests to certain high-risk groups in order to keep supplies from being depleted. But Indiana State Health Commissioner Kristina Box has now started advising health care providers to test all people they believe could have COVID-19, regardless of underlying health conditions.
On Thursday afternoon, Box said at-home testing kits could become available in the coming weeks, and that could greatly expand the state's testing capacity. Plus, the state is partnering with IU Richard M. Fairbanks School of Public Health to conduct a study that is expected to involve testing at least 5,000 individuals in the first phase scheduled to start this weekend.
Myers suggested that the drive-thru testing services, like the one at Aria's facility, 5635 W. 96th St., should be replicated to help increase testing availability.
"We need much, much more of this in the state of Indiana," Myers said.
Myers said he decided to get tested after talking to his physician. He said he has symptoms of the novel coronavirus but wouldn't specify which symptoms he's experiencing.
"I don't want to discuss my specific symptoms… but they are under control," Myers said.
And Myers wouldn't say whether he would share the results publicly.
"It only gives you information for one point in time and that's all it's good for," Myers said.
He said if it's positive, he said he will self-isolate.
Gov. Eric Holcomb has suggested that the state's economy could start reopening as early as the beginning of next month, but Myers said he thinks that's too soon because he doesn't think the state has hit its peak of the outbreak yet. The state has been under a stay-at-home directive since March 25. The latest order is set to expire May 1.
"Unless and until we can ramp up testing to the degree that the experts around the nation are telling us we need to, I would hold back on opening up the economy," Myers said.
Myers said he is worried about what kind of economic shape the state will be in after this public health crisis is over and he would be looking at ways to mitigate that problem, like thinking about what type of job training may be needed for unemployed individuals.
"Planning for the next phase is absolutely vital," Myers said.
Please enable JavaScript to view this content.