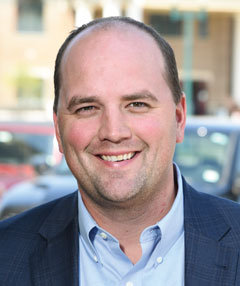 Republican Scott Fadness announced Thursday that he will seek a third term as Fishers mayor.
Fadness became the Hamilton County city's mayor in 2015 after previously serving as town manager and has been the city's only mayor, overseeing tremendous growth in both population and development.
"Over the last several years, Fishers has experienced transformative growth and investment, and we've built a community that is vibrant, thriving, and entrepreneurial all while maintaining best-in-class city services and a solid financial foundation," Fadness said in written remarks.
"To build on this momentum and accelerate Fishers further into the future, I will continue to embrace innovation, seize opportunities, and lead with bold vision for our city."
Fishers' population has grown from about 80,000 to nearly 100,000 since Fadness first became town manager in 2011. The city has become home to numerous companies, particularly in the life sciences and technology fields.
In 2022, Fishers announced more than $1 billion in economic development and entertainment projects.
The projects included Andretti Autosport's plan for a $200 million global motorsports headquarters, a $512 million investment by Italy-based Stevanato Group to hire 515 employees by 2031 at a new facility in the Fishers Life Science and Innovation Park, and a $650 million expansion of Fishers District.
The Fishers District expansion will include an 8,500-seat arena for the Indy Fuel minor league hockey team.
Construction is also under way on the $22.8 million Fishers Arts & Municipal Complex that is scheduled to open in the spring of 2024. The former Fishers City Hall was demolished in October.
No Democratic or Republican challengers have publicly announced their campaigns to run in the May 2 primary election. Mayoral elections are set for Nov. 7, with the winner taking office Jan. 1, 2024.
Candidates can file to run through Feb. 3.
Fadness is the latest Hamilton County mayor to announce his plans for 2023.
Carmel Mayor Jim Brainard will not run for an eighth term in office, while Noblesville Mayor Chris Jensen said he will seek a second term. Westfield's Andy Cook has not publicly announced his intentions for 2023.
Three Carmel City Councilors—Republicans Kevin "Woody" Rider and Sue Finkam and Democrat Miles Nelson—have announced campaigns for mayor.
Two members of the Westfield City Council—Jake Gilbert and Scott Willis—have said they will run for mayor.
Please enable JavaScript to view this content.