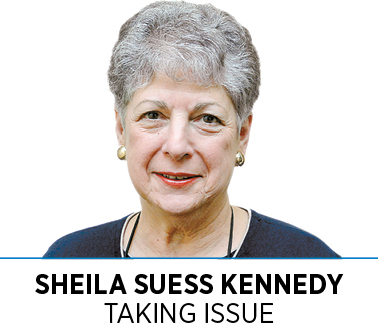 It's becoming more and more difficult for Americans to ignore the structural failures of our federal government. Among those is the U.S. Senate.
For several years, the chamber has been paralyzed by its own internal rules and insulated from the popular will by a 230-year-old formula for unequal representation. The system allows a shrinking minority of (mostly white, conservative) voters to block policies with which it doesn't agree and to enable various voter-suppression tactics.
The numbers are truly staggering. Democratic senators represent about 40 million more voters than do Republican senators—a disproportion not reflected in the Senate's 50/50 split, a split that depends upon Vice President Kamala Harris to wield a tie-breaking vote. And it is likely to get worse.
By 2040, 70% of Americans are predicted to live in the 15 largest states, where they will be represented by only 30 senators, while the remaining 30% of Americans will have 70 senators voting on their behalf. The Senate has counted only 11 African American members in its history, out of nearly 2,000 members.
More than two centuries ago, to motivate small states to join the union, the framers gave every state two senators, an arrangement that has always left some citizens overrepresented in the body. Originally, that didn't translate into a partisan split. Now, however, with Democrats more likely to represent bigger states, and Republicans the smaller ones, voters from less populous, mostly rural, white and Republican states enjoy wildly disproportionate power when compared with voters from states with big cities and more voters of color.
Compare California's representation to Wyoming's. California has 70 times as many people but each has two senators. That disproportion gives a small, conservative state the ability to counterbalance a giant, liberal state in any vote on energy policy, taxation, immigration, gun control or criminal-justice reform.
America is unlikely to change its arrangement of two senators per state, but other reforms would make it at least marginally more difficult for a minority to constantly thwart the will of the majority. The current effort to eliminate the filibuster—or at the very least, return it to its former operation—is one. As it is currently used, it allows—even encourages—the Senate minority to block almost anything favored by the majority.
The filibuster has historically been used by both parties in different w`ays, but, according to Erika Maye of Color of Change, a racial justice organization, it "has always been used to block measures that would lead to racial equity and justice." She and others point out that it has been used to stop anti-lynching bills, to uphold the racist poll tax, to delay civil rights legislation—and, more recently, health care, immigration and gun-violence reform—measures desired by substantial majorities of Americans.
The bottom line is that the disproportionate power exercised by rural states translates to disproportionate power for white voters. In a 2018 column, David Leonhardt calculated that there are 0.35 senators for every million white people, versus 0.26 senators for every million African Americans and 0.19 for Hispanic Americans—a calculation that prompted Times opinion editors to brand the Senate "affirmative action for white people."
There's a reason our federal legislature fails to pass measures that are popular with all voters—Republicans and Democrats alike. The absence of "one person, one vote" and America's current failure to deliver even remotely democratic self-government leaves policy firmly in the hands of the plutocrats and the culture warriors.•
__________
Kennedy recently retired as professor of law and public policy at the Paul H. O'Neill School of Public and Environmental Affairs at IUPUI.
Please enable JavaScript to view this content.