High Alpha Innovation, a recent spin-out of the Indianapolis-based venture studio High Alpha, is starting a new program to help immigrants launch companies in the U.S.
Resilient, a venture studio, will start out this year as a program under the High Alpha Innovation umbrella. But the organization's leaders hope it will be spun off into its own venture studio launching 10 to 12 immigrant-led companies annually.
High Alpha in May announced the launch of High Alpha Innovation, a company founded to help established—often big—companies create and grow startup firms. The unveiling of Resilient has gotten a bigger response than any of the other programs started by High Alpha Innovation, the organization said.
"Entrepreneurship is never easy and never comfortable, but the reason we founded this venture studio is that it's much more difficult, complex and confusing to overcome these hurdles when you're an immigrant," said Mike Joslin, a director at High Alpha Innovation, who has been tabbed to lead the new program. "We want to offer more support to overcome these obstacles and help [immigrants] pursue their dreams. This is a passion project for us, and one we think needs to exist."
Immigrants with a certain visa status often have difficulty launching their own companies because they need an existing company to sponsor their visa. As a result, many continue working at legacy U.S.-based companies even when they have entrepreneurial ideas.
"We want to unlock those ideas," Joslin said. That, he added, will fuel the U.S. economy as a new breed of entrepreneurs is free to fly here.
Srinivas Pai, who is advising High Alpha Innovation on the launch of Resilient, said there is "pent-up demand for" the Resilient.
Pai came to the U.S. from India to earn an MBA from the University of Michigan, and later moved to Indiana from New York when his wife took a job at IU Health as a physician.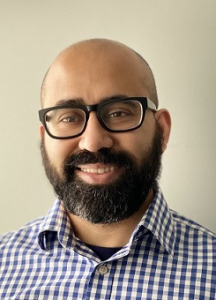 "People who have immigrated and are here on visas have so many great ideas," he said. "They just aren't sure how to overcome the barriers. I personally know a lot of people who are on a visa that said they would love to start a company but they can't figure out how to work around their visas. Many people in various sectors—academic, finance, technology and startup communities—believe there is a strong demand for this because they see it."
Pai pointed out that a number of high-impact U.S. tech companies—including Zoom and AppDynamics—have been founded by immigrants. "This [High Alpha Innovation] program can have a big and positive impact in terms of creating jobs and wealth in the U.S.," he said.
Pai, who currently has a full-time, executive-level job with a large U.S. company, first approached High Alpha with the idea in 2019. High Alpha was quick to take action.
"The system is so complex, and there are real hurdles [for immigrants], but they're not insurmountable," Joslin said. "There's this impression that entrepreneurship is really hard for anyone, but as an immigrant it's impossible. We don't think that's true."
High Alpha Innovation has already put the call out via social media and through networking channels seeking applications from immigrants with ideas for business-to-business software companies. The deadline for the first cohort is Jan. 31.
The response has been strong, and High Alpha Innovation expects 100 or more applicants from across the country. The Resilient program has "generated massive traffic" to High Alpha Innovation's web site, Joslin said.
Many of the applicants are coming from the east and west coasts, Joslin said, with some also coming from the Midwest including Indiana. Immigrants—regardless of visa or green card status—are eligible to take part in the Resilient program, Joslin said. Recent naturalized U.S. citizens also are encouraged to apply, he added.
By mid-February, High Alpha officials will select a small handful of applicants—likely two or three—to go through the program's first Sprint Week, which will be held March 9-12.
Sprint Week is an intensive process to flesh out business concepts. High Alpha will use the week to scrutinize potential competition, identify a market and its potential size and touch base with potential customers to gauge their interest.
The likelihood that the candidates that go through Sprint Week will become companies is high, Joslin said. Those startups won't necessarily be based in Indiana.
"High Alpha is location-agnostic within the U.S.," Joslin explained. "We will work with the founders to figure out where the company should be located."
High Alpha will fund the Resilient venture studio and all the companies that come from it for the first year. High Alpha will also provide back-office services and software engineering assistance for the immigrant-led startups.
If the first cohort goes well, Joslin said, he and his staff will likely begin approaching outside investors later this year or in 2022 with the idea of making Resilient a standalone venture studio.
Please enable JavaScript to view this content.