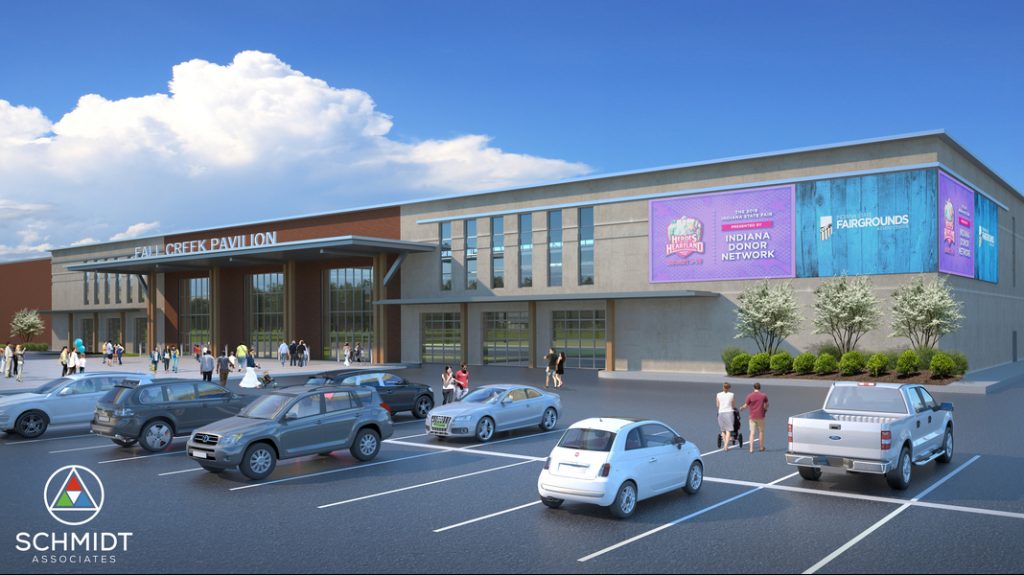 Gov. Eric Holcomb supports lawmakers' decision to remove the proposed new swine barn at the Indiana State Fairgrounds from a list of projects the state could pay for with surplus dollars, his budget director said Tuesday morning.
Holcomb initially proposed spending $291 million from the state's reserves on five major capital projects after the state ended fiscal year 2019 with a surplus of $410 million. That brought reserves up to $2.27 billion, or nearly 14% of current-year expenditures.
The list of one-time projects has changed slightly since that announcement in July, but as recent as last month when Holcomb revealed his 2020 legislative agenda, it included $50 million for a new swine barn at the Indiana State Fairgrounds. The project involves demolishing most of the existing open-air structure and replace it with a new 170,000-square-foot, climate-controlled facility that would be called the Fall Creek Pavilion.
But Holcomb's proposal requires legislative approval, and an appropriations bill recently filed by House Ways & Means Chairman Tim Brown did not include the swine barn. His list included six capital projects at higher education institutions totaling $291 million:
— $73 million for the Purdue College of Veterinary Medicine teaching hospital;
— $62 million for Indiana University for bicentennial projects;
— $59.9 million for the Ball State University STEM and Health Professions facilities;
— $30 million for the Ivy Tech Columbus main building replacement;
— $18.4 million for renovation of Dreiser Hall at Indiana State University;
— $48 million for the University of Southern Indiana Health Professions classroom renovation and the rest to pay off some existing debt obligations.
State Budget Director Zac Jackson told House Ways & Means Committee members on Tuesday that the governor supports the bill as written. The state's reserves would still be above 12% after using this cash.
"We're totally fine with the six (projects) that are listed on here," Jackson said.
Democrats have criticized the governor and GOP leaders for using surplus dollars for the swine barn instead of using the cash for boosting teacher pay or further funding K-12 education.
Republicans, who control both chambers of the Indiana General Assembly, have argued that they can't use one-time dollars for ongoing expenses, like teacher pay.
"It's important to use these unexpected dollars for one-time spending," Jackson said.
But Holcomb hinted on Monday that he might be willing to revisit school funding this year after a revenue forecast released last month showed the state collecting an additional $260 million over the biennium when compared to the budget plan.
"Stay tuned, you'll hear more from me at the State of the State address," Holcomb told reporters on Monday. The State of the State address is scheduled for Jan. 14.
The capital projects in House Bill 1007 were already included in the state's budget, and the state planned to issue debt to cover the costs. By paying for the projects with cash instead, state officials estimate it could save more than $130 million over 20 years.
"All we're doing is changing how we pay for them going forward," Brown said.
Jackson said it also frees up about $21.4 million in the budget annually that otherwise would have been spent on bond payments.
State Rep. Greg Porter, D-Indianapolis, tried to amend the bill during Tuesday's hearing to instead appropriate the money to teacher pay, but Republicans rejected the amendment.
The bill passed out of the committee and heads to the full House for consideration.
Please enable JavaScript to view this content.