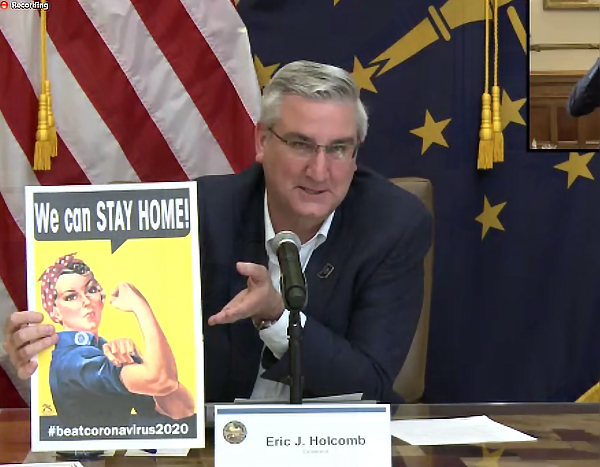 Indiana Gov. Eric Holcomb has put himself in the public spotlight—or, if you will, the crosshairs of public opinion—nearly every weekday for the last two months, hosting press conferences about the state's response to the coronavirus crisis. It is not an easy job, as the governor and his staff must address new fatalities, respond to questions that have no easy answer, and ask residents to make difficult sacrifices to beat an enemy we don't totally understand.
This also happens to be an election year. On one hand, Holcomb has the opportunity to show voters how he can handle a dire crisis—and without having to spend a dime from his immense campaign war chest. On the other hand, if he makes an obvious mistake or miscalculates how quickly the state should reopen, it'll be in front of millions of voters with a deep, vested interest in the outcome.
In this week's edition of The IBJ Podcast, host Mason King examines the political risks and potential rewards of managing the state's response to COVID-19 in real time and in the public eye nearly every day. His guests are reporter Lindsey Erdody, who has written about this topic in the latest issue of IBJ, and Robert Dion, associate political science professor at the University of Evansville.
Click here to find the IBJ Podcast each Monday. You can also subscribe at iTunes, Google Play, Tune In and Spotify. Here are some of our recent podcasts:
IBJ Podcast: Wedding season walloped by COVID leads to postponements, tears, pizza parties
IBJ Podcast: The rent is due, and tenants are struggling as unemployment soars
IBJ Podcast: What will restaurants, offices look like after economy reopens?
IBJ Podcast: How buying and selling homes has changed in the COVID era
IBJ Podcast: The pressures of working and parenting at home in a pandemic
IBJ Podcast: What you need to know about unemployment now
IBJ Podcast: Sahm's—one restaurant company's story about the impact of coronavirus
IBJ Podcast: Pete the Planner talks about the virus, the impact on the economy and what to think about your portfolio
Please enable JavaScript to view this content.