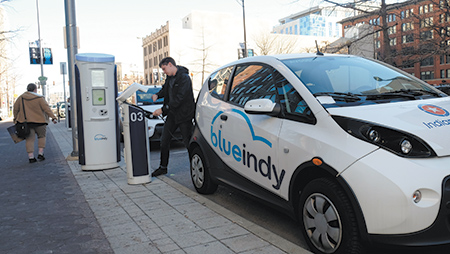 The Blue Indy electric-car-sharing service launched in Indianapolis in 2015. It had its detractors, but you couldn't fault the service's backers for being timid.
Basing Blue Indy on a service that had tens of thousands of subscribers in Paris, they predicted that by 2020 the company would be profitable and have at least 15,000 members, 200 charging stations, and 500 electric cars on the road.
Championed by the Ballard administration, Blue Indy carved out curb-side stations for its vehicles in some of the city's busiest areas. The city of Indianapolis invested $6 million to help get it off the ground, with a profit-sharing plan that would kick in once the company was profitable and its own considerable investment was recouped.
That won't be in 2020, or at any time soon. While Blue Indy has grown significantly since its inception and its numbers are on the upswing, it's still not close to the results it initially projected.
In this week's edition of The IBJ Podcast, Blue Indy's local market chief admits that the original predictions for Indianapolis were too optimistic, being based on the performance in Paris. It won't be in the black next year, and profitability "is going to be a few years away."
"The mobility industry is a tough industry to make money at, and it really is a long-term project to offer members the different services they want, the locations they want and the use cases they want," said James Delgado, managing director for Blue Indy.
IBJ's Hayleigh Colombo has a full examination of Blue Indy's tenure so far, including signs that it has positive momentum and a strong following among young adults.
This episode of the IBJ Podcast is sponsored by Krieg DeVault.
Click here to find the IBJ Podcast each Monday. You can also subscribe at iTunes, Google Play, Tune In and Spotify. Here are some of our recent podcasts:
IBJ Podcast: Country clubs make updates from age of Cadillacs and 'Caddyshack' to attract millennials
IBJ Podcast: Avoiding the icebergs that can sink your startup
IBJ Podcast: Pete the Planner on the magic of a 15-year mortgage
IBJ Podcast: Morales Group wants to get you a job—then a better one, then a career
IBJ Podcast: This IU pediatrician is a health care myth buster
IBJ Podcast: Scott Wise talks Scotty's, starting over and his new restaurant Roots
IBJ Podcast: How offering PTO for volunteering can boost retention, improve recruitment
Please enable JavaScript to view this content.