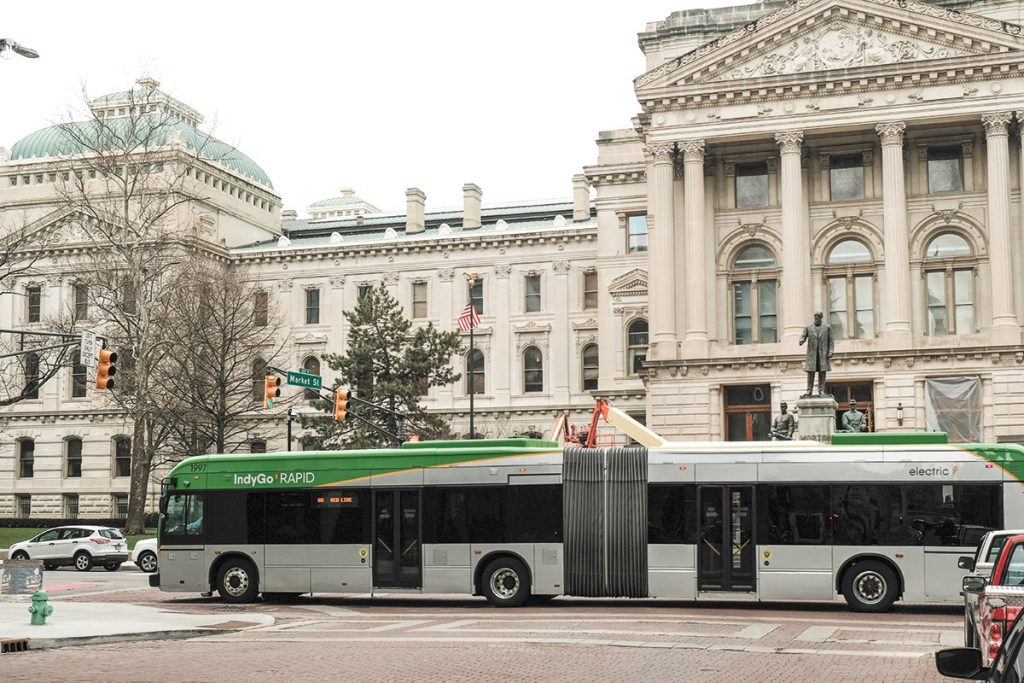 The Indiana Senate on Tuesday voted to advance a bill that would strip funding for local public transportation and hinder IndyGo's ability to pursue its planned expansion of bus rapid-transit lines.
Senate Bill 141, authored by Sen. Aaron Freeman, R-Indianapolis, would withhold 10% of local income tax revenue from IndyGo until it meets a private fundraising threshold established in a 2014 law. It also would prevent IndyGo from moving forward with expansion projects, like the Blue and Purple lines, until it secures private funding.
The Senate voted 32-17 on the legislation, with seven Republicans joining Democrats in opposing it. The bill heads to the House for consideration.
The 2014 law authorized a 0.25-percentage-point increase in the city's income tax rate to fund IndyGo operations and new services—such as the Red Line—with approval from the City-County Council and Marion County voters. The law also said that IndyGo would be required to provide a 10% match of that new income tax revenue, raised only from sources that were not fares or taxes.
The income tax increase went into effect in October 2017 and is generating roughly $60 million per year, which means IndyGo should be raising about $6 million in private donations annually to be in compliance.
IndyGo officials maintain they have met that requirement through federal grants the agency has received. But Freeman argued that federal grants are funded by tax revenue, so they cannot count toward the fundraising requirement, and he wants to hold IndyGo accountable.
"That was the deal," Freeman said. "Nothing's changed."
The law says the revenue raised can't be from "taxes or fares" but does not specifically say "private donations." SB 141 would clarify that it can't be raised from taxes, fares or state and federal funds.
Freeman also asked Indiana Attorney General Todd Rokita for an opinion on whether federal grants should be considered tax dollars, and Rokita confirmed for him that federal grants should not count toward IndyGo's fundraising requirement, because those grants are public tax dollars.
IndyGo officials have also said that more than $177 million in federal funding dedicated for the Blue and Purple lines could be in jeopardy if the bill becomes law because lack of funding could cause the agency to have to delay and/or redesign the projects.
Freeman said he believes the public was misled on the Blue Line, because initially it would not have involved dedicated lanes, and he wants lawmakers to take action now to prevent the agency from moving forward on the line.
The Blue Line would travel along Washington Street on the west side of the city in dedicated lanes and would connect to the Indianapolis International Airport.
A proposal from 2012 said the Blue Line could use shared lines, but the Federal Transit Administration in 2014 changed its guidelines for the project and required that 50% of the route include dedicated lanes in order for it to receive federal funding.
IndyGo says if the line was redesigned without dedicated lanes, it would not be eligible for federal funding.
But Sen. Mike Young, R-Indianapolis, said he believes there are other federal funding options available for a shared-lane project. Young, who represents a district the Blue Line would run through, said his constituents support public transit, but do not want dedicated lanes for it.
Freeman said removing travel lanes for vehicles on Washington Street would be a "nightmare."
Freeman and Young also criticized the existing Red Line, which opened in September 2019, for not working well.
"I don't know anything about running a bus system, but I could probably do the same job that they could," Young said. "Not very good."
IndyGo officials have argued that the Red Line hasn't had an opportunity to operate under normal circumstances, though, because of the COVID-19 pandemic.
Sen. Jean Breaux, D-Indianapolis, said the Blue Line is needed for other infrastructure improvements, such as sidewalks and drainage, along that corridor.
"We need to address the flooding issues that happen on Washington Street, and then we need to increase the circulation to businesses that are located on Washington Street," Breaux said. "So, this bill not only provides the basic need of transportation services but it also helps with the infrastructure needs of that area."
Sen. Shelli Yoder, D-Bloomington, said she thinks the bill would make it even harder for residents without vehicles to have transportation for basic services like going to the grocery store.
"Limiting transit contributes to hunger and poverty," Yoder said. "This legislation seems to be cruel and ill-timed, to say the least."
Please enable JavaScript to view this content.