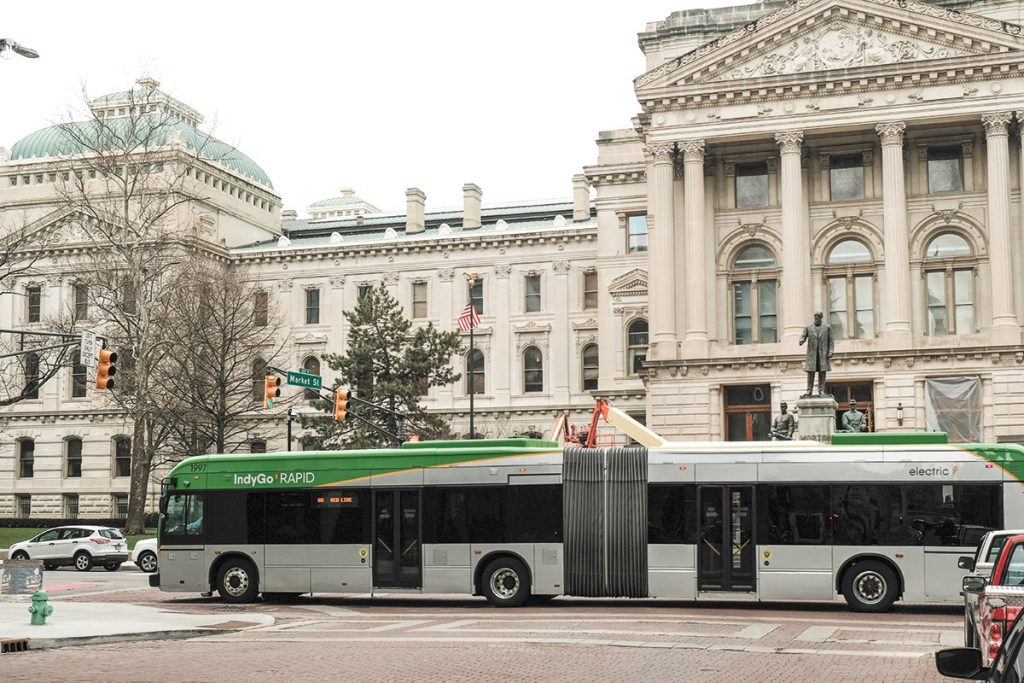 Indiana lawmakers on Thursday narrowly voted to push forward a bill that would strip funding for local public transportation and hinder IndyGo's ability to pursue its planned expansion of bus rapid-transit lines.
Senate Bill 141, authored by Sen. Aaron Freeman, R-Indianapolis, would withhold 10% of local income tax revenue from IndyGo until it meets a private fundraising threshold established in a 2014 law. It also would prevent IndyGo from moving forward with expansion projects, like the Blue and Purple lines, until it secures private funding.
The 2014 law authorized a 0.25-percentage-point increase in the city's income tax rate to fund IndyGo operations and new services—such as the Red Line—with approval from the City-County Council and Marion County voters. The law also said that IndyGo would be required to provide a 10% match of that new income tax revenue, raised only from private sources, not fares or taxes.
The tax went into effect in October 2017 and is generating about $60 million per year, which means IndyGo should be raising $6 million in private donations annually to be in compliance.
But IndyGo didn't establish a not-for-profit foundation to raise money until June 2019, and since then, it has not come close to raising enough funding. Freeman says he's trying to hold IndyGo accountable.
Freeman filed similar legislation in 2020, but the bill died on the final night of the legislative session.
IndyGo officials argue that federal grants the system receives should count toward its fundraising total. If those were allowed, the agency would be in compliance.
The law says the revenue raised can't be from "taxes or fares" but does not specifically say "private donations."
The bill's co-author, Sen. Mike Young, R-Indianapolis, said the intent of the law is clear, though, and the Indiana Office of the Attorney General, at Freeman's request, weighed in and said the federal grants should not be considered private donations.
IndyGo officials have also said that if the bills were to pass, more than $177 million in federal funding dedicated for the Blue and Purple lines would be in jeopardy because lack of funding could cause the agency to have to delay and/or redesign the projects.
The Senate Appropriations Committee approved the bill 7-5 on Thursday, after Sen. Phil Boots, R-Crawfordsville, changed his vote from "no" to "yes" to allow the bill to move to the Senate.
Boots said he doesn't know how he'll vote on the Senate floor.
Senate Appropriations Chairman Sen. Ryan Mishler, R-Bremen, said he didn't decide to allow the committee to vote on the bill until late Wednesday night.
Mishler said the letter from the Attorney General's Office affected his decision.
"I feel like I'm asked to be a judge in this case, and I'm not even a lawyer," he said.
Sen. Fady Qaddoura, D-Indianapolis, said he believes the bill will hurt IndyGo and the city, and he doesn't think it addresses the problems some residents have with the proposed Blue and Purple lines.
"I think this is a very bad piece of public policy," Qaddoura said.
Sen. Karen Tallian, D-Portage, said this is a local issue that local representatives can take care of, and there are other avenues for holding someone accountable for not following a state law.
"We're not a court," Tallian said.
Please enable JavaScript to view this content.