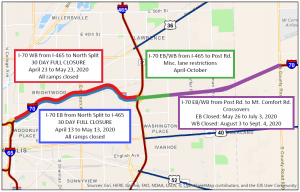 The Indiana Department of Transportation plans to close Interstate 70's eastbound and westbound lanes between I-465 and the North Split interchange on the the east side of Indianapolis for 30-day periods beginning next week, INDOT announced Monday.
Eastbound lanes of I-70 are set to close April 13, with a planned reopening date of May 13. Westbound lanes of I-70 are scheduled to close April 23, with a planned reopening date of May 23. All ramps in both directions will be closed during those dates.
INDOT said traffic is down about 40% right now because of coronavirus-related closures.
"With that in mind, INDOT and contractor partner, Milestone Contractors, are accelerating planned construction on I-70 to allow work to be done before major events resume," INDOT said in a statement released Monday morning.
INDOT spokeswoman Mallory Duncan said the agency had planned to impose lane restrictions for the I-70 work, but because of the lower traffic counts it decided to go ahead with full closures.
"Full interstate closures are being used to ensure safety for workers, reduce the overall construction time, and maximize use of taxpayer dollars," INDOT said.
INDOT did not specify what work was being done to the interstate.
This story will be updated.
Please enable JavaScript to view this content.