Another Indianapolis-based company is making the jump to the Interstate 69 corridor in Fishers.
Knowledge Services, now headquartered at 5875 Castle Creek Parkway in Castleton, plans to construct an 80,000-square-foot headquarters on USA Parkway to the north of 106th Street, and hire 400 employees by the end of 2021, the company announced Tuesday afternoon.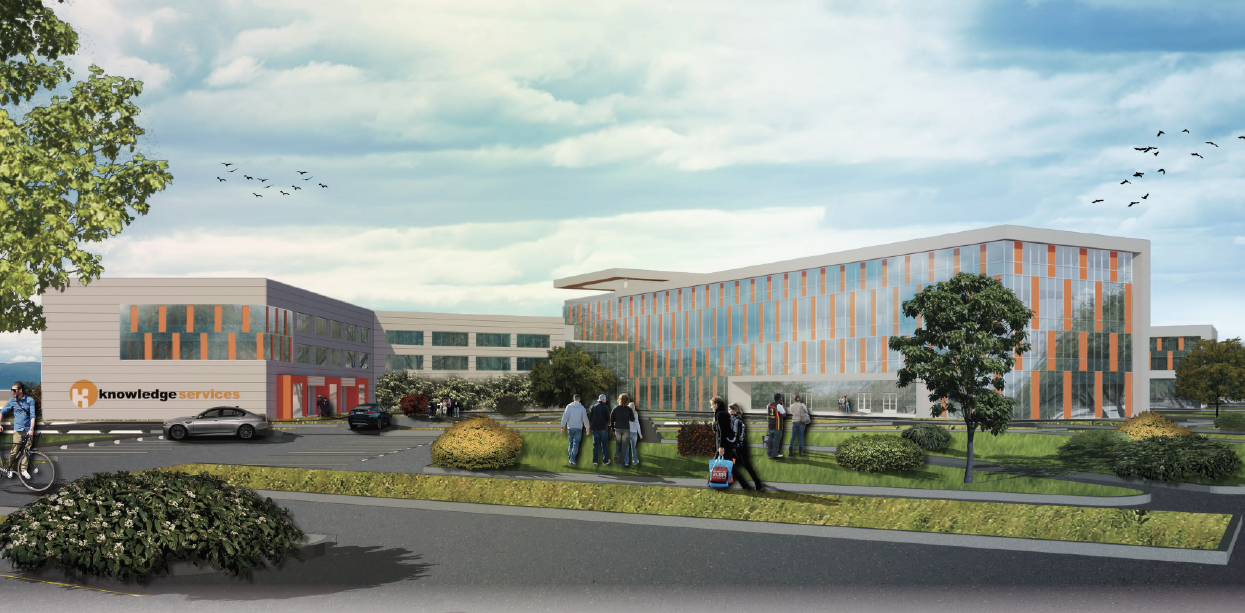 The rapidly growing workforce-management technology company is expected to invest $17 million to purchase the 18-acre site to the south of Navient Corp.'s offices and construct the building.
Knowledge Services, which has 2,000 employees nationwide and more than 1,100 in Indiana, has been expanding for years. The company reported $374.3 million in revenue in 2016—an increase of nearly 37 percent from 2015 and an increase of nearly 75 percent since 2014.
Less than a year ago, the company pledged to hire 100 additional employees by 2019 and considered expanding its office space from 23,000 square feet to 40,000 square feet. Instead, the company ended up with about 35,000 square feet of space and increased its hiring projections to 400 jobs by 2021.
CEO Julie Bielawski founded the company in 1994. Its actual name is GuideSoft Inc., but it's been doing business as Knowledge Services since 2003.
Bielawski and her husband, company president Joe Bielawski, said they've been searching for a place to relocate and build an office for years to give the company room to grow.
The Fishers residents considered options in Carmel and Indianapolis before selecting the property along the I-69 corridor.
In addition to the new office building, Julie Bielawski said they plan to eventually develop the rest of the property into a unique office park, possibly with retail on the southern end.
"The whole idea of the park for us is an experience," she said. "We don't want to just throw traditional retail out there."
Brandon Dickinson, director of economic development for Fishers, said that's one of the reasons why the city is excited about the project.
"We know they're going to be great stewards of their land," Dickinson said. "They're not just going to turn it around and do traditional retail and try to make a fast buck, which a number of companies probably would."
The campus will be directly to the south of the historic Kincaid House, which was moved to a 2-acre property donated by Navient in October 2014.
The city of Fishers is considering a 10-year real property tax abatement worth an estimated $1.2 million and a $500,000 contribution from tax increment financing district revenues to offset the cost of land acquisition and construction for Knowledge Services.
The Fishers City Council is expected to discuss the incentive package June 19.
The Indiana Economic Development Corp. offered the company up to $1.5 million in tax credits and $200,000 in training grants. The credits are performance-based, meaning Knowledge Services can't claim them until workers are hired.
The IEDC also offered the city of Fishers $2.24 million in infrastructure assistance from the state's Industrial Development Grant Fund.
"We've seen what's happened here. We've seen what the leaders of Fishers have done with the Nickel Plate District and with the Launch Fishers area," Julie Bielawski said. "They've proven what they're trying to do and their intention. So, our confidence level is pretty high."
The company's long-term lease on the office in Castleton doesn't expire until 2025, with an early-termination option in 2020, but Julie Bielawski said the lease won't delay relocation plans. Construction on the headquarters could start next year, and the company could move in by 2019.
It's still being determined how many employees will initially operate out of the new building, but Knowledge Services has more than 600 local employees today.
The news is the latest in a string of business announcements and ongoing construction projects involving the I-69 corridor in Fishers.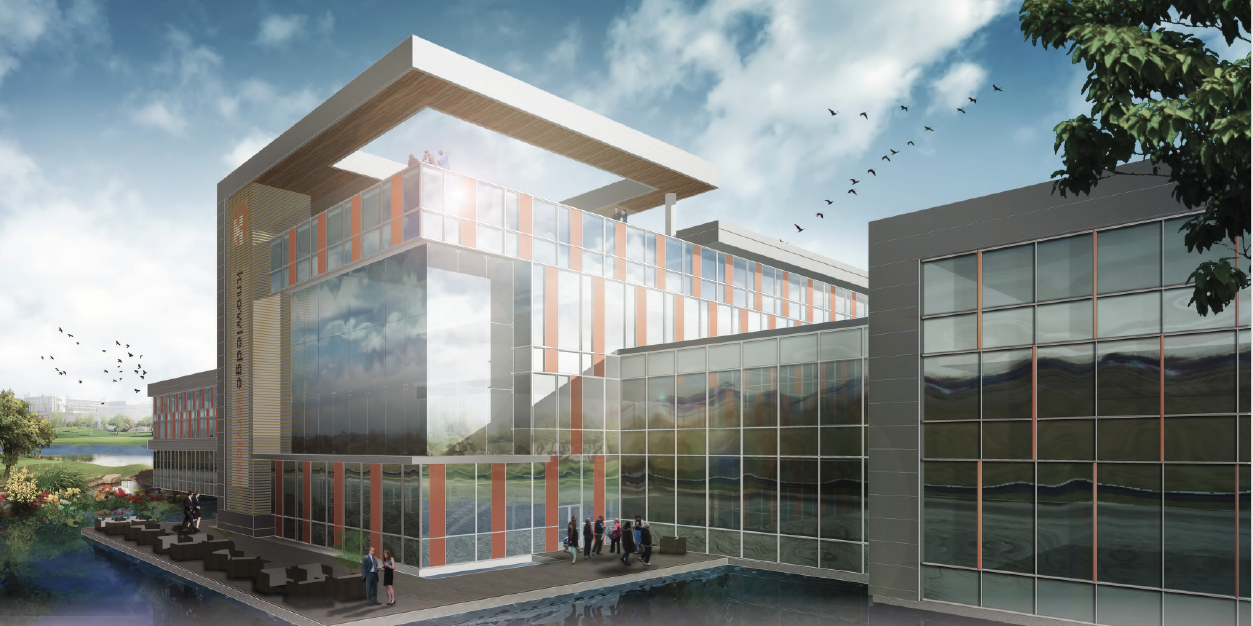 Indianapolis-based Stanley Security is constructing its nearly $16 million headquarters near Kincaid Drive and Sunlight Drive, and the Custom Electronic Design and Installation Association filed plans in April to construct a new headquarters near the southeast intersection of 106th Street and Kincaid Drive.
Sun King Brewing Co. is still expected to build a brewery along Sunlight Drive, although the timeline and details for that project are still being determined, Fishers Mayor Scott Fadness said.
To the north of the Knowledges Services project, buildings for Ikea, Topgolf and Portillo's are all under construction. Also nearby, Thompson Thrift Retail Group is moving forward with a culinary-centric development known as The Yard that is expected to have 10-12 lots for restaurants and entertainment venues and a one-acre green space in the center for a 3,000-square-foot culinary incubator.
While the city credits Ikea, which announced plans for a nearly 300,000-square-foot store in November 2015, for drawing attention to that area, it wasn't a selling point—at least initially—for Knowledge Services.
"Frankly, that was more of a deterrent until we heard what the city's position was," Joe Bielawski said. "The most significant factor, in my mind, was the commitment of the city to not fall into the trap of every other community that I've seen where Ikea [stores] exist, and that is every fast-food restaurant and every cheap hotel and the congestion. It just looks awful."
City officials hesitated to allow more retail to follow Ikea and took steps to prevent that from happening. In May 2016, the Fishers City Council approved a measure that gave it temporary oversight of any development in the area, even if it met the existing zoning standards.
Then, in October 2016, the council approved new "employment node" zoning for the area along the I-69 corridor north of 106th Street that puts an emphasis on multistory office buildings featuring outdoor plazas and public green space, with a possible mix of some retail and restaurants.
"If that wasn't the vision, we wouldn't have bought," Joe Bielawski said.
Fadness described the zoning and long-term vision for the area as an experiment, but one that seems to be working.
"It is not normal for a community to try to drop in an Ikea, Topgolf and a massive restaurant complex, and then thoughtfully integrate it with a large corporate office campus. We think that's the 21st century take on office parks," Fadness said. "We're very bullish about it. I think there's going to be more coming."
Please enable JavaScript to view this content.