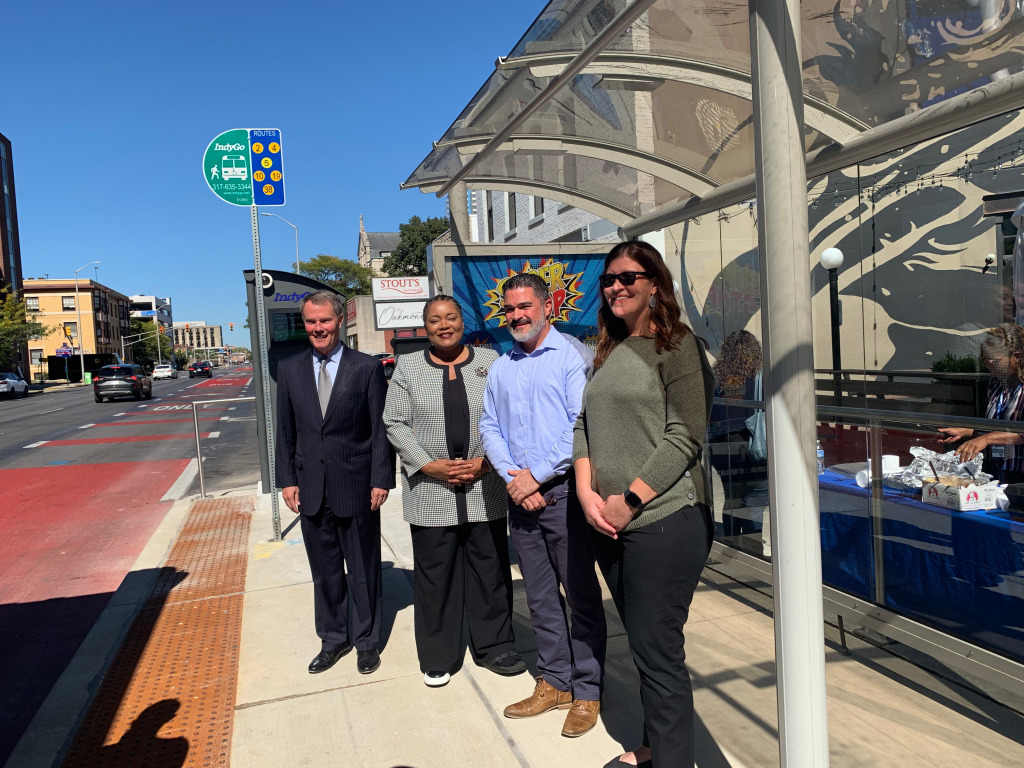 IndyGo is taking steps to make some of its regular bus stops more like the decked-out stops along its rapid-transit lines, starting with its first "super stop," which it unveiled Monday.
The $6.6 million project at the downtown intersection of Delaware and New York streets includes real-time bus arrival screens, ticket-vending machines, extended covered seating, security cameras, near-level boarding, a dedicated bus lane and space for multiple buses.
The Indianapolis Department of Public Works collaborated with IndyGo on the project to improve Delaware Street. IndyGo covered just more than $2 million for bus-related aspects of the project, while the DPW covered the remaining construction costs.
Delaware Street was stripped and resurfaced, which involved the removal of old rail lines. The portion of Fort Wayne Avenue between Delaware and Pennsylvania will also be converted into a two-way street. This portion of the project is ongoing and will be completed by the end of October, according to DPW deputy director Ericka Miller.
IndyGo President and CEO Inez Evans said at least six more locations are planned for the improved bus stops. The timing of the next depends on federal grant money, she said.
Evans said the new stops will be a way to consolidate bus stops and make travel safer for pedestrians and drivers. The super stop—which is along five routes—will decrease the intermingling of IndyGo buses and combine nearby stops, she said.
IndyGo has frequently undertaken its own infrastructure projects, mostly associated with the bus rapid transit lines like the Purple Line. Evans said that collaborating with DPW to get road work done is beneficial and something she plans to continue to do.
"It makes all of our dollars stretch to go a little bit further," Evans told IBJ. "But also, if we're opening up the ground, why not invite others to come in and upgrade their infrastructure while we're there?"
Future super stops are planned for Delaware and North streets; the southwest corner of Alabama and North streets; the northwest corner of New York and North streets; Fort Wayne Avenue and 9th Street; and Vermont Street and Capitol Avenue.
Please enable JavaScript to view this content.