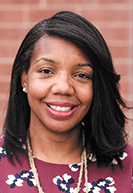 Aleesia Johnson, a longtime ally of charter schools, was named superintendent of the state's largest school district—Indianapolis Public Schools—in June, after filling the job on an interim basis for several months.
Johnson, 41, became the district's temporary leader in January when former Superintendent Lewis Ferebee left to lead the school system in Washington, D.C. She is the first African American woman to lead IPS.
Johnson has three school-age children who attend district schools and is known as personable and for building strong relationships. She is widely liked by Indianapolis leaders and supporters of innovation schools. But her critics include those less supportive of innovation schools and of her predecessor's record.
The issues that awaited her as she took the helm were numerous and complex. They include high teacher and principal turnover, tight budget constraints, chronically underachieving schools and inequity among schools.
But already she's found some success. In November, the school board unanimously approved $31.2 million in raises over the next two years for teachers and support staff.
The raises will be funded by a 2018 voter-backed referendum. Some teachers will see their salaries increase as much as $9,400 this year, a significant bump designed to account for years of recession-era pay freezes. This school year, starting teacher salaries rose more than $2,600, to $45,200. Next year, starting pay will increase to $47,800.
The raises are significant because IPS teachers have long been paid less than some surrounding school systems, contributing to the district's high turnover.
This year, the district also relaunched a study-abroad program that had taken a year-long hiatus. Thrival Academy will reopen as a four-year, innovation high school on the Arlington Middle School campus. It will be one of several smaller campuses opening on the east side of the district after IPS closed two high schools in recent years.
"There are a lot of great things happening in IPS, a lot of positive things to build on," Johnson told IBJ in October, when she was named a Woman of Influence.
She serves on the IUPUI board of advisers, the Teach for America Indianapolis regional board and the Enroll Indy board.•
Please enable JavaScript to view this content.