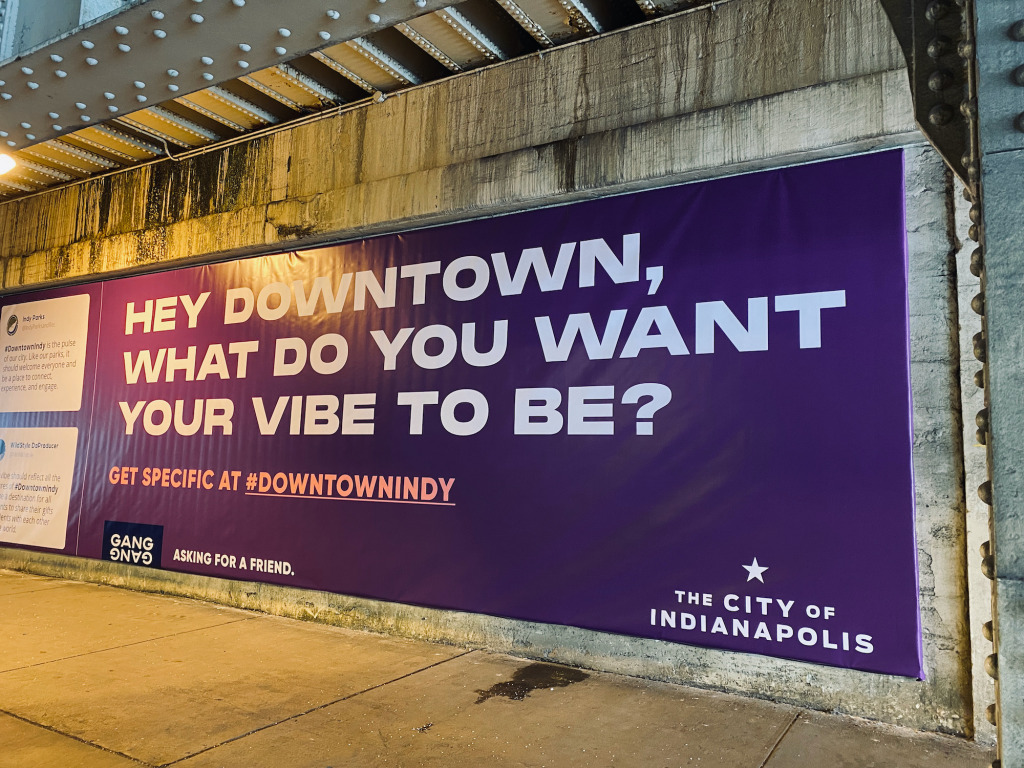 Large signs are popping up in Indianapolis this week, posing the question "Hey downtown, what do you want your vibe to be?" and stating "Everyone should have a say in the future of downtown."
The banners are part of a five-week campaign to promote public comment in an online setting rather than in-person hearings. The collaboration between the city of Indianapolis and GangGang cultural firm uses the hashtag #DowntownIndy and seeks feedback at Twitter, Instagram and Facebook.
GangGang co-founder Malina Simone Jeffers described the campaign as a way to give universal access to a large topic and a contrast to neighborhood engagement that can be "slow and painful."
"This is an opportunity to change the mood and encourage aspirational thinking and encourage aspirational feedback about a really important place in our community," Jeffers said. "We think everybody should have a say in the future of downtown, so we're approaching it that way."
GangGang co-founder Alan Bacon said the banners are partially inspired by rappers Drake and Kanye West, who engaged in a duel of billboards last summer in Toronto to promote their respective albums, "Certified Lover Boy" and "Donda."
"It's very bold and design-forward, but it also fits the mood," Bacon said.
Specifically, the Department of Metropolitan Development is collecting feedback for its South Downtown Connectivity Vision Plan. Scarlett Andrews, the department's director, said the vision plan emphasizes walkability and pedestrian safety in a district bordered by Ohio Street to the north and South, East and West streets.
With in-progress projects ranging from Bicentennial Unity Plaza at Gainbridge Fieldhouse to the Indianapolis Cultural Trail expansion along South Street, Andrews said the time is right to improve nearby spaces.
"We want to understand what other people want to see and what makes them excited about the momentum we already have," Andrews said. "We want to know how people can see themselves in downtown, based on some things that are already happening, and how they would feel part of downtown in the future."
Rusty Carr, deputy director of the Department of Metropolitan Development, said trees, the quality and width of sidewalks, curb cuts for people with disabilities and public art are examples of pedestrian infrastructure.
He encouraged the sharing of images depicting favorite pedestrian infrastructure in other cities at the #DowntownIndy hashtag.
"We want to know these important details, because this can help drive the design choices and actually how we plan," he said.
Carr said he's looking forward to the hashtag opening the conversation to young people rarely involved in governmental processes.
"We know they're using the downtown a lot, but we don't really ask them much about what they want or what they need in these spaces," he said.
The public-engagement campaign is part of a $1 million city project focused on south downtown that includes a redesign of Georgia Street.
In addition to GangGang, the Department of Metropolitan Development is working with construction engineering company DLZ, urban strategy company HR&A Advisors, landscape architecture company Merritt Chase and curatorial firm Art Strategies.
A purple banner installed Wednesday at a South Meridian underpass includes the tag "Asking for a friend" next to the logo of GangGang, the firm that organized 2021's Butter Art Fair and this year's Next Up initiative to assist Indianapolis musicians.
"We're leveraging our voice and saying, 'Hey, guys, what do you think about this?' " Jeffers said. "It's all happening at the hashtag."
Public comments will be aggregated at the website visionsouthdowntownindy.com.
Please enable JavaScript to view this content.