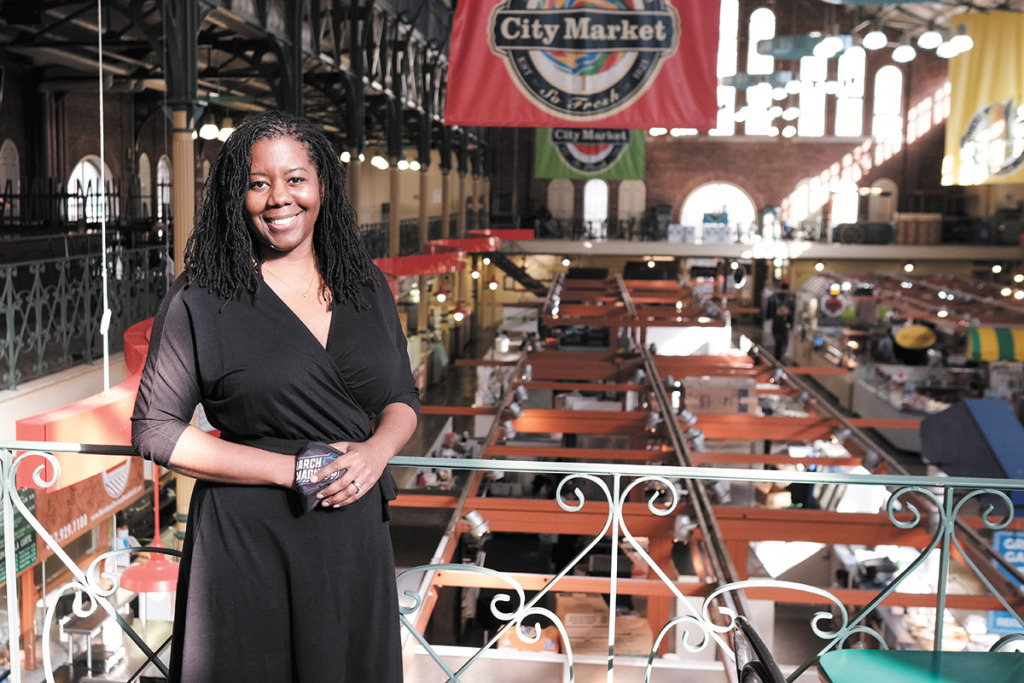 Between the pandemic, road construction and downtown safety concerns, City Market has been dealing with a heavy load of challenges over the past year—and there's no consensus yet on the market's prospects for recovery.
At the end of 2019, the market was operating profitably and all of its 32 vendor spots were full. Since then, numerous tenants have closed or moved out, leaving City Market with nine vacancies. The market is operating at a loss, and remaining vendors report their sales are still way down because many customers haven't yet returned to their downtown offices.
At the same time, two vendors opened this week, with a few more possibly on the horizon. And the market's new executive director, Keisha Gray, is working to build up the market as more than just a quick lunch spot.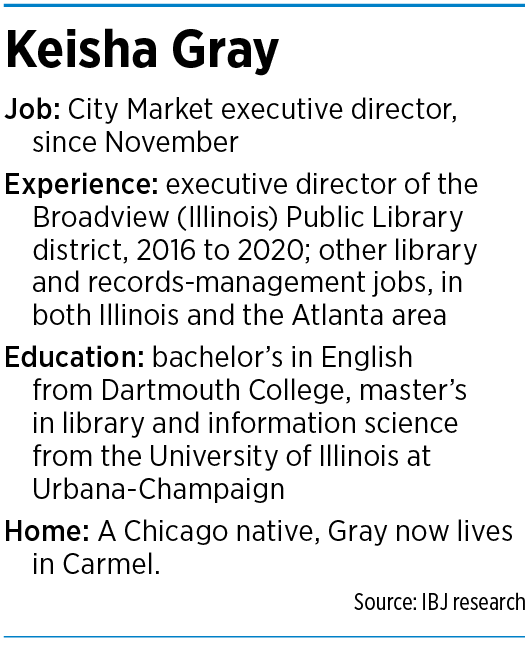 One of those efforts is a rebranding campaign, with a new website that went live last weekend and an emphasis on the various things to do at the market, from grabbing a meal to getting a bicycle tune-up at Bicycle Garage Indy to touring the historic underground catacombs.
Gray wouldn't name the potential new tenants, because negotiations are ongoing.
The City Market building at 222 E. Market St. dates back to 1886, though a public market has been on the site as far back as 1821.
"We are the original gathering place, and we want to make sure people know that," Gray said.
Another effort involves playing up City Market Corp.'s status as a not-for-profit and being more intentional about soliciting donations. Gray said she's not yet clear how much the organization can expect to generate through donations, but she sees potential.
"That's definitely an area that we are going to be focusing on," she said. "We are a historic institution, and there are people who want to see us succeed and thrive."
Gray said City Market's staff is also putting a renewed emphasis on the site as a rental venue for small gatherings and events, both at the market and in its catacombs. The catacombs tours, which usually take place only twice a month May through October in partnership with Indiana Landmarks, are being extended this year with a special round of tours March 19 to April 2 to capitalize on March Madness visitors.
Gray doesn't yet know how popular the idea of renting the catacombs for events might be, she said. "How often it will hold a function, we don't know yet, because it's never been promoted in that way."
In another initiative, the market has recruited volunteers from the Service Corps of Retired Executives, or SCORE, to offer one-on-one consultations with market vendors. Gray said the SCORE volunteers have also been tasked with gathering data to help improve the market's promotion and marketing efforts.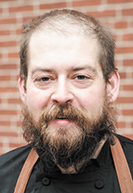 Vendor Hayden Haddox said he met with SCORE and found the experience helpful, discussing cross-selling opportunities between merchants, ideas for new special events and the possibility of developing a common online ordering platform for merchants.
"They had some really nice ideas," he said.
Mixed predictions
Haddox, who opened Prox Salads in February 2020, said his sales tanked at the beginning of the pandemic and are still only about 20% to 30% of what they were his first few weeks. "We haven't seen a big influx of people coming back."
But he is bullish on City Market's future. He opened a second restaurant there this week, an Asian eatery called City Wok.
The week's other City Market newcomer, Maxine's Chicken and Waffles, moved from its longtime home a few blocks away at 132 N. East St. Maxine's took space previously occupied by Circle City Sweets, which recently moved to 16 Tech's new food and vendor hall across the White River from IUPUI, and partner business Circle City Soups, which closed.
"I still believe in City Market. I know that it's slowly coming back," Haddox said.
Not everyone is so certain.
Story continues below graphic.
Carla McDaniel owns two City Market restaurants: Mauricio's Pizzeria, which opened 10 years ago, and Mambo's Cheesesteak Grill, which opened about five years ago.
"I really want to be very positive about this, but I don't see [City Market] recovering anytime soon, at least anytime this year or next," McDaniel said. "I hate to say this, because I grew up at City Market and I love it so much."
The exodus of customers hasn't been the only fallout from the pandemic, McDaniel said.
An influx of vagrants descended on the property last year once downtown cleared out, she said, and some of them came inside the market and stole from vendors. McDaniel said she had to call the police after one man became angry and grabbed her.
Civil unrest downtown last spring also resulted in some broken windows at the market, McDaniel said, forcing tenants to move their equipment to basement storage and close their shops for about a week as a safety precaution.
Haddox also said the city needs to consistently prioritize safety concerns downtown so that City Market can recover. "There's been times where I don't feel safe walking around."
Another challenge: Market Street is in the midst of a months-long closure for roadwork, disrupting traffic and pedestrian access to the market.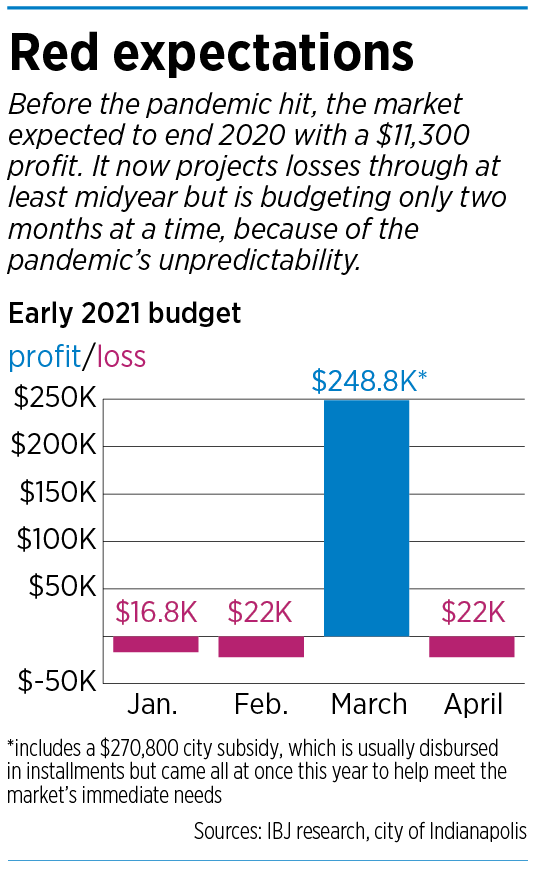 "With all that happening, it's been really, really, really bad," McDaniel said.
After her leases expire at City Market this fall, she said, she'll likely close her restaurants there.
McDaniel opened a third restaurant, Abbicoco Pizzeria, in the new Bottleworks District food hall in the Mass Ave cultural district in January; she said she's seen some of her former City Market customers at the new location. She's also working to open a Mambo's location in April at 16 Tech's food space.
She worries that Bottleworks and 16 Tech will siphon off City Market's customer base even after traffic picks up downtown. "Everybody wants to see something new," she said.
Haddox also plans to be part of 16 Tech, opening a third Prox Salads location there next month. (He also has a Circle Centre location that opened in December.)
But Haddox said he sees 16 Tech and Bottleworks as filling different niches: 16 Tech is more entrepreneur-focused, while Bottleworks seems like more of an evening destination. "I think we're going to get different crowds."
In addition to attracting customers back to City Market, filling tenant vacancies is also a priority. Unlike some markets, City Market does not have a revenue-sharing agreement with its tenants. Its only source of revenue from tenants is rent.
The struggle
The market, which receives an annual city subsidy of about $270,000, had begun operating in the black in recent years before the pandemic hit.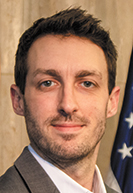 "It was on its way from an operational standpoint," said Rusty Carr, chief financial officer and chief operating officer at the city's Department of Metropolitan Development. Carr also served as City Market's board treasurer before rotating off the board this year, and he is still involved with City Market because the building is city-owned.
Carr said the market is expected to sustain monthly losses of $10,000 to $30,000 until at least mid-year. Before the pandemic, the market had predicted 2020 profit of $11,300.
The city usually provides its City Market subsidy in installments but released the money all at once this year because the market is facing a cash crunch, Carr said.
"It's a precarious situation, certainly, in the short term," he said of the market's financial status. "I do think there's some optimism on the horizon."
One other thing Carr said would help: rethinking how the market's east and west wings are used. Currently, they house a variety of non-retail tenants, including the YMCA and the Local Initiatives Support Corp.
By long-standing arrangement, the wing tenants pay for their utility costs but do not pay rent, Carr said.
The current wing tenants are valued partners, he said, but City Market would be on much firmer footing if that space were occupied by paying tenants.
"Really, the wings of City Market need to be a really large consideration of the future financial solvency of the site," Carr said. "The City Market has to survive, and these are our real estate assets."
In the immediate future, Gray said, City Market's core challenge is one shared by all downtown merchants: how to draw customers back.
"Our struggle is like every other restaurant's struggle at this time—getting foot traffic in the door."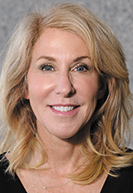 At this point, it's still unclear what a full return to downtown will look like, said Downtown Indy Inc. President Sherry Seiwert. "We'll likely have a better sense by summer."
Downtown Indy has been speaking with employers about their workforce expectations, and in a recent survey of 106 downtown private-sector and government employers, 27% said their workforce had already returned to the office. Another 58% said they were using a hybrid model, with some staff back in the office and others working from home.
And 28% of respondents said they were waiting for all or most of their staff to be vaccinated before they fully returned. Another 44% said they didn't know when their full return downtown would happen.
"Some industries, they need their folks back in the office," Seiwert said. "Some have learned they are far more productive, or as productive, with folks working from home."
She said Downtown Indy's downtown recovery committee is working to compile a list of vacant retail spaces, including those at City Market, and will host walking tours to showcase these sites to potential tenants.
In the meantime, Gray said City Market is eager to welcome back customers. "We're here and we're open and we're ready to serve, and we need people to come out to support us."•
Please enable JavaScript to view this content.